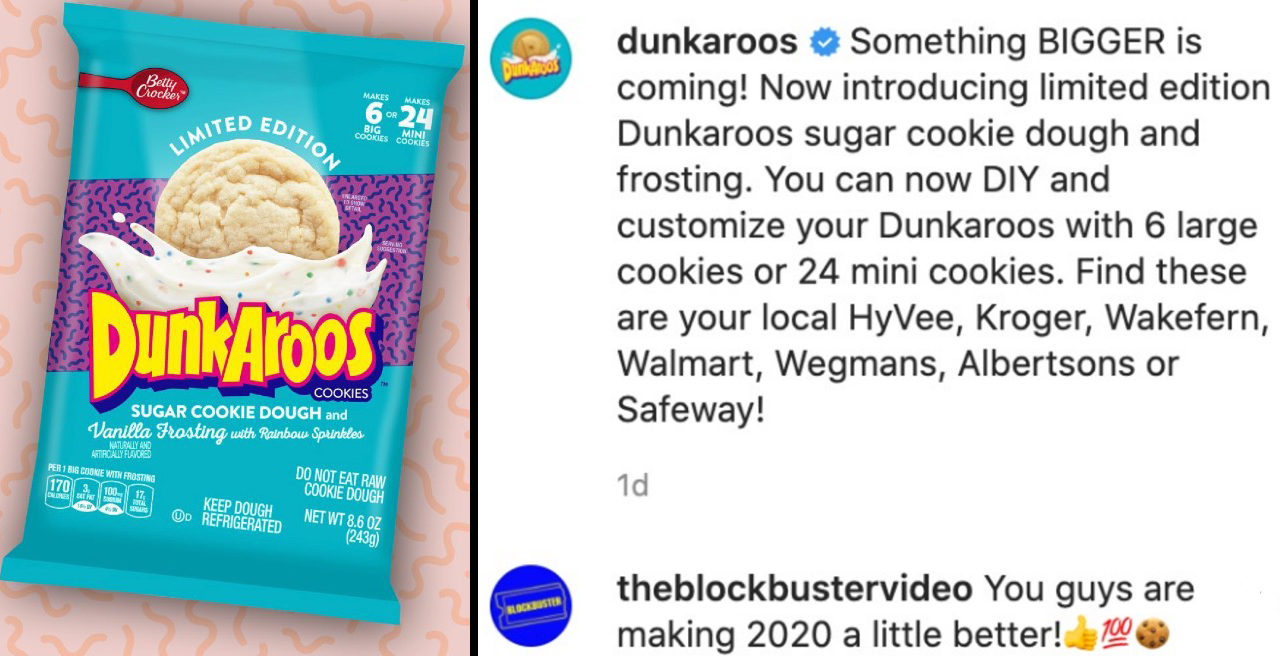 Credit: IG/Dunkaroos
2020 being what it is, no one would blame you for wanting to escape to a more simple time (like 2019). We see it most with entertainment, as nostalgia has resurrected shows like Saved By the Bell and movie franchises like Star Wars, Jurassic Park, and millions of others. And now nostalgia food is having its moment, with the charge being led by 90s kid snack champion Dunkaroos.
Dunkaroos officially came back to stores over the summer, then they announced a cereal, and now they have gone and upped the game even more. And we're not even talking about the beer. The brand announced a new product, giving fans everywhere the opportunity to create a DIY Dunkaroo experience. They are now selling, for a limited time, the official sugar cookie dough along with the iconic vanilla frosting.
The comeback for the cookie is limited to that sugar cookie/vanilla combo, but this new dough does give you some flexibility of size. The packages give you enough to make 24 mini cookies (which is what we remember from our youth) or the ability to make six large cookies. The possibilities are endless (but, more accurately, fall somewhere between those two choices).
It's a fun twist in time for the holidays, as now you can have a giant cookie Dunkaroo experience. When it comes to eating Dunkaroos, there are no laws anymore (and never were, officially).
A brand spokesperson said the new cookie dough packages are available to most grocery stores, including Walmart, Kroger, Wakefern, Albertsons, HyVee, and Safeway.