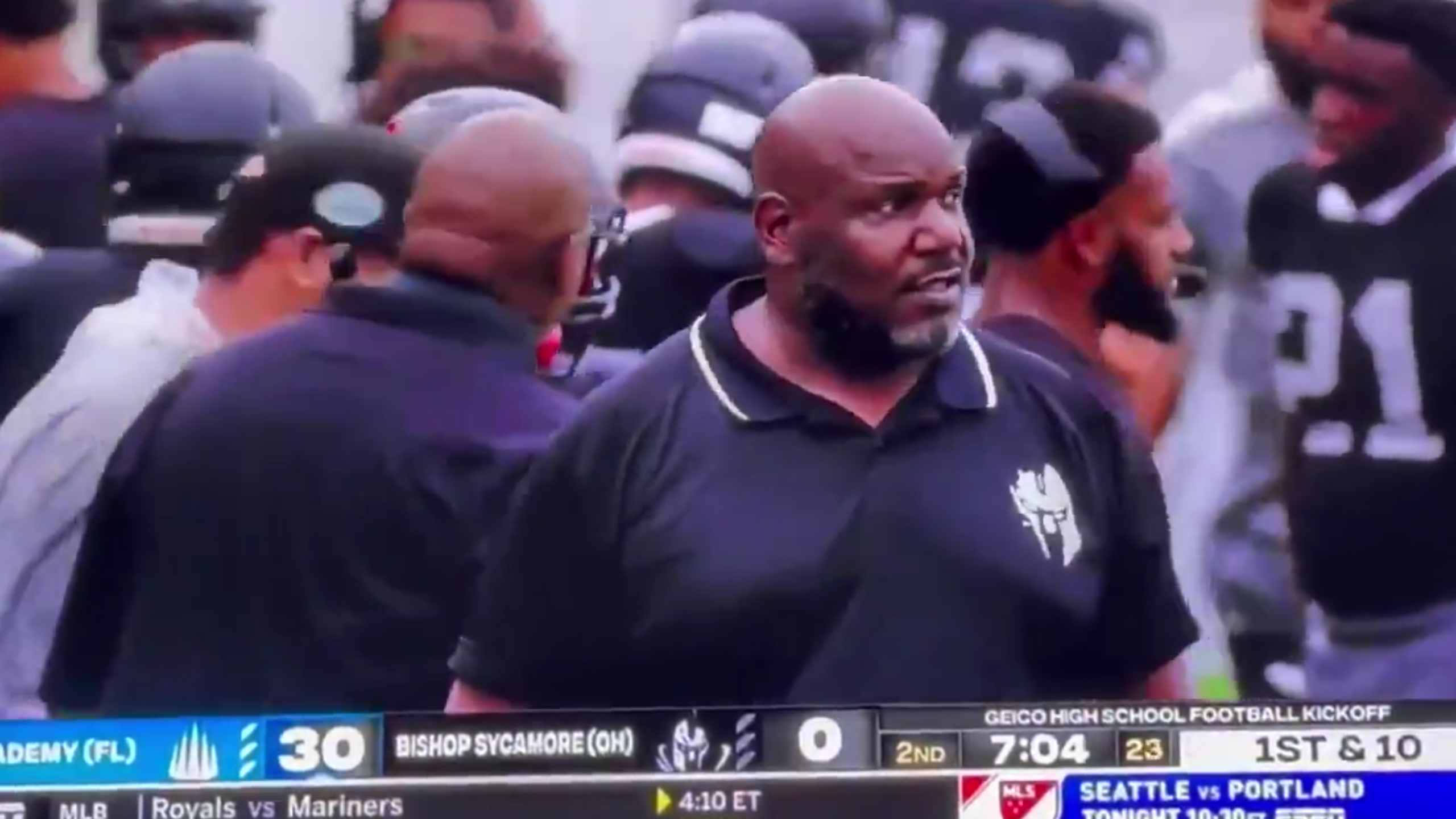 Credit: ESPN
A fake high school tricked ESPN into airing its high school football game and the entire thing just gets weirder and weirder the more we learn about it. IMG Academy is one of the best football programs in high school football (more football team than school). They have dozens of elite recruits and so it was natural they were chosen to be featured in the finale of ESPN's Geico Kickoff Classic. Their opponent, on the other hand, was a bit of a head-scratcher, considering Bishop Sycamore looks to be a complete fraud.
One of the CRAZIEST stories you'll ever see.

Bishop Sycamore, an alleged fake high school, reportedly lied to ESPN to get on national television.

FULL STORY: https://t.co/HNtJqdYHEg pic.twitter.com/uw1G0OM3Hx

— Complex Sports (@ComplexSports) August 30, 2021
IMG naturally blew out Bishop Sycamore, 58-0, and it was pretty clear right away that there was a HUGE disparity in talent. It was so bad so fast that even the broadcasters started to call out the situation, concerned for the safety of the players.
ESPN's commendations WENT IN on Bishop Sycamore 💀 pic.twitter.com/RCJv46gOA3

— BuckeyeScoop.com (@kirk_barton) August 29, 2021
The broadcasters noted that Bishop Sycamore claimed to have several highly rated Division I recruits and that the ESPN team could not verify ANY of them. They said it was already becoming a safety issue as the team was getting destroyed and injuries looked very likely. One said:
"I already am worried about it. I think this could potentially be dangerous given the circumstances and the mismatch that we have here. And quite honestly, Bishop Sycamore doesn't have not only the front-line players, but they don't have the depth in case something were to happen to their roster with a kid or two here throughout the remaining two-quarters of this football game."
As it turned out, Bishop Sycamore didn't provide a real roster to ESPN and Paragon, the marketing company ESPN contracted to organize the event. but apparently, Bishop Sycamore ALSO played a game two days before. For a team with barely 30 players, it's very unsafe to play two games that close together. Let alone one of them against the best team in the country.
ESPN: what D1 prospects do you have?

Bishop Sycamore: pic.twitter.com/sBdPukNUDL

— Charles J. Moore (@charles270) August 30, 2021
Paragon said they could have canceled the event if they knew about the two game thing, and for their part, ESPN apologized profusely for having been scammed.
"We regret that this happened and have discussed it with Paragon, which secured the matchup and handles the majority of our high school event scheduling. They have ensured us that they will take steps to prevent this kind of situation from happening moving forward."
Reporters started digging into the history of the "school" a little more and found they only played six games last year, losing all of them by lopsided scores. They also can't verify any physical location for the school or the practice field. The team has had multiple games canceled over the past two seasons for being unable to verify rosters or have any of the normal information. The team doesn't even have enough helmets for its 30 players, so guys had to share, allegedly.
We learned more about how Bishop Sycamore ended up playing on ESPN, and it's only getting shadier https://t.co/eCyfl7hgFN pic.twitter.com/swb7SxhPz1

— Awful Announcing (@awfulannouncing) August 30, 2021
The Ohio High School Athletic Association does not recognize Bishop Sycamore and at best, it appears to be an online charter school. They've also had games canceled for playing guys older than high school age.
So you've got a shady school with no verifiable info that was somehow allowed to play on the biggest sports network in the country. A failure on multiple levels, but also? Kinda impressive. Maybe they can't play football, but who else can scam their way to playing on ESPN? Besides the 2020 Jaguars, KNOWWHATIMSAYIN?