The Dad Crew Is Gaming For Good And We Need Your Help!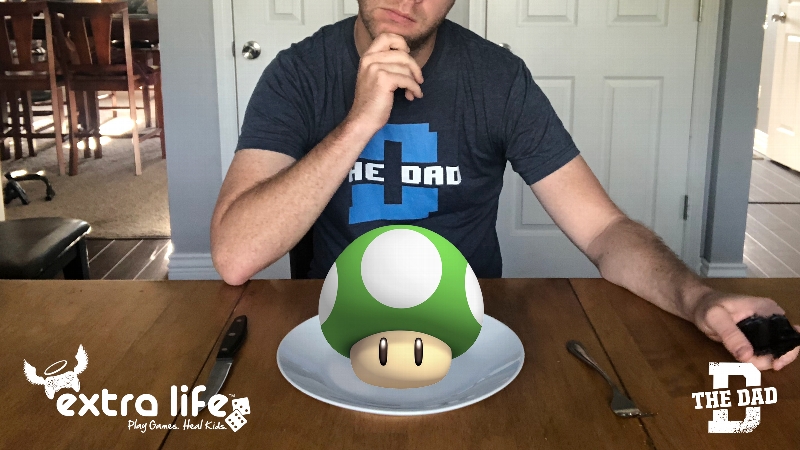 What could possibly better than spending the day playing video games? What about a day spent gaming that benefits children in need?
Well that's the name of the game here at The Dad as we join gamers around the world to give back this weekend.
In partnership with Extra Life, an organization that works with gamers to turn their gaming into donations from friends and fans, The Dad Gaming will be hosting a 24-hour marathon of gaming, all to benefit children's hospitals across the United States. Anyone can participate and compete for prizes, watch from home on Twitch, or donate to the cause.
Executive Editor of The Dad, Joel Willis, says it's been a dream of his and the team's to leverage their love of gaming for a good cause. "Since The Dad started in November 2017, gaming has been a favorite topic of our team and our audience. So creating a gaming group with virtual gaming events was an exciting and natural fit."
Like many parents who came of age in the 90s, video games were a major part of growing up for Willis. However as real life sets in, parents often have little time for what was once a huge influence in their younger years. "Until I bought my kids a Nintendo Switch last Christmas, I hadn't had a gaming system of my own since Nintendo 64," Willis admits. However thanks to new gaming systems and revamped classics, the entire family can now game together in ways never before possible.
So Willis and his crew set out to form a team of dads and moms who can game together. "We created The Dad Gaming group on Facebook a couple of months ago. We're now closing in on 10,000 group members. We have regular events/leagues in 7 games: Fortnite, Call of Duty, Mario Kart, PUBG, Madden, Rocket League, and Destiny, with more to come."
To celebrate the group's success, The Dad Team will be gaming for good in a 24-hour mega marathon beginning Saturday, November 2nd. "At The Dad, we love giving back and spotlighting those in need, so Extra Life is a perfect fit," Willis says, adding "I see it as a walkathon for charity, except with video games." That's right. You can raise money form your couch. 2019 baby!
An initial schedule of events has been released, but like your kid making up their mind on a halloween costume, it's subject to change.
The team has set an ambitious goal of raising $10,000 in just one day so we need your help! We're still looking for gamers, so anyone interested in joining our team or donating before the event can visit the team's official fundraising page here.
Reuben Qualls, Team Captain here at The Dad, will be raising money for UC Davis Children's Miracle Network, but there are children's charities across the nation who need your support. Qualls says no matter who you're playing for, it's all about spreading the word on game day. "On the Extra Life event page on Facebook, we've linked all kinds of helpful information from Extra Life itself, including articles on best practices for fundraising, a Media Kit with things like flyers and avatars you can use to help in your fundraising efforts, as well as a Broadcaster Kit, with all kinds of stuff any participating streamers can use to add some Extra Life flair to their streams."
So this weekend you can put away the mower and hunker in for some flatscreen fury and join us as we play for a purpose and have a few laughs too. We'll be sharing updates throughout the weekend, so stay tuned for even more info heading your way!