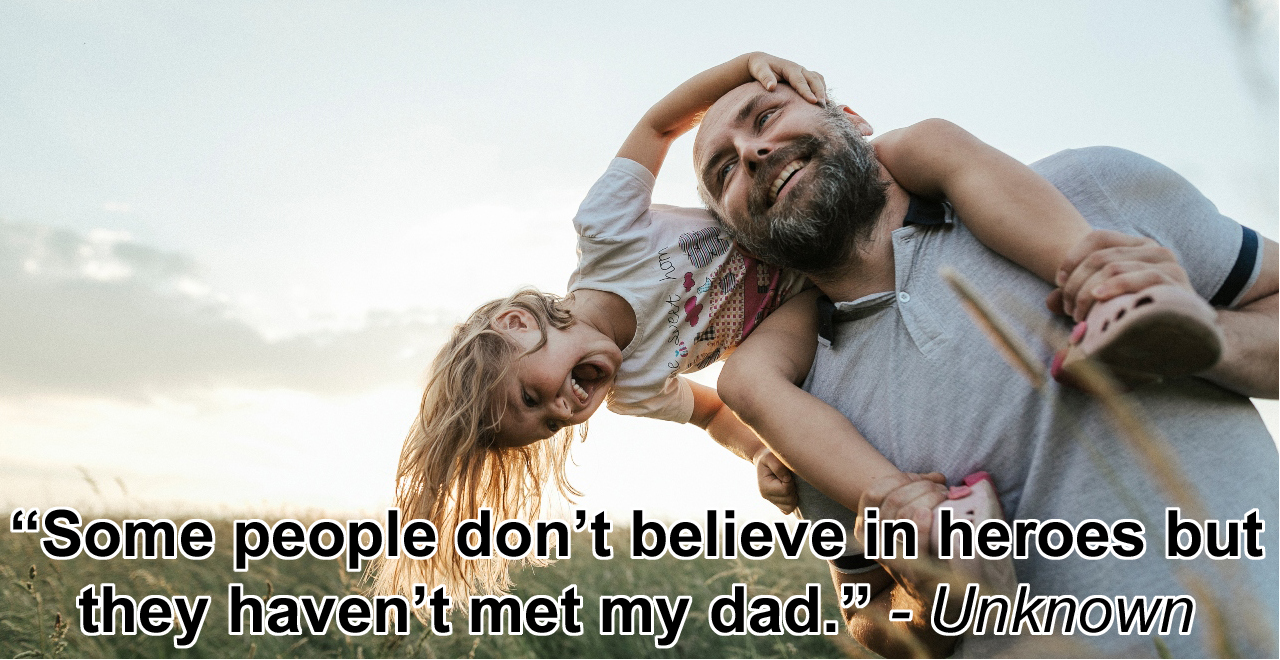 Credit: Getty/Westend61
The bond between a father and his child is like no other. It's tender and loving, fierce and steady, and unique in every way. And while Mother's Day may get a lot of the limelight each spring, Father's Day shouldn't be any less poignant.
Whether you're looking for a touching or hilarious quote or a saying for a Father's Day card, the perfect Instagram caption, or if you just want to be all up in your feelings and think of your own relationships on this day, we've gone ahead and rounded up the most meaningful quotes about fathers and fatherhood from literary giants and pop culture icons alike.
And as palate cleanser, follow these up with some iconic dad jokes to bring on the cringe. Happy Father's Day!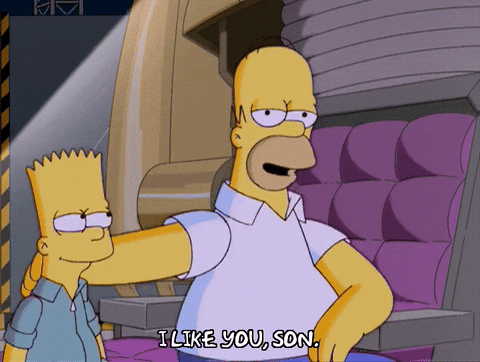 1. "When my father didn't have my hand, he had my back." — Linda Poindexter
2. "A man's daughter is his heart. Just with feet, walking out in the world." — Mat Johnson
3. "I've said it before, but it's absolutely true: My mother gave me my drive, but my father gave me my dreams. Thanks to him, I could see a future." — Liza Minnelli
4. "It is admirable for a man to take his son fishing, but there is a special place in heaven for the father who takes his daughter shopping." — John Sinor
5. "Anyone can be a father, but it takes someone special to be a dad, and that's why I call you dad, because you are so special to me. You taught me the game and you taught me how to play it right." — Wade Boggs
6. "Old as she was, she still missed her Daddy sometimes." — Gloria Naylor
7. "If you ever want to torture my dad, tie him up and right in front of him, refold a map incorrectly." — Cathy Ladman
8. "An almost perfect relationship with his father was the earthly root of all his wisdom." — C.S. Lewis
9. "No one in this world can love a girl more than her father." — Michael Ratnadeepak
10. "A father carries pictures where his money used to be." — Steve Martin
11. "When I come home, my daughter will run to the door and give me a big hug, and everything that's happened that day just melts away." — Hugh Jackman
12. "A father is neither an anchor to hold us back nor a sail to take us there, but a guiding light whose love shows us the way." — Unknown
13. "It's only when you grow up and step back from him — or leave him for your own home — it's only then that you can measure his greatness and fully appreciate it." — Margaret Truman
14. "It was my father who taught me to value myself." — Dawn French
15. "He adopted a role called Being a Father so that his child would have something mythical and infinitely important: a Protector." — Tom Wolfe
16. "Sometimes the poorest man leaves his children the richest inheritance." — Ruth E. Renkel
17. "My father didn't tell me how to live. He lived and let me watch him do it." — Clarence Budington Kelland
18. "He was a father. That's what a father does. Eases the burdens of those he loves. Saves the ones he loves from painful last images that might endure for a lifetime." — George Saunders
19. "I cannot think of any need in childhood as strong as the need for a father's protection." — Sigmund Freud
20. "To her the name of father was another name for love." — Fanny Fern
21. "You fathers will understand. You have a little girl. She looks up to you. You're her oracle. You're her hero. And then the day comes when she gets her first permanent wave and goes to her first real party, and from that day on, you're in a constant state of panic." — Stanley T. Banks
22. "A daughter is a treasure and a cause of sleeplessness." — Ben Sirach
23. "Being a daddy's girl is like having permanent armor for the rest of your life." — Marinela Reka
24. "Daddy, thanks for being my hero, chauffeur, financial support, listener, life mentor, friend, guardian, and simply being there every time I need a hug." — Agatha Stephanie Lin
25. "What can you do to promote world peace? Go home and love your family." — Mother Teresa
26. "Some people don't believe in heroes but they haven't met my dad." — Unknown
27. "My father gave me the greatest gift anyone could give another person, he believed in me." — Jim Valvano
28. "A father's tears and fears are unseen, his love is unexpressed, but his care and protection remain as a pillar of strength throughout our lives." — Ama H. Vanniarachchy
29. "My Daddy was my hero. He was always there for me when I needed him. He listened to me and taught me so many things. But most of all he was fun." — Bindi Irwin
30. "When my daughter says 'Daddy I need you!' I wonder if she has any idea that I need her billion times more." — Stanley Behrman
31. "To a father growing old, nothing is dearer than a daughter." — Euripides
32. "The bond that links your true family is not one of blood, but of respect and joy in each other's life." — Richard Bach
33. "Certain is it that there is no kind of affection so purely angelic as of a father to a daughter. In love to our wives there is desire; to our sons, ambition; but to our daughters, there is something which there are no words to express." — Joseph Addison
34. "With sons and fathers, there's an inexplicable connection and imprint that your father leaves on you." —Brad Pitt
35. "I would want my legacy to be that I was a great son, father, and friend." — Dante Hall
36. "Every son quotes his father, in words and in deeds." — Terri Guillemets
37. "I love my daddy. My daddy's everything. I hope I can find a man that will treat me as good as my dad." — Lady Gaga
38. "Of all the titles I've been privileged to have, 'Dad' has always been the best." — Ken Norton
39. "Fathering is not something perfect men do, but something that perfects the man." — Frank Pittman
40. "When you teach your son, you teach your son's son." — The Talmud
41. "The heart of a father is the masterpiece of nature." — Antoine Francois Prevost
42. "Sons have always a rebellious wish to be disillusioned by that which charmed their fathers." — Aldous Huxley
43. "Becoming a dad is one thing — being a dad is many things." — Steve Chapman
44. "A good father is one of the most unsung, unpraised, unnoticed, and yet one of the most valuable assets in our society." — Billy Graham
45. "I am a family man, and my most important role is a father to my son." — Ed Skrein
46. "A son needs his father at every situation he faces in present, and a father needs his son at every situation he faces for his son in past." — Nishan Panwar
47. "It's a father's duty to give his sons a fine chance." — George Eliot
48. "It's not flesh and blood but the heart that makes us father and son." — Johann Schiller
49. "By the time a man realizes that maybe his father was right, he usually has a son who thinks he's wrong." — Charles Wadsworth
50. "You don't raise heroes, you raise sons. And if you treat them like sons, they'll turn out to be heroes, even if it's just in our own eyes." — Walter M. Schirra, Sr.
51. "A father is a man who expects his son to be as good a man as he meant to be." — Frank A. Clark
52. "I hope I can be as good of a father to my son as my dad was to me." — Calvin Johnson
53. "For thousands of years, father and son have stretched wistful hands across the canyon of time." — Alan Valentine
54. "Becoming a dad means you have to be a role model for your son and be someone he can look up to." — Wayne Rooney
55. "My father used to say that it's never too late to do anything you wanted to do. And he said, 'You never know what you can accomplish until you try.'" — Michael Jordan
56. "A good father will leave his imprint on his daughter for the rest of her life." — Dr. James Dobson
57. "I am not ashamed to say that no man I ever met was my father's equal, and I never loved any other man as much." — Hedy Lamarr
58. "Fathers, be good to your daughters. You are the god and the weight of her world." — John Mayer
59. "A father is always making his baby into a little woman. And when she is a woman he turns her back again." — Enid Bagnold
60. "Every dad, if he takes time out of his busy life to reflect upon his fatherhood, can learn ways to become an even better dad." — Jack Baker
61. "Every father should remember one day his son will follow his example, not his advice." ― Charles Kettering
62. "Anyone who tells you fatherhood is the greatest thing that can happen to you, they are understating it." ― Mike Myers
63. "My dad was my best friend and greatest role model. He was an amazing dad, coach, mentor, soldier, husband and friend." – Tiger Woods
64. "Say not in grief 'he is no more' but in thankfulness that he was." – Hebrew Proverb
65. "No matter how old we are, we still need our dads, and wonder how we'll get by without them." – Jennifer Williamson
66. "A father's love is forever imprinted on his child's heart." – Jennifer Williamson
67. "Dad, wherever you are, you are gone but you will never be forgotten." – Conrad Hall
68. "No matter where I am, your spirit will be beside me. For I know that no matter what, you will always be with me." – Tram-Tiara T. Von Reichenbach
69. "When I was little I bragged about my firefighting father: my father would go to heaven, because if he went to hell he would put out all the fires." – Jodi Picoult
70. "Some dads liken the impending birth of a child to the beginning of a great journey." — Marcus Jacob Goldman
71. "One father is more than a hundred schoolmasters." — George Herbert