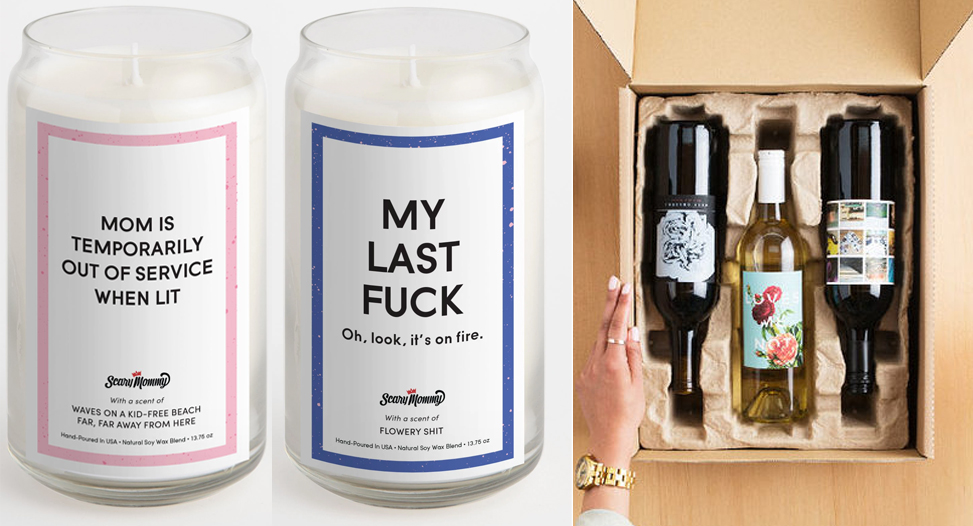 Credit: Scary Mommy/Winc
Mother's Day is here again (May 10 for those of you that need to set a cal-reminder). Sure, it's only a warm-up to the glory of Father's Day— almost a dry run for the kids, if you will, so they can perfect their Father's Day plans— but we should still try to do something nice for mom.
We'll pause a minute while reality smacks us upside the head like a 2-by-4.
If you screw up Mother's Day gift-giving, you're potentially in the doghouse until Christmas, unless you're lucky enough to have an anniversary sometime in the next few months to redeem yourself. (And if you're now wondering when your anniversary is, just skip forward to our Mother's Day gift guide. You're a dead man walking without our help.)
If your wife vacillates between wanting to have the kids with her on Mother's Day and wanting to be given time to herself on Mother's Day, you're probably in one of those damned if you do, damned if you don't situations.
To avoid this, we'd suggest going with a great Mother's Day gift instead of trying to plan the perfect day. And, no, we're not talking about a terrible Mother's Day gift like a gift card. (You really like living in the doghouse, don't you?)
Whether you need a last-minute Mother's Day gift idea or you're planning way ahead, we have you covered. These are Mother's Day gift ideas that she'll actually love receiving … meaning, for a change, she won't just say that she loves it, while secretly wondering what the hell is wrong with you.
Best Mother's Day Gift Ideas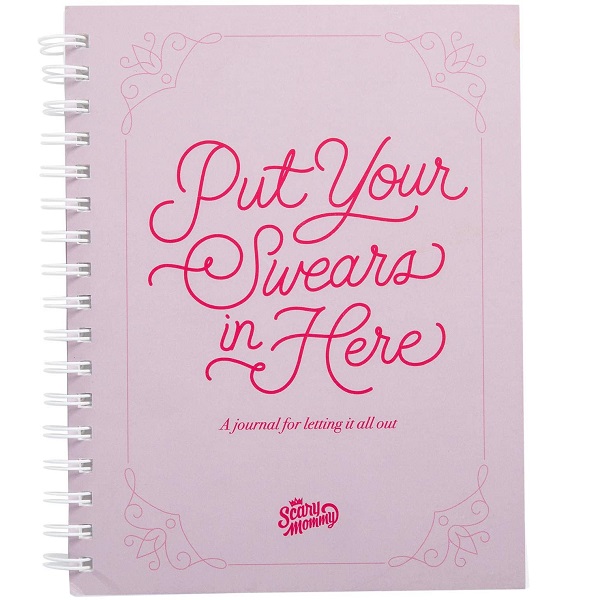 Sometimes, mama needs to release her frustration in written form, complete with F-bombs, S-bombs, Z-bombs, and all the rest. (Hey, don't ask us how to spell them all. When moms get on a roll, they can string together some amazing profanity that would make your eternally pissed off high school football coach blush.)
This 128-page journal lets her write down her thoughts for the day with no judgment on how blue the language gets. Venting has never been healthier … for her as well as for the potential venting targets, like you, the kids, you, the dog, and you.
But there are also special pages for uplifting messages, fun milestones for the kids that she wants to remember, and maybe a note about something nice you did for her. Fingers crossed.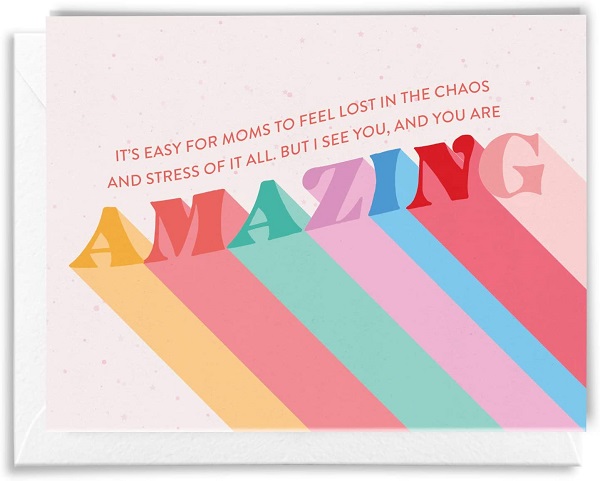 If your wife or mom loves to send thank you cards to her friends and family, she may ask you to pick up some cards while you're running other errands. And when you bring back the generic white cards with "THANK YOU" printed on the front in black, you get that look that she usually reserves for the dog when it sh*ts on the carpet. (Hell, even the dog is disappointed in you right now.)
Sigh. It's not really our fault. For most guys, all thank you cards look the same.
But when you give her these thank you cards, you'll have one of the best Mother's Day gifts, and you'll barely even know what you did. She'll love these, as they have sweet, funny, and sentimental messages on them that her friends and family will appreciate (and actually read).
Should you actually do something that warrants a thank you card, tell her it's OK to give you one of the generic ones and save these fun message cards for others. This thoughtful suggestion should earn you that proud look that she gives the dog when it does its business in the yard. #progress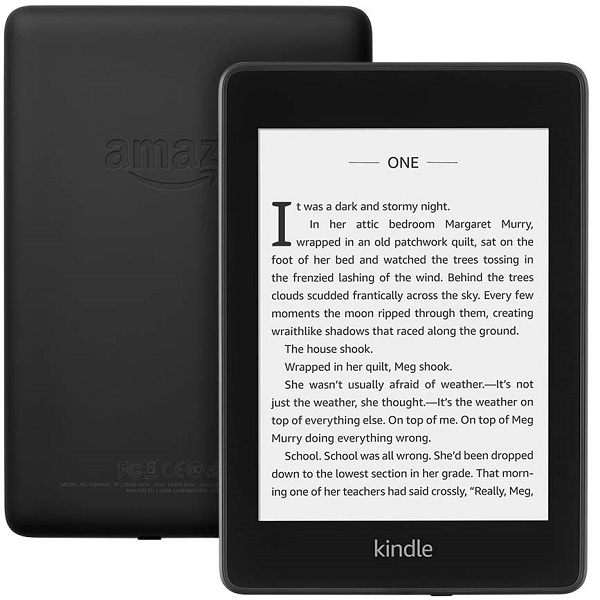 When moms need some time to themselves, many of them retreat to the bathtub with a glass of wine. (Or the whole bottle, depending on the results of the day.)
This makes sense. The bath is relaxing. The bathroom is relatively quiet. And the bathroom door has a lock on it to keep the kids the hell out.
If she would like to read while she's relaxing in the tub, this is one of the best Mother's Day gift ideas, last minute or not, that you can find. The Kindle lets her download any e-book she wants to read or any audiobook she wants to hear.
This is the latest version of the Kindle— it's waterproof and has tons of storage. It's a pretty damn cool tech gift for mothers.
So let the kids give her the lame bath bombs and body wash that smell like fruit. You get the credit for the gift of a Kindle all for yourself.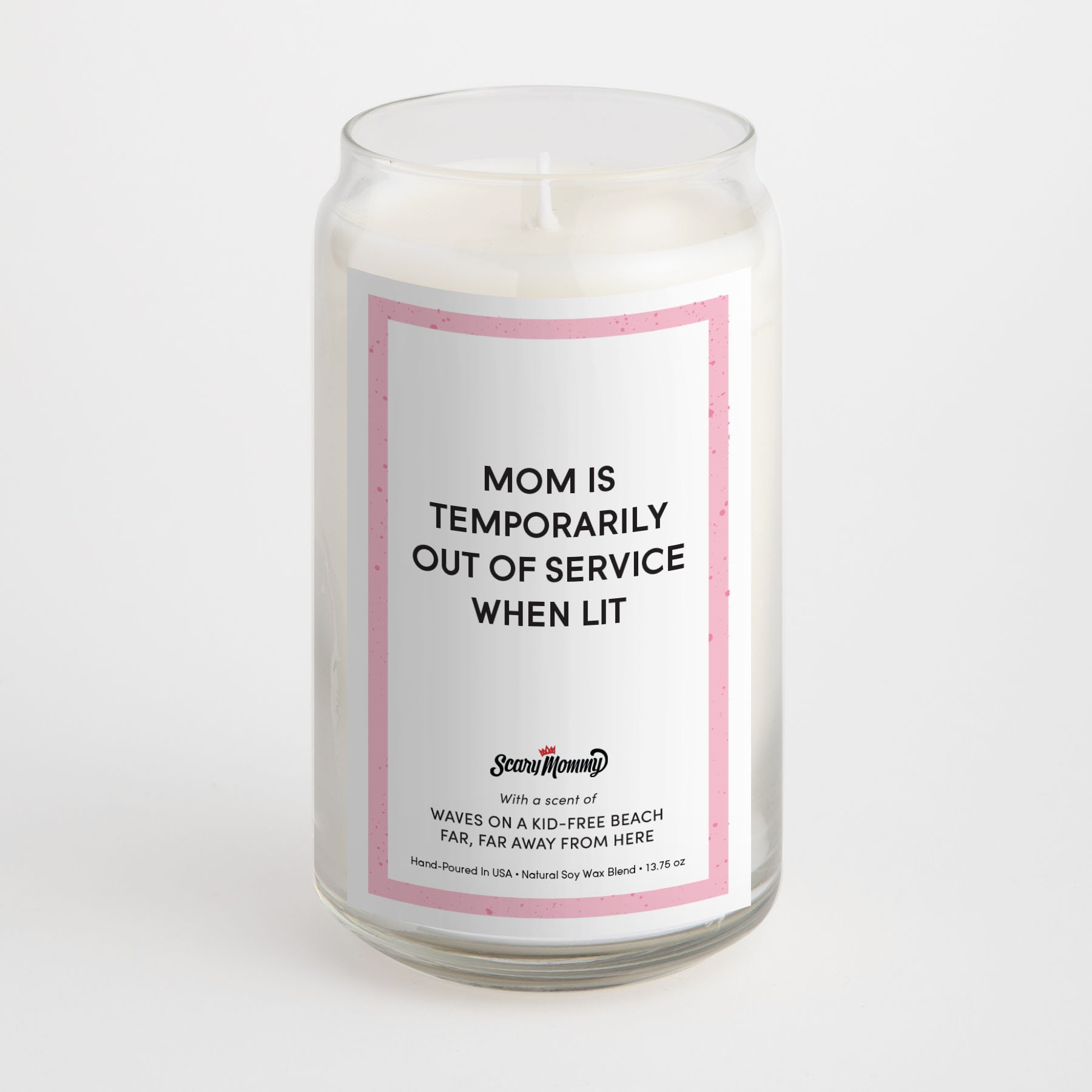 In an effort to show mom that we hear her (we do try sometimes!), let's give her a good laugh with these witty candles, made by— who else? The expert moms at Scary Mommy. There are three to choose from including Out of Service When Lit, Super Chill and Zen, and My Last F*ck (hey we didn't write them). You can go a step further (it only takes a minute) and choose from some smart-ass sub-headers that describe the heavenly scent, such as Waves On A Kid-Free Beach Far, Far Away From Here. She and her mom tribe will appreciate the brutal honesty or at least like a nice, scented candle.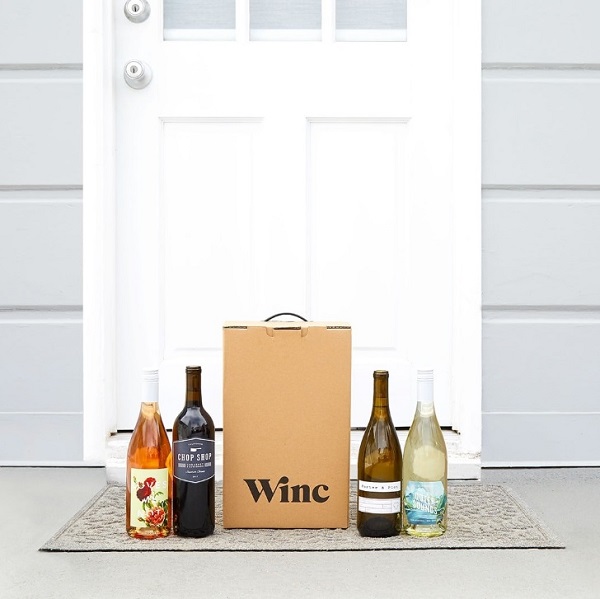 If your wife already has a Kindle or if it's out of your budget for a last-minute Mother's Day gift, we have the next best thing to pair with the kids' bath bombs and body wash: A relaxing glass of wine from a bottle that reappears on the reg.
The Winc subscription service will deliver four different types of wine to your home every month. There are multiple options, even including organic or low sugar wines. No longer will she have to make a special trip to the store between running 15 other errands with the kids to keep the wine flowing. You can cancel at any time, or you can even skip a month (we don't suggest it).
Will four bottles of wine last the entire month? (Snicker.) Probably not, but it's the thought that counts.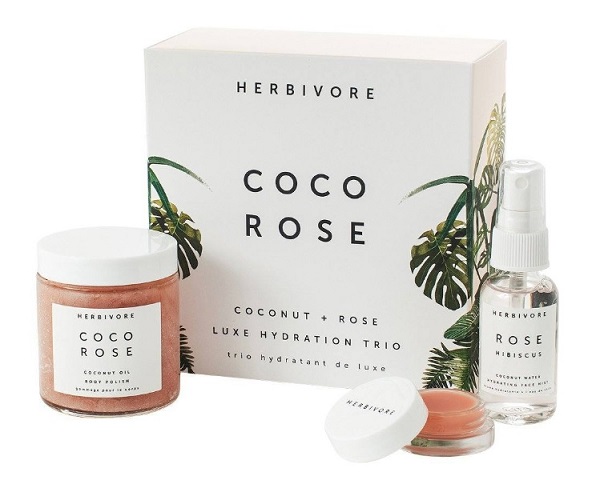 We're going to take a wild guess here: You know little to nothing about how your wife keeps her skin toned and hydrated. (We know. We're not exactly going out on a limb.)
But maybe you want to buy something that will make her amazed at how observant you are about these things. (It always helps to keep your significant other on her toes about what you do and don't know; it keeps the relationship fresh.)
So we did the research for you. We spoke to friends in the industry. We did Internet searches that are going to have the ads we see based on our cookies screwed up royally for the next several weeks.
You're welcome.
This Coco Rose gift set is safe to use on all types of skin, made with organic ingredients. And it's from Credo, a really good beauty store that only sells good products. She'll be impressed when she realizes these products didn't break the bank and excited when she realizes they came with free samples.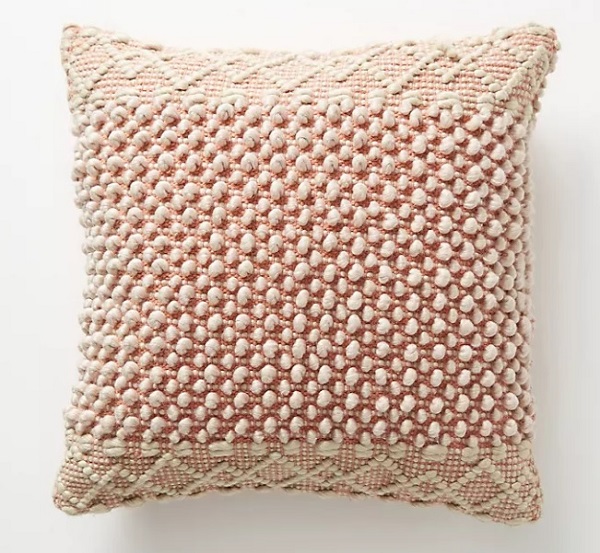 Even if you haven't heard of Joanna Gaines, trust us, your wife or mother has. And if she has ever suggested that maybe a future vacation should be in the direction of Waco, Texas, we're guaranteeing that she's a huge fan of Joanna Gaines. After all, there's no other reason to go Waco that we can think of. (Just a little joke, Baylor grads. Sic 'em Bears.)
Here's all you need to know about Joanna Gaines. She and her family have a TV show that gives regular people beautiful new homes. She also has a highly popular store based in Waco. She has a brand and style that's highlighted on TV, in magazines, and in probably a dozen other places we don't understand. Her brand is all about simple home living through impressive decor. (Or so we've been told.)
And throw pillows. Lots and lots of throw pillows. You may not understand throw pillows and you may not understand Joanna Gaines— or the store Anthropologie for that matter — but your wife sure does.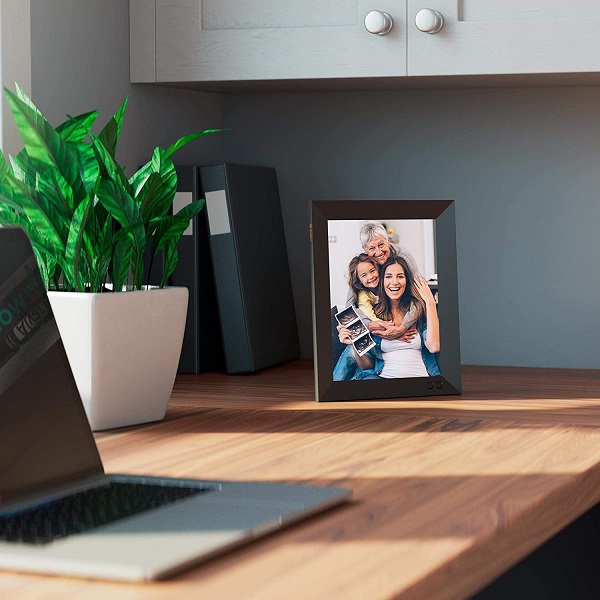 When you want the best Mother's Day gift for grandma or your wife, a digital photo frame is a great idea, especially when it's as easy to use as this Nixplay frame.
When you want to add a new shot to the rotation of photos displayed on the frame's screen, you can send the photo to the frame straight from your phone. (You may have to help grandma connect the frame to her home WiFi network, but after that, it's a pretty simple process.) Send multiple photos each day, and grandma will feel like she's there with you.
Or if your wife's desk at work is overwhelmed with photos of the kids, give her this photo frame, and she can have dozens of rotating photos all in one place, giving her a feeling of clutter-free organization. (She at least deserves to have one space that's organized.)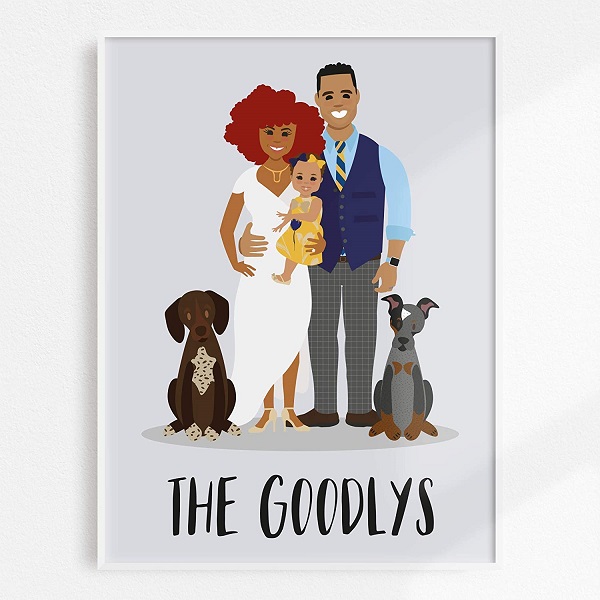 Nearly every mom we know loves family portraits.
Wait. Let's clarify. Nearly every mom we know loves the idea of family portraits. However, when push comes to shove, trying to gather the entire family for a portrait is a nightmare.
The young kids are screaming or finding the only mud puddle in a 10-mile radius. The older kids are sulking about … well, everything. And we as dads are not helping. We can't even dress ourselves; how are we supposed to keep the kids in line long enough for the photographer to snap a photo that makes everything look normal?
With this custom illustration, you just send the company photos of the family— as a group or, better yet, individually— when everyone looks his or her best. Add some personal descriptions of each person, and the illustrator will create the perfect family portrait that a photographer has no shot of duplicating. You can even add family pets if you want.
Sorry, but we have to stop here. This Mother's Day gift idea is bringing a tear to our eye. We're not sure if we're feeling sentimental, or if we're just so f***ing happy to never have to go through the hell that is family portrait day ever again.
Although we only recommend picks we really love, we may earn a commission on purchases made through links from our site.