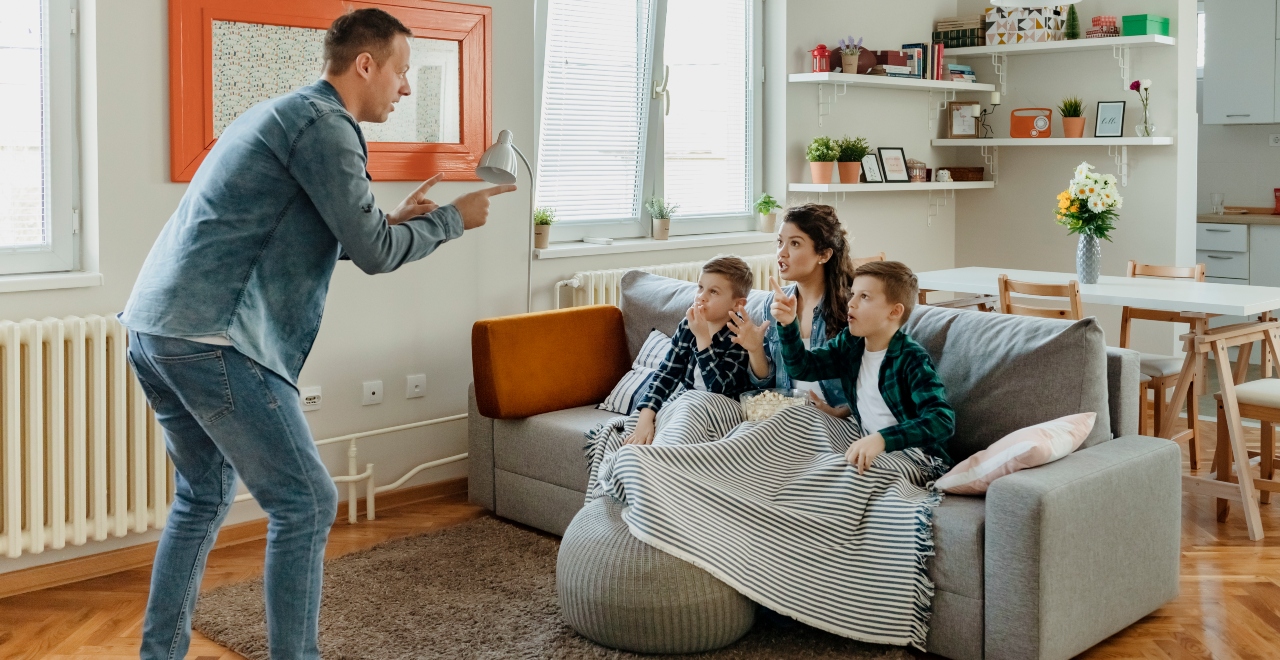 Credit: Getty/PixelsEffect
After two to three months of quarantine, lockdowns are being lifted (for the time being), but it still may not feel very safe to let your kids hang out with their friends. Now summer is creeping in. School is over. Many pools are still closed. Everything is different except for one thing: Your kids' infinite ability to be "sooooo boooooored." These fun games to play are perfect for keeping them busy and entertained. Bonus: If you ever get to have your friends and family over, again, they're all perfect for playing with adults, too.
1. Saran Wrap Game
Pick a "prize" that's easily held in one's hand, like a box of candy, a small toy of a gift card in a small box. Wrap it tightly in multiple layers of plastic wrap until you have a giant ball. Repeat with various goodies until you have enough balls for one for each person. Whoever unwraps their first is the winner. For added difficulty, make players wear oven mitts.
2. The "Baby" Game
You probably remember this game from a baby shower. Each person gets a pacifier or a diaper pin to try to hold onto. No one should use the word "baby". If you catch someone using the word, you get to steal their pin. Whoever gets the most pins is the winner. You can change the word to fit the occasion: like using "college" for a graduation party.
3. Sticker Stalking
Give each person a sheet of 5-10 stickers. As they go throughout the evening, they should try to stick their stickers on other people. If you're caught placing a sticker, you have to accept a sticker from the person who caught you. Whoever unloads their stickers first is the winner.
4. Dancing Chain
Player one starts with a dance move — clapping for instance. Player two must start clapping and then add a new move (like head bobbing or hip wiggling). Each consecutive player continues to build on the dance.
5. Musical Chairs
You know how to play this! It's actually even more fun with adults, contemporary music, and a few cocktails in hand.
6. Honey, If You Love Me…
Can you make another person smile? Good luck!
7. Who Am I? (Post-It note game)
On a stack of post-it notes, write the names of celebrities, Disney characters or anything else recognizable. Next, pop a note on each person's forehead so they can't see it but everyone else can. As they mingle, they can ask questions about the name on their forehead until they figure out who they are.
8. Would You Rather?/This or That
Use this giant list of questions to get to know each other. Everyone's a winner when you're properly bonded.
9. Charades
If you're playing with a mixed age group, make sure you keep the choices in mind.
10. Likes/Dislikes
Have everyone write two a few things they like and dislike on sheets of paper. You'll draw the lists from a hat, read them out loud and try to guess who the list belongs to.
11. Two Truths and a Lie
I've kissed a famous person.
Canada is my favorite place to visit.
I drove all the way to California.
Which one is the lie? Take turns until everyone in the room is given the chance to share two truths and a lie.
12. I'm Having A Party
Pick a theme (like the first letter of your name or the same color as your shirt), but don't tell anyone the theme. Start the game by saying, "I'm having a party and I'm bringing…" and the list something that follows your rule. The next person will say, "I'm bringing…" and list something that hopefully follows the rules. If they get it right, tell them they're invited. If they break the rule, tell them they can't come because they aren't invited.
13. Sardines
You need a lot of space to play this game that is basically the opposite on hide and seek. Only one person hides and then everyone splits up to go looking. If you find the person, you hide with them. Keep collecting people in your hiding spot until only one person remains.
14. Medusa
Have everyone sit or stand in a circle looking at the floor. On your mark, everyone looks up. If they make eye contact, they're dead.
15. Secret Sounds
Using post-in notes like the "Who Am I?" game, give each person a "secret" word and a sheet of stickers. As they chit-chat, others will see what their secret word is, if they use it in conversation, the person who catches them must tag them with a sticker. Keep playing until everyone can guess their secret word.
16. Minute To Win It Games
There are tons of Minute To Win It games out there and very few of them require much prep. Which will your friends and family like best?
17. Sing Song Ping Pong
Remember this scene from Pitch Perfect? You probably won't sound as good doing it, but it's still a lot of fun.
18. Mail Call/A Mighty Wind Blows
Like musical chairs, with a theme. The chair-less person will say, "A mighty wind blows anyone with a red shirt." Everyone with a red shirt must scramble to find a new seat, along with the person who was standing. The last person standing is the next to blow a mighty wind and pick a new theme.
19. Scavenger Hunt
Give everyone a list of things to find and check off as they party. Let them collect them (if there's enough), snap pics with phones or tablets or just be able to tell you where each item is located once they've found everything.
20. Partners In Pen
Give half your friends/family gift bags with a secret item inside. Partner them with another person who doesn't know what's inside. Have partners sit back to back. While one person describes their item, their partner must try to guess what it is.
21. The Superlative Game
This works great for tweens, teens, and also as an ice breaker in large work setting. Divide into groups of over 9 and have the teams arrange themselves based on birth month, age, shoe size, whatever makes the most sense for your group. The team that finishes the fastest wins.
22. Capture The Flag
Seriously. Why don't we play this once we leave behind grade school P.E.? It's one of our favorite memories from school and it exerts a ton of energy. The more people you have playing, the bigger space you need, but that can be relatively easy to find.
23. Hula Hoop Race
Split your party into two or more teams and have the teams stand in a line with everyone holding hands. (You'll need to wait until the days of social distancing are but a memory.) Give the first person in each team chain a hula hoop. The first team to get each player through the hula hoop and travel the hoop to the opposite end of their line is the winner. No letting go!
24. If It Were Me…
This can't be played in too large of a group, but if you have around ten people (or less), it can be a ton of fun. There are no teams and no winners. It's just a chance to be silly. Take turns telling a funny or embarrassing story from their lives. (Real is better, but made up is fine.) Then let others chime in with ridiculous ways they would have handled the same situation.
25. Truth or Dare
Listen, why reinvent the wheel here? Truth or dare is a classic game that can be kept clean for wholesome family fan or turned up a notch for a group of adults. Of course, if it's just you and your bae you can throw some spice into game night and and play dirty truth or dare to really kick it up a notch. Either way, this party game is super popular for a reason.