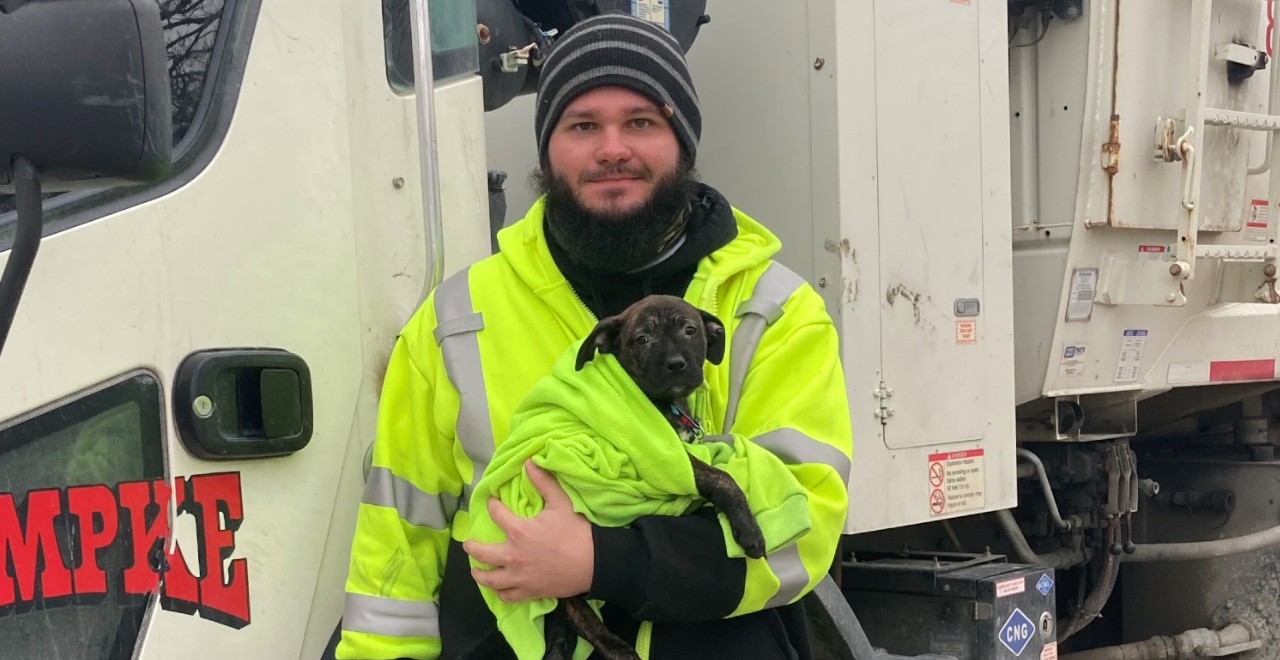 Credit: Twitter/RumpkeNews
We don't deserve dogs, the most loyal of all pets. Sure, we try to spoil them when we can, whether it be with frozen treats or their own beer, but that still doesn't take away the sting when you see other people treating animals poorly. Thankfully, there are enough people out there who take the time and care to do the right thing, whether it's helping an injured animal or stepping up to rescue one in need.
A garbage truck driver in Ohio went viral after he rescued a puppy on duty. That…is not something that should be required of trash collectors. But as he was working his normal route, Aaron Kinsel noticed a backpack along the roadway that was moving. He got out of the truck to check it out and found a scared, injured 10-week-old puppy. The boxer-mix was dehydrated and had a broken rear leg.
A Rumpke driver is a hero after saving a puppy this morning. Aaron Kinsel was servicing customers when he noticed movement from a discarded backpack. When he opened the backpack, he discovered a 10wk old puppy. Rumpke team members are currently getting the puppy veterinary care. pic.twitter.com/ReVA1DUZjL

— Rumpke Waste & Recycling (@RumpkeNews) January 27, 2021
"I felt like I was meant to find her," Kinsel said. He took the dog to the vet and decided he and his family would adopt the pup. They named her Tipper, which is the mechanism used on the back of garbage trucks to pick up trash containers.
A company spokesman said their drivers are trained to remain observant and do the best to take care of the community and do the right thing. "We are very proud of Aaron and delighted to make Tipper an honorary member of our team," she said.
UPDATE: Tipper had surgery today to amputate her rear leg that was broken in two places. The surgery went well and she is currently recovering at the veterinarian office. Aaron's family is excited to get her home, which will hopefully happen next week. pic.twitter.com/EghMjcdVSJ

— Rumpke Waste & Recycling (@RumpkeNews) February 2, 2021
It's horrible when you hear about someone discarding a helpless, injured puppy like that. But it's also heartwarming to know there are people like Aaron, willing to stop what he's doing to help out and to do the right thing. And for that, little Tipper's story has a happy ending.