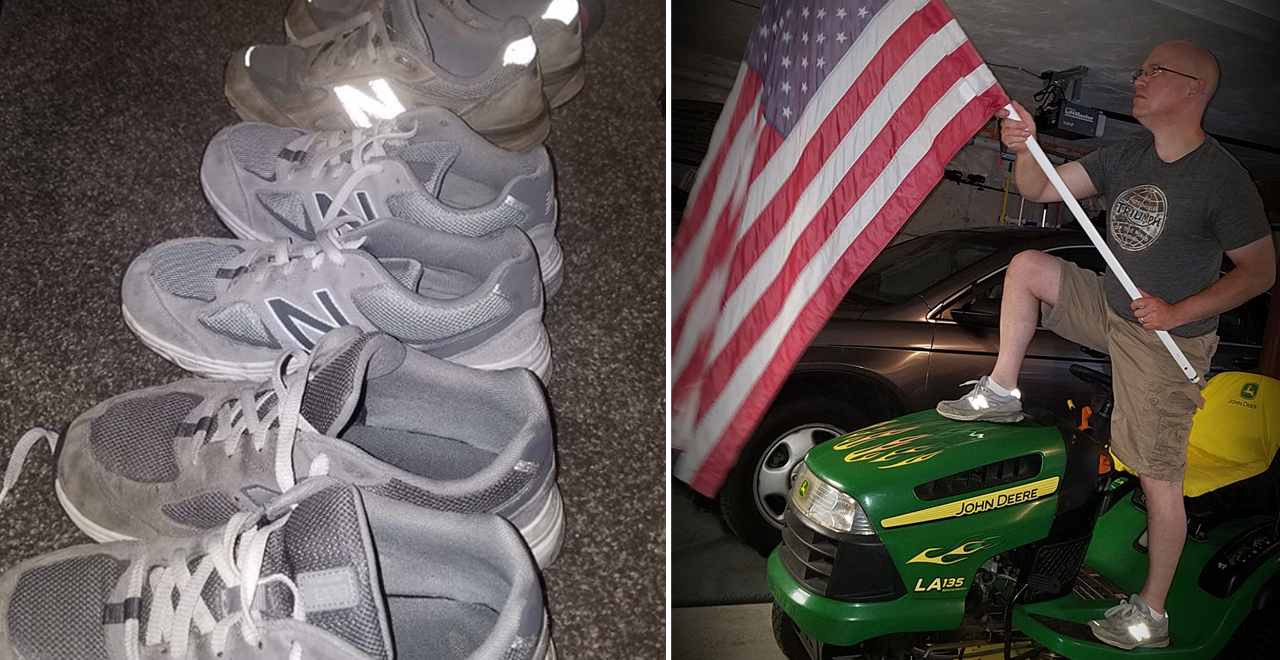 Credit: SUPPLIED
Meet Scott Golz. Dad. Lawnmowing enthusiast. He caught our eye when he commented on a story we did about a community lawnmowing gang. He shared an amazing photo of him proudly posing on his trusted machine, hoisting an American flag. But our community also noticed a subtle glow coming from his New Balances. We needed to find out more. Thankfully, Scott was gracious enough to share his story and some of his tips for a ballpark-esque turf.
Every superhero has an origin story, what's yours?
My lawn mowing history began around the age of 12. My father passed away 4 years prior so I am what you would call "self-taught". I didn't have much technique but damn were my lines straight. The interesting thing is, I had heard stories of my father and how he could mow the lawn with one hand and drink a cup of coffee with the other. It is quite possible that I had acquired some of the raw talent he possessed.
Tell us about your lawnmowing footwear.
The New Balance sneaker – I had my daughter at the age of 32, it was maybe a couple of weeks later when I purchased my 1st pair of New Balance running shoes. I can't say what inspired me to try on that 1st pair but I did, and haven't looked back since. New dad instincts I'm guessing.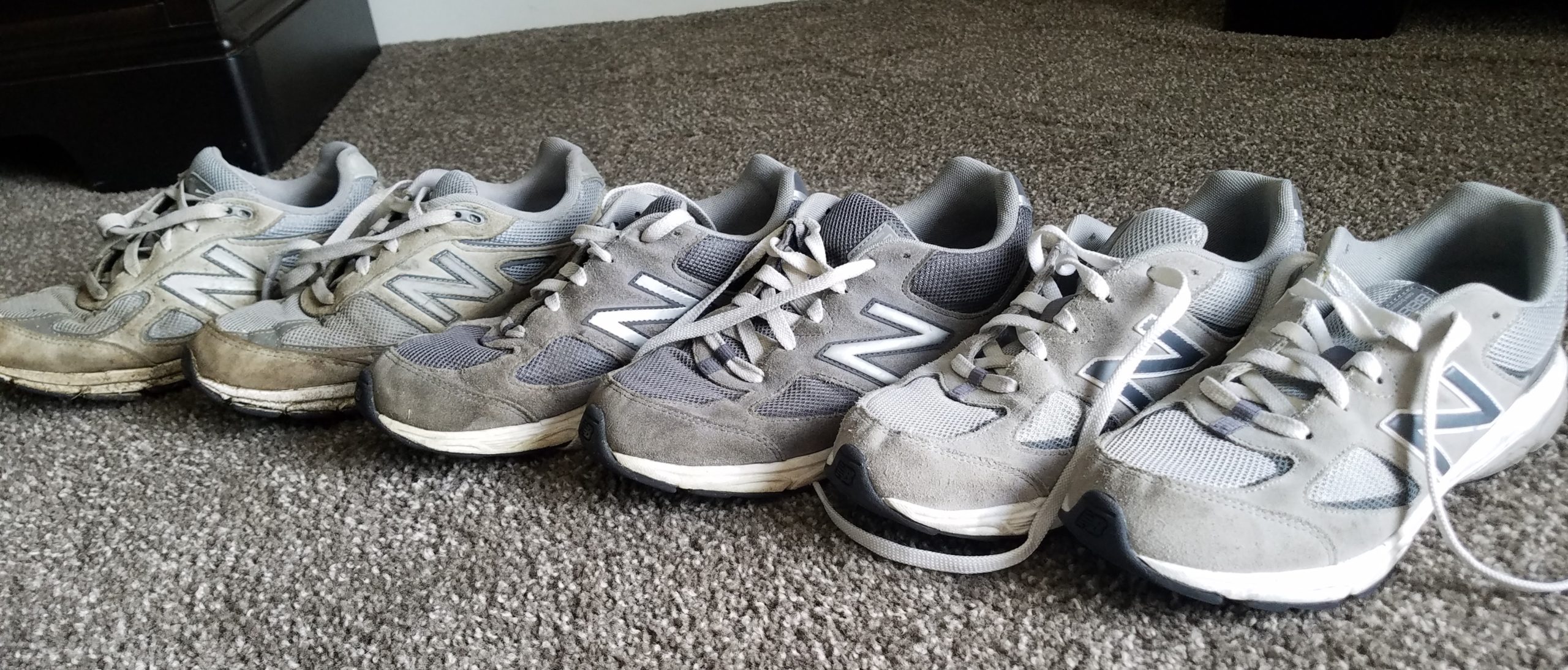 I have a theory called the New Balance evolution. That 1st pair was my everyday shoe. I'd wear them to the grocery store, casual work meetings, and fun nights out on the town. When they began to lose their luster, they evolved into "work shoes", mainly worn while doing various light-duty yard work. At this point, I purchase a new pair for everyday use. Once the new pair loses its luster, they evolve into the "work Shoes" and the old "work shoes" graduate to "Lawn Mowing Shoes". These grass-stained soles are basically the Holy Grail of Dad footwear. I have a large assortment of grass-stained New Balance sneakers on display in my walk-in closet and the collection isn't showing any signs of slowing. In terms of what pair I choose to wear when I mow, the sneakers basically dictate which pair will be worn on any specific day. I don't choose the sneaker, the sneaker chooses me.
You may notice the "N" symbol on my New Balance shoes will glow at times. I compare it to the Bat-Signal. I always say "When the New Balance Glow, it's time to mow". I couldn't tell you exactly when this phenomenon first occurred but I can tell you that every Dad has the ability to harness that power. It does come with time and patience. I have been a Dad now for 13 years and I would say it took a good 10 years before I experienced "The Glow". The funny thing is… I believe it was right around the time I got my 1st riding mower. It was sitting in the garage of the new house we were putting an offer on. In my offer, I negotiated the beautiful green mower into the price of the house and the rest is history. The only thing that can diminish the glow is a rainy day. It is Dad Law that you cannot and must not mow when those blades of grass are wet.
How did becoming a dad change your mowing mindset?
You need to teach your kids to take pride in everything they do, even mowing the lawn. I am sad to say, however, my 13-year-old daughter shows absolutely no interest in lawns, lawnmowers, or lawnmower accessories. She does say the striping looks really nice when I finish. I'll take any compliment I can from her at this point.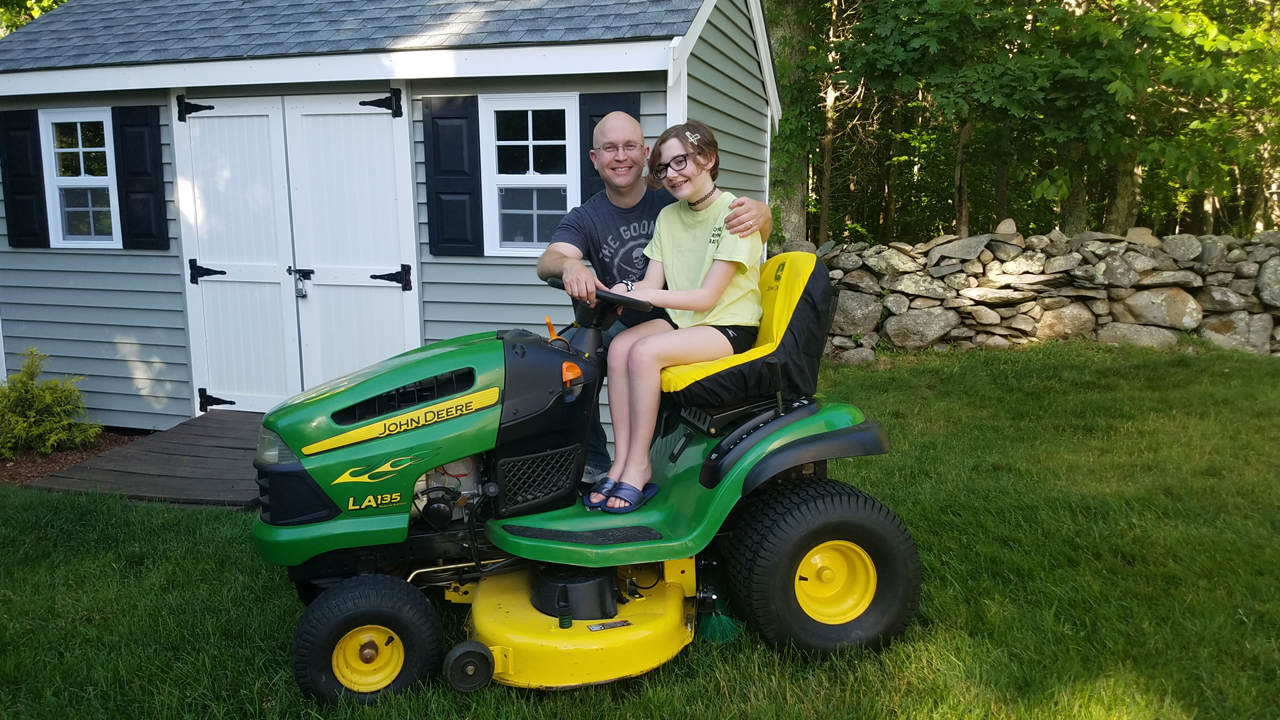 THEY'RE A JOKE. This is a major part of living the dad life. Don't let robots take that away from you. If you want a robot to vacuum your new bamboo hardwoods, that's acceptable.
Do you have any signature moves?
I have several signature moves. I usually pull out the 1 handed finger gun and pew-pew the next-door neighbor. Sometimes if I am having an exceptionally good mow, I whip out the double-handed finger guns and pew-pew like the wild west. Know this much, if you drive down my street, you will always get a wave no matter what. You will also see me mouth the words "who the hell is this".
Do you have any lawnmowing rivals?
When I moved to my current house 3 years ago, my lawn was horrendous. Riddled with a cornucopia of weeds and the invasive "Nutsedge" I was a bit overwhelmed. My next-door neighbor Simon has a beautiful lawn and I decided if I get to look out at his masterpiece, he should get a masterpiece as well. I have been on a mission to be on the same level and it looks like I am almost there. I would not consider him competition, I would consider him motivation. He and his family are wonderful neighbors as well.
Between the two of us, we are the dominating forces in our neighborhood.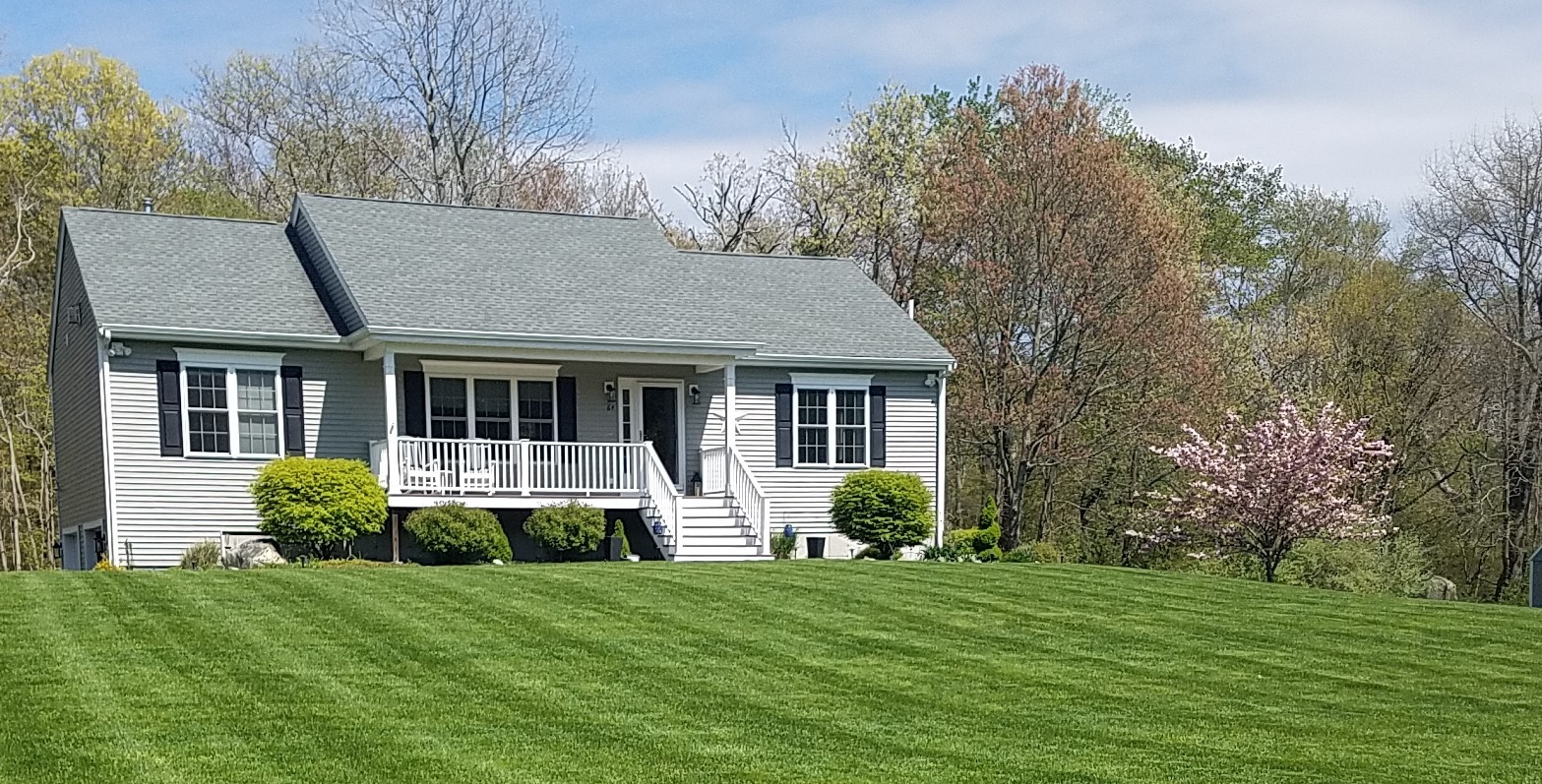 What advice do you have for up-and-coming lawnmowing dads?
Keep your blades high, do not under any circumstance scalp your lawn. It opens the lawn up to weeds like you'd never imagined. Get yourself on a 3 step fertilization program and do not mow when the grass is wet. Another major component to my lawn success is to mulch your clippings, do not bag. The clippings are a natural fertilizer. Aerate the lawn every so often and dethatch as well. When you have things looking good and the grass is lush, buy yourself a striping kit for the mower. This will give you those beautiful lines you see at ballparks. This is how you attain lawn domination in your neighborhood. Sticking flame decals your kid got you for Father's day on your mower definitely scores domination points as well.