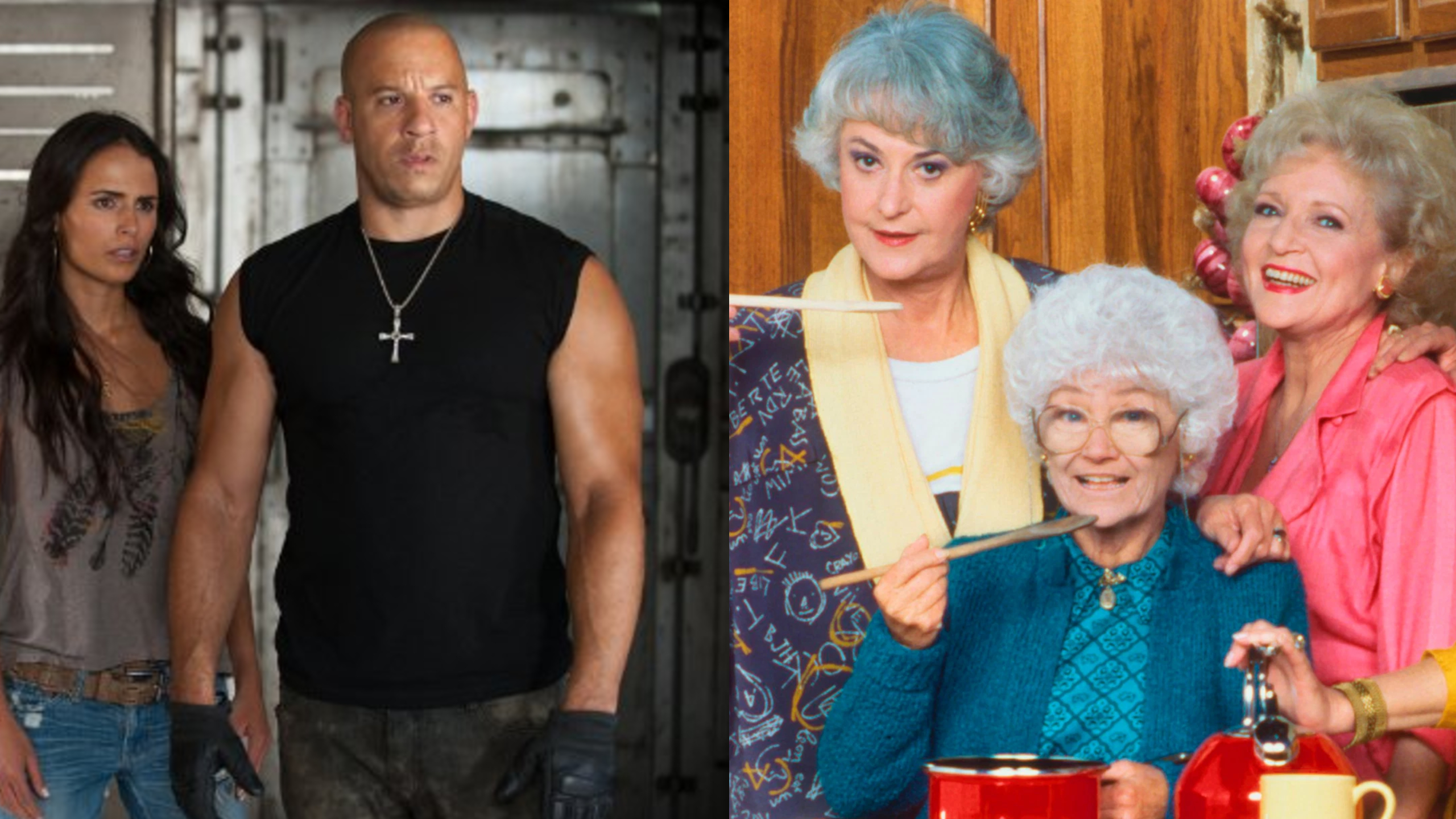 Credit: Universal/NBC
The Fast and Furious franchise is one of the reliably high-earning original franchises in cinema and they partly have The Golden Girls to thank. Yeah, that sentence didn't end how you thought it would, because one is an bro-y modern-day action-movie franchise and the other is a TV sitcom from the 80s about four elderly women living together.
But The Golden Girls did play a pivotal role in the trajectory of the Fast franchise, according to Fast and Furious director Justin Lin. He told Entertainment Weekly about his love of The Golden Girls when he was a kid and the fateful episode that planted the seed in his mind that would grow into Fast 5, the turning point for the entire franchise.
"'The Golden Girls' are part of the 'Fast' lore because when I was a kid I loved 'Golden Girls,'" he said, backing it up by drinking from a Betty White mug.
"They had this thing called Hurricane Saturday night, all three episodes got hit by a hurricane," he said. "That was the first time where I was like, 'Oh, they all exist in the same universe.' That was the inspiration for Fast Five. We brought back all the characters, they all existed in the same universe. That's the 'Golden Girls' connection."
#TheFastSaga director @JustinLin reveals how #TheGoldenGirls inspired #FastFive!

Watch the full '#EWBinge: @TheFastSaga' episode: https://t.co/Yf0mb8YZ3u pic.twitter.com/V9ofMxCQl0

— Entertainment Weekly (@EW) May 24, 2021
So there you have it. Four funny older women inspired one of the great action movie franchises we have. Fast Five is what elevated the franchise and really ramped it up to the next level, where it continued to churn out hits. It was Fast Five that took the franchise to the moon (in meme stock language). And it was Golden Girls that made Fast Five possible.
The least Lin could do is give Betty White a cameo in the final few films, which is actually something he said he'd love to do. Blanche, Dorothy, Rose, and Sofia quipped their way to our hearts so Dom and Family could race right over them.