College Graduate Repurposes Graduation Gowns as PPE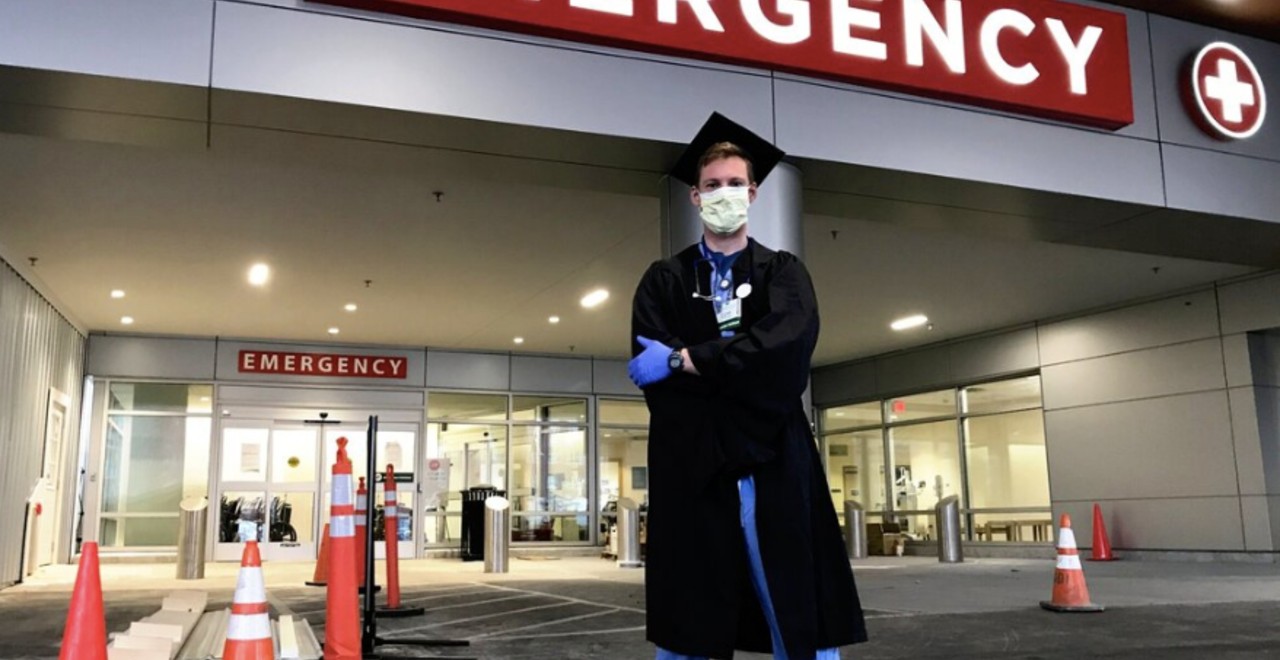 In the era of the coronavirus, things that we used to do every single day without a second thought have had to get a complete overhaul. Restaurants are serving patrons in rubber bumper tables, tennis players are being instructed to kick some balls. Things are extremely confusing right now, and there's no guidebook for navigating this new reality we're faced with.
Graduates around the world are being hit with the reality that the celebration of their accomplishments just isn't going to happen this year in the way they had anticipated. For high school students, this meant no prom, and no ceremonial walk across the stage in front of friends and family to accept their diploma (unless you're this lucky grad who got a private graduation ceremony that puts some actual convocations to shame). For Nathanial Moore, a recent graduate of the University of Vermont, graduation meant the opportunity to make a difference.
Moore, a physician assistant, saw firsthand just how desperately frontline workers needed PPE. Moore also saw firsthand just how useless his graduation gown was, a gown that he'd never get to wear. With a stroke of genius, Moore solved both problems with one brilliant solution – he started an initiative called Gowns 4 Good which upcycles graduation gowns and turns them into much-needed PPE.
Our @somegoodnews today: these photos from @_VisitingAngels, where #healthcareworkers lacking #PPE now have donated graduation gowns (#Gowns4Good!) to better protect themselves + their patients.

Help more healthcare workers by donating a graduation gown @ https://t.co/sk9zgkX1sp pic.twitter.com/Y58AbnlFe2

— Gowns4Good (@Gowns4Good) May 3, 2020
According to the website, "Graduation gowns are more effective than other PPE alternatives given their length, sleeves, and easy zippered access". Some hospitals are so desperate and under-resourced that they are using things like garbage bags as PPE (and if you've ever had a garbage bag explode all over your feet like some kind of sewage balloon, you know they cannot be trusted). Some are getting creative and designing their own 90's inspired PPE. Basically, everyone is grasping at straws in an attempt to stay safe while continuing to do life-saving work.
Moore was horrified at the thought of his colleagues, friends, and other medical professionals around the world working without the proper protection. In just over a month, he has collected over 10,000 graduation gowns for hospitals in need with more coming in every day.
Gowns 4 Good isn't picky about the gowns it takes in as long as they're in decent condition. If you still have your 1972 graduation gown sitting in the back of your closet, first of all, it may be time to clean up just a little. Second of all, you can donate it to Gowns for Good and make a difference to a medical worker in an in-need hospital of your choice. You can keep the cap though, you may need it for crashing your wife's Zoom calls.