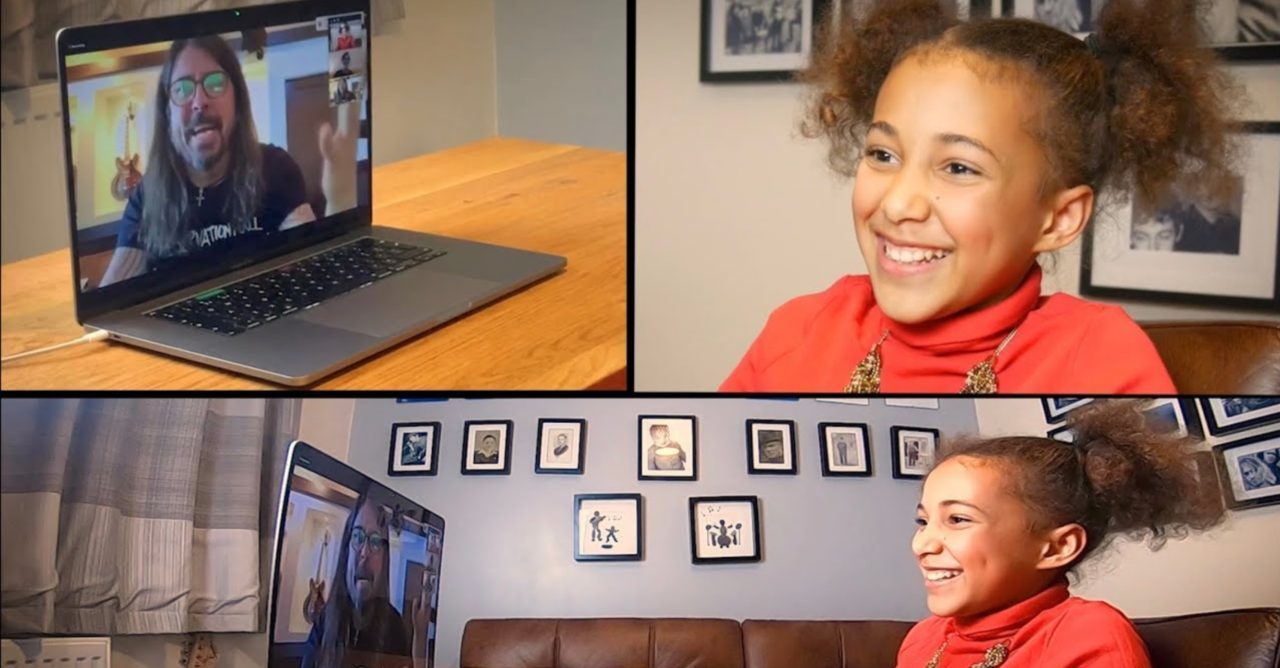 Credit: YouTube/Nandi Bushell
One of the coolest parts of 2020 (I know, the bar is low) has been the ongoing virtual drum battle between Dad Rock aficionado Dave Grohl and 10-year-old superfan and musical prodigy Nandi Bushell. Despite throwing epic challenges back and forth, the two finally met (virtually) for the first time earlier this week.
In a video shared by Nandi, Grohl is exactly who we thought he was; effortlessly awesome.
"I get to meet a rock star! Oh my God!" Grohl said to Bushell. The youngster was glowing and rendered speechless at first.
"Oh my gosh! It's you!" she said. "It's so nice to meet you…I can't believe it. I feel like I'm meeting a Beatle."
Grohl brought up the latest round of the challenge when they each wrote original songs for the other.
"I had an idea for how to respond to your last song, but I haven't done it yet," he said. "It's a really good idea. … I don't want to give it away."
Grohl also said she's so good at the drums it made him briefly consider quitting. And when it came to advice, he told her just to practice, practice, practice. But maybe the coolest part of their convo was when he invited her to jam with the Foo Fighters, on stage.
"When the Foo Fighters finally come back to the U.K., do you think that you would get up onstage and jam with us?" Grohl said. "But it has to be at the end of the set, because you're gonna steal the show. It can't be at the beginning of the set, because if you come out first, it's just all downhill from there."
That show promises to be epic if it comes close to living up to the back and forth they've had over the past few months. Regardless, it's always fun to see someone meet their hero, and have that person be as cool as everyone thought he was.