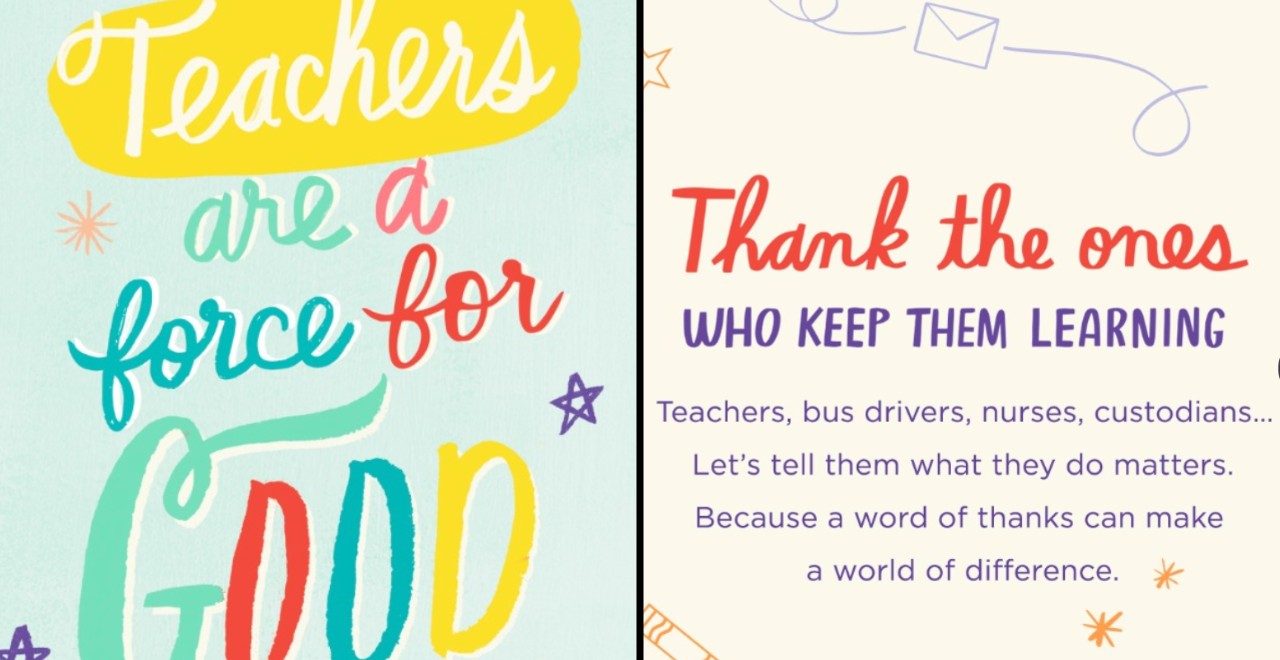 Credit: Twitter/Hallmark
Parents certainly understand the strain the pandemic has caused. Forget the professional costs (of which there are many), the added stress it's caused for families as they navigate new school restrictions, and, in many places, remote learning has been intense. But we know that. One group feeling the other end of that strain this year? Teachers and school staff across the country.
Hallmark is honoring that group by giving away 1 million greeting cards to educators for the role they've played during the pandemic. We know how hard it is to get a kid to sit still for a Zoom class, imagine being the person responsible for actually teaching to 20+ kids via Zoom. And going just as hard in the paint as parents, teachers are going above and beyond to help kids through this weird time.
No matter how school looks for your family this year, educators have truly gone above and beyond for our children—let's show them how grateful we are. 💜 Request your free, 3-card pack at https://t.co/Ab9ZgD9Fqm. U.S. only, while supplies last. @Crayola #CardsDoMore

— Hallmark (@Hallmark) November 18, 2020
"For many parents, navigating their children's education amidst a pandemic has been a difficult challenge," a Hallmark spokesman told People Magazine.
"We've all seen so many teachers and school staff members rise to the challenge, working long hours and using their imaginations to deliver the best education possible from a remote, hybrid, or in-person learning environment. Despite these changes, one thing remains the same: the sincere connection between teachers and their students."
Teachers, like parents, have had to get creative to connect and engage with little learners, and while the results may not always be pretty, WE ARE DOING IT. And it's important to recognize everyone doing what they can to be as good to our kids as they can. If you've made your kid sit through a Zoom class, you know how much it sucks, and the endless patience required of teachers to completely re-learn how they teach and structure a classroom.
Is a Hallmark card (or, in this case, three) enough? Probably not, no. But it's something you can do (for free!), by going through the Hallmark website, and sending some goodwill out to the educators and school staff helping us all through a schoolyear we would love to forget.