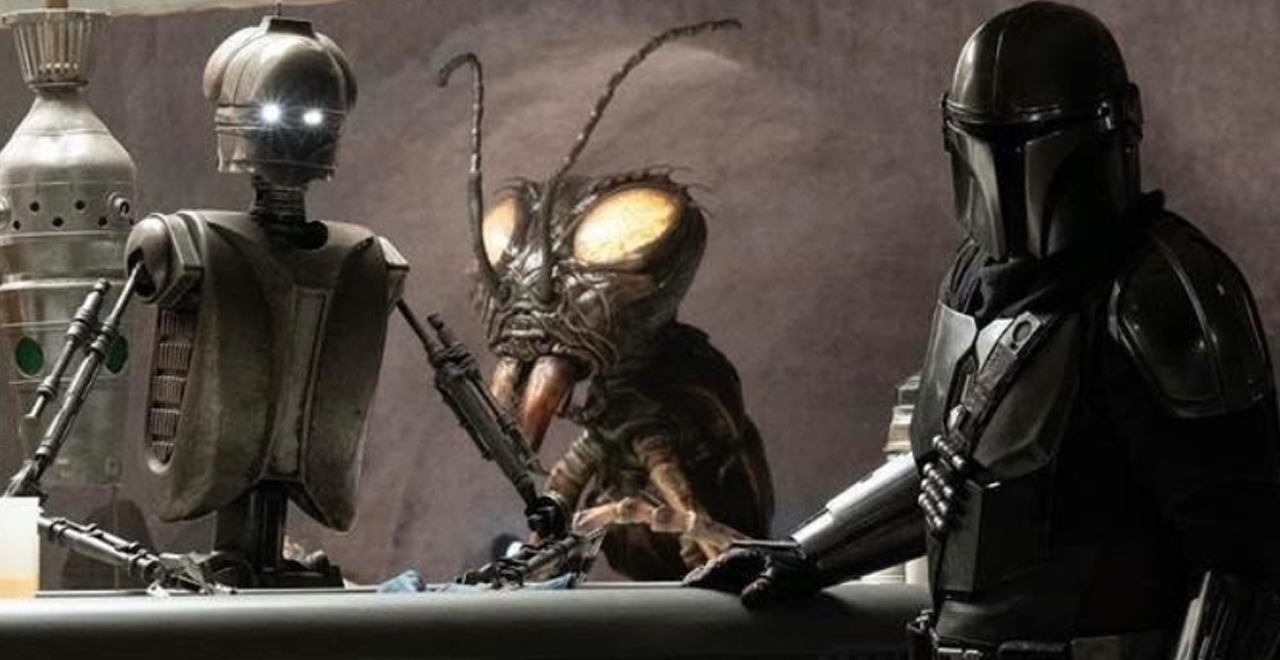 Credit: Twitter/maka_gh Disney+
The Mandalorian on Disney+ reignited fandom for Star Wars in a truly genuine way that we haven't seen since…maybe the re-released masters of the original trilogy back in the 90s?
Granted, the fervor was at a peak pitch for the Phantom Menace, the first Star Wars movie in decades. But the prequel (and the entire trilogy) was derided by fans. The Force Awakens fared much better, with critics and fans alike, yet that excitement was quelled by the deeply divisive second movie (for the record, I enjoyed The Last Jedi).
The Mandalorian, though, quickly won over everyone. Fans, critics, even the internet, through the adorable, meme-able baby Yoda (yes, he is not really Yoda, he is "The Child", please do not activate the lightsaber mob). And now, Disney+'s documentary about the show, Disney Gallery: The Mandalorian, is finding its own audience. Each episode features a different part of the hit series and the season finale covers all the Easter Eggs in the show that ties into the whole Star Wars history.
The biggest? Mark Hamill, Luke Skywalker himself, had a secret role in The Mandalorian. His secret cameo was unlisted but the Jedi master himself voiced a droid character in episode 5.
In the episode, titled "The Gunslinger", the action comes to Tattoine, the home planet of Luke Skywalker, and the place where the entire story begins. The episode even returns to a popular cantina where Luke and Obi-Wan Kenobi first met Han Solo and Chewbacca. The cantina is a lot less lively this time around, and while it didn't allow droids years earlier when Luke first entered, that rule has clearly changed as droids are everywhere now. There's even one behind the bar, voiced by…Luke Skywalker himself.
The secret role as a droid bartender is just one of the surprises in the episode. Another pretty badass reveal is that dozens of the stormtroopers in the season finale were actually a group of super fans who maintain their own stormtrooper outfits and appear at events around the country.
For his part, Hamill revealed in the reveal, even announcing he's "appeared" in several other Star Wars movies as well. Hamill is no stranger to voice work, thanks to a long run as a voice actor for numerous animated shows.
Now that @themandalorian secret is out-might as well reveal I am vocally represented in ALL SW films except the Prequels. Thanks to @matthewood for using me in Rogue One, Solo & the Sequels, so I DO have lines in #EpVII. Hint: Look for parts played by Patrick Williams.#TrueStory https://t.co/kRQlo7uub8

— Mark Hamill (@HamillHimself) June 20, 2020
The Mandalorian is available on Disney+ and the second season of the smash hit is coming this fall.
Hamill, for his part, is a great follow on Twitter for the occasional killer Star Wars behind-the-scenes tidbit.
This is from "Return of the Ewok" a featurette written & directed by 1st Assistant Director David Tomblin. Made during our breaks while filming "Return of the Jedi" for publicity, it was never officially released. Sadly, this clip is the most I've ever seen of it. #TrueStory https://t.co/VamfX1vRp6

— Mark Hamill (@HamillHimself) June 16, 2020