Tom Hanks' Blood Plasma is Being Used to Fight COVID-19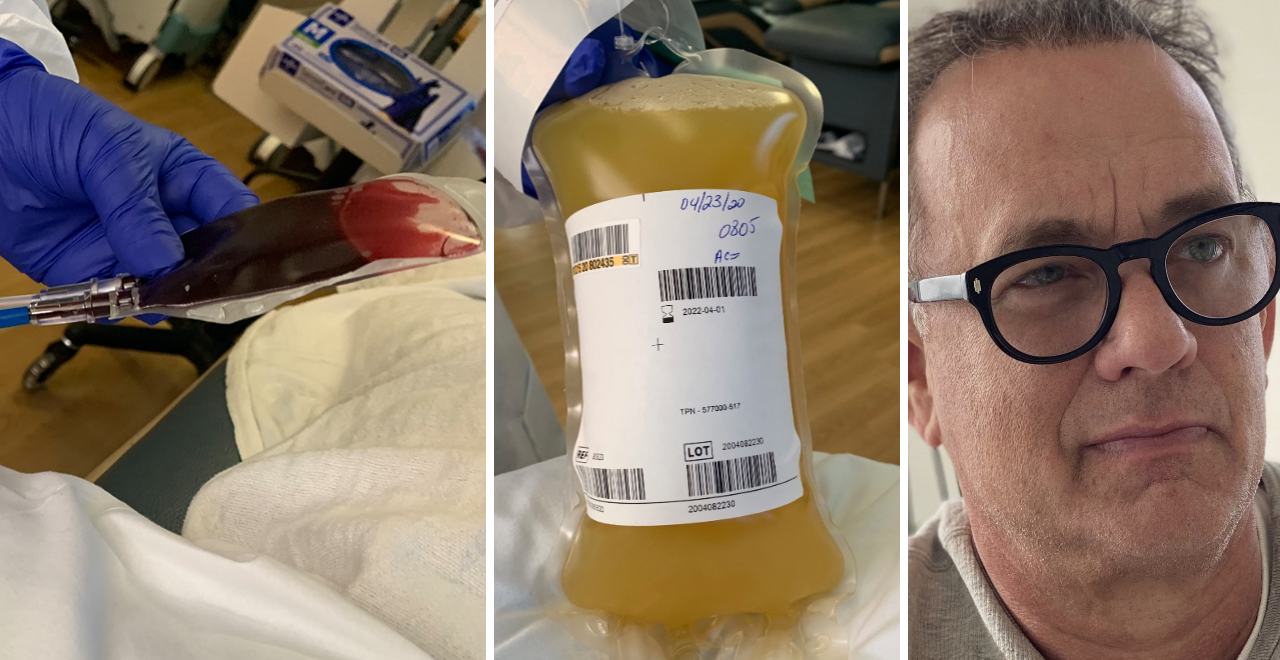 Is there anything Tom Hanks can't do?
He's won two Oscars, he has hosted SNL 5000 times (including the first virtual episode of the show), and he befriends bullied boys.
And now, apparently, he helps solve a global health crisis! Maybe.
In early March, Hanks and his wife Rita Wilson were the first major celebrities to contract the coronavirus, while on location in Australia shooting a movie. They've since recovered enough for Tom to host the aforementioned Saturday Night Live episode, and now they've so thoroughly recovered that they're helping fight the disease.
In a new episode of NPR's Wait Wait… Don't Tell Me, Hanks revealed that after discovering he and his wife had COVID-19 antibodies, he's fighting back. His antibodies are being tested, and the long-time couple is donating their blood and plasma in the hope that it might combat the virus.
Here's last week's bag of plasma. Such a bag! After the paperwork, it's as easy as taking a nap. Thanks @arimoin and UCLA. Hanx pic.twitter.com/15WblGiVwe

— Tom Hanks (@tomhanks) April 29, 2020
"We will be giving it now to the places that hope to work on what I would like to call the 'Hank-ccine,'" Hanks said on the show.
Host Peter Sagal responded with what everyone else is thinking, "There could be no better ending to this international catastrophe than if the cure turns out to be the blood of Tom Hanks."
It also makes perfect sense that the man famous for playing Forrest Gump, a rube lucky enough to find himself at the center of countless historic events, should now find himself at the center of this unprecedented 21st-century plague.
He may not be a smart man, but he knows what a pandemic is.
Here at The Dad, we hope you, your families, and communities stay safe and healthy during the COVID-19 pandemic. For the latest information, please utilize online resources from local public health departments, the Centers for Disease Control, and the World Health Organization to remain as informed as possible.