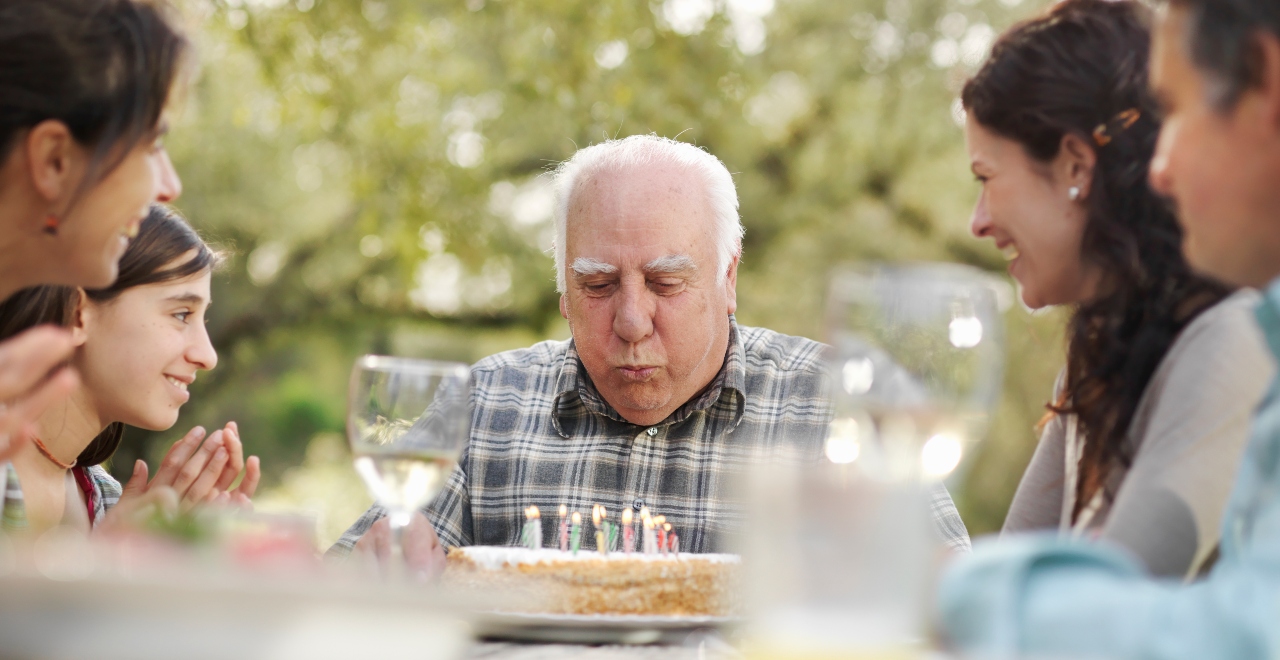 Credit: Getty/Cultura Exclusive/Monty Rakusen
So, you bought a birthday card for your dad. If he's anything like our dad, he'll probably grumble about cards being a waste of money. Most cards inevitably end up in the big bag of wrapping paper trash or to the evening bonfire. Want to be the envy of your siblings by giving him the one and only card your dad ever decides to keep? These happy birthday-centered quotes and sayings hit just the right note of meaningful and fun. We guarantee Dad will cry at the sentimental ones… or at least scowl at the card for an uncomfortably long time. And the silly messages ought to earn you at least a smirk. Right? You know your dad better than us. Pick the right one for the reaction you're looking for and we're sure you'll get it.
Sentimental Birthday Messages For Dad
1 The best dad ever deserves the best birthday ever. Happy birthday and enjoy!
2. Everyone thinks their dad is the best and everyone is wrong.
I have the best dad and today is his birthday. I hope it's as great as you are.
3. Today I honor the man I admire most in life. Happy birthday, Dad!
4. I wasn't always the best kid, but you were always the best dad.
Happy birthday to the world's best dad.
5. Dad, I thought I'd grow out of seeing you as a superhero. It turns out, your powers have only gotten stronger with age. Happy birthday, Super Dad.
6. Happy birthday, Dad! I thought you were amazing (and amusing) since the day I first met you.
7. I tried to make a list of the gifts you've given me so I could pay you back. But, your love and guidance are priceless. Happy birthday, Dad!
8. Thanks for being the kind of dad who stands beside their kid, even when they're wrong.
We both know I was wrong a lot. Happy birthday and I love you.
9. Listen up, because I'm only going to say this once (maybe twice) this year: I'm so thankful you're my dad. Happy birthday!
Birthday Messages That Go The Distance
10. I learned how to hug from you, Dad.
If I were there, I'd give you the biggest, best birthday hug.
11. If I were physically there with you as often as you've been emotionally "there" for me, we'd be really sick of each other by now. I miss you, though, and wish we were celebrating together.
12. My heart has no idea just how far away you are today, Dad.
No matter where we are or how far apart, I always carry you in it. Happy birthday.
13. Dad, your love has always gone the distance.
Just like this birthday card.
14. This card is so lucky! It gets to be with you on your birthday.
Funny Birthday Messages For Dad
15. Happy birthday to one of my favorite parents.
16. Happy birthday, Dad! Thanks for teaching me that nothing is impossible.
Which reminds me, can I borrow a million dollars?
17. Hope you have a great birthday, Dad. Just be home by 10.
18. Ever notice that the worse a dad's jokes are, the better father he is?
That explains why your jokes are sooooo bad!
Hope your birthday is more than a few groans.
19. Today is the day we take time to honor the man we admire most in our lives.
So, what do you miss most about President Obama?
20. Happy birthday, Dad!
I always knew I could count on you for great advice… and a little bit of cash.
21. On your birthday, Dad, I thought we could remember some of your most important lessons:
Keep your word.
Hold doors for people behind you.
Never trust a ladder or a fart.
22. Happy birthday to the world's okayest dad!
23. Happy birthday to the world's best farter — they're silent but dadly.
24. Dad. You said all you wanted for your birthday was to spend time together, so I've included a list of things that need to be fixed at my house. I'll hold the flashlight.
Cute Birthday Sayings That Are Actually All About You
25. Happy birthday from your favorite kid!
26. Happy birthday from your greatest creation.
27. Happy birthday to the man who will always be my first call from jail!
28. For your birthday, Dad, I'm giving you the day off from helping me with my problems.
But, keep your phone on in case of an emergency.
29. Wow, Dad! (Age) year old and still kickin'. If my teen years didn't kill you, nothing will.
(You can always change this up as a tease on a more rebellious sibling.)
30. Dad, where would I be without you?
Follow-up question: Where would you be without me?
Here's to hoping we don't find out either of those answers for many more birthdays.
31. Happy birthday dad! I want nothing but the absolute best for you. You deserve it all and more. Proud to call myself your son!
32. Dad, thank you for being the example I aspire to meet every moment of my life. I was so lucky to call you daddy as a child, now I'm lucky to call you friend as an adult.
33. I learned how to be a father from you. Happy birthday to the man I aspire to emulate every day of my life.
34. The sun and moon rise and set on you, dad. Thank you! Happy birthday!
Hilarious Birthday Jokes and Puns
What did one candle say to the other?
"Don't birthdays just burn you up?"
Did you hear about the big birthday candle sale?
It was a big blowout!
I know birthdays get worse as you get older.
But look at the bright side — not too many left now.
Why do candles love birthdays so much?
They just wanna get lit!