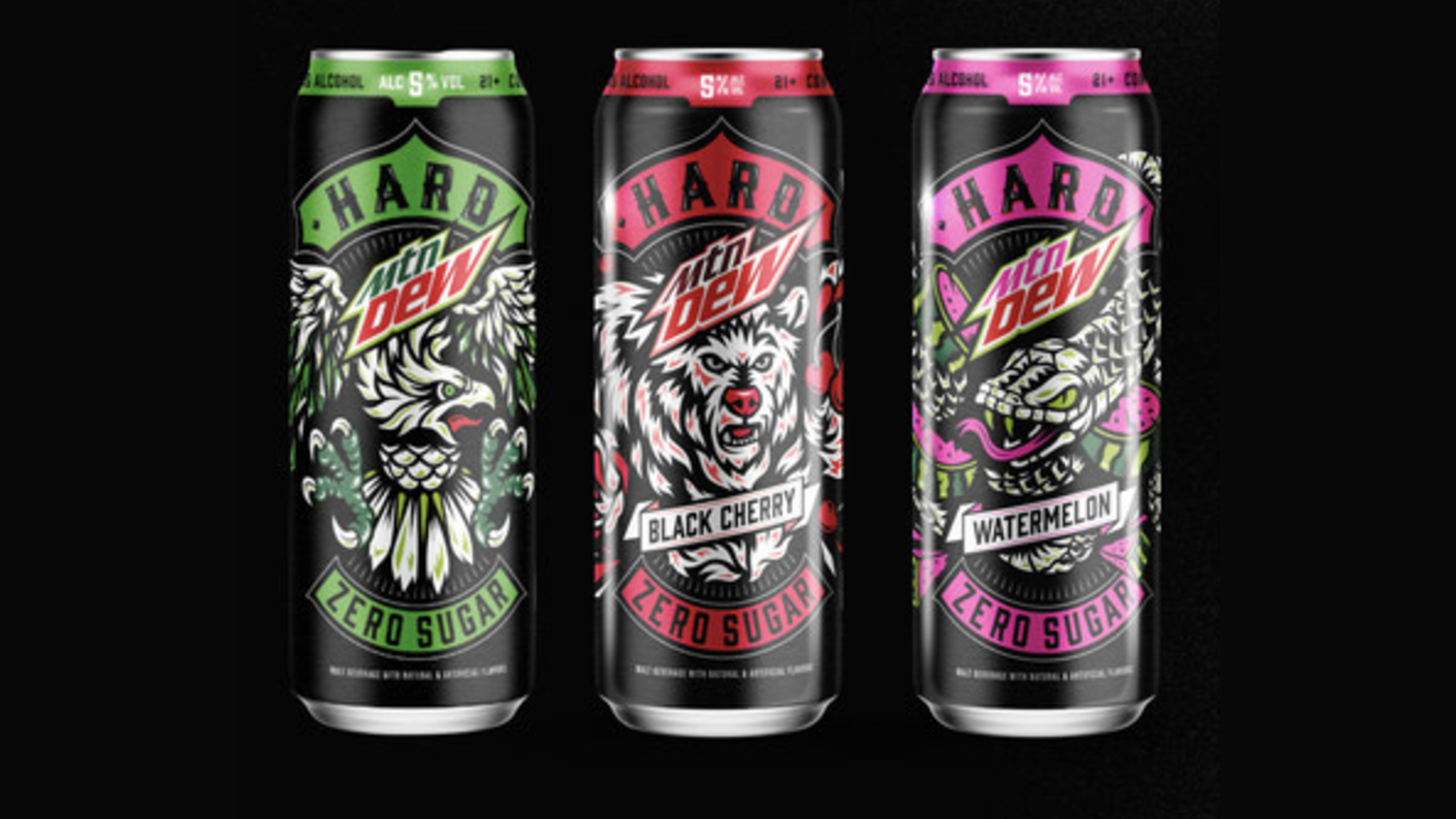 Credit: Boston Beer Co
If you thought the hard seltzer market was going crazy before, get ready for it to hit the next level, because we're getting an alcoholic Mountain Dew. Granted, college kids have been making homemade booze-infused versions of the Dew since…well Mountain Dew. But now official Hard Mountain Dew is coming to take over the seltzer world.
Pepsi and Boston Beer Co, the parent company of Sam Adams are teaming up to make "HARD MTN DEW," a new flavored malt beverage. This abomination will hit shelves in 2022 giving society scant few more months before collapse. You'll have your choice between original, black cherry, or watermelon, along with a mystery fourth flavor is being developed and will be announced soon.
Pepsi and Boston Beer are teaming up to create an alcoholic version of Mountain Dew, called Hard Mtn Dew. https://t.co/IalWi1DNzE

— CNBC (@CNBC) August 11, 2021
The companies say the new drink will have no sugar or caffeine (sacrilege!) but will still have a taste fans will find familiar. HARD MTN DEW will maintain the "bold, citrus flavor fans know and expect," a spokesman said.
A Boston Beer Co. spokesman said people are looking for exciting and flavorful new beverages, and that HARD MTN DEW "will deliver the excitement and refreshment that drinkers know and love."
That is a sentence that should terrify everyone. The craziest kid in your gang of 9-year-olds was addicted to Mountain Dew. He was always the first to climb a giant tree and then jump out of it, or try to hold on to the back of a car while on roller skates. We all have Facebook, so we know what that kid grew up to be. Now imagine him getting his hands on HARD MTN DEW, and what that's gonna look like. Neighborhood firework shows are about to hit the next level. Think of every guy you've heard say "ain't no laws when you're drinking claws", put him in neon green, multiplied by 1000. That's what's coming.