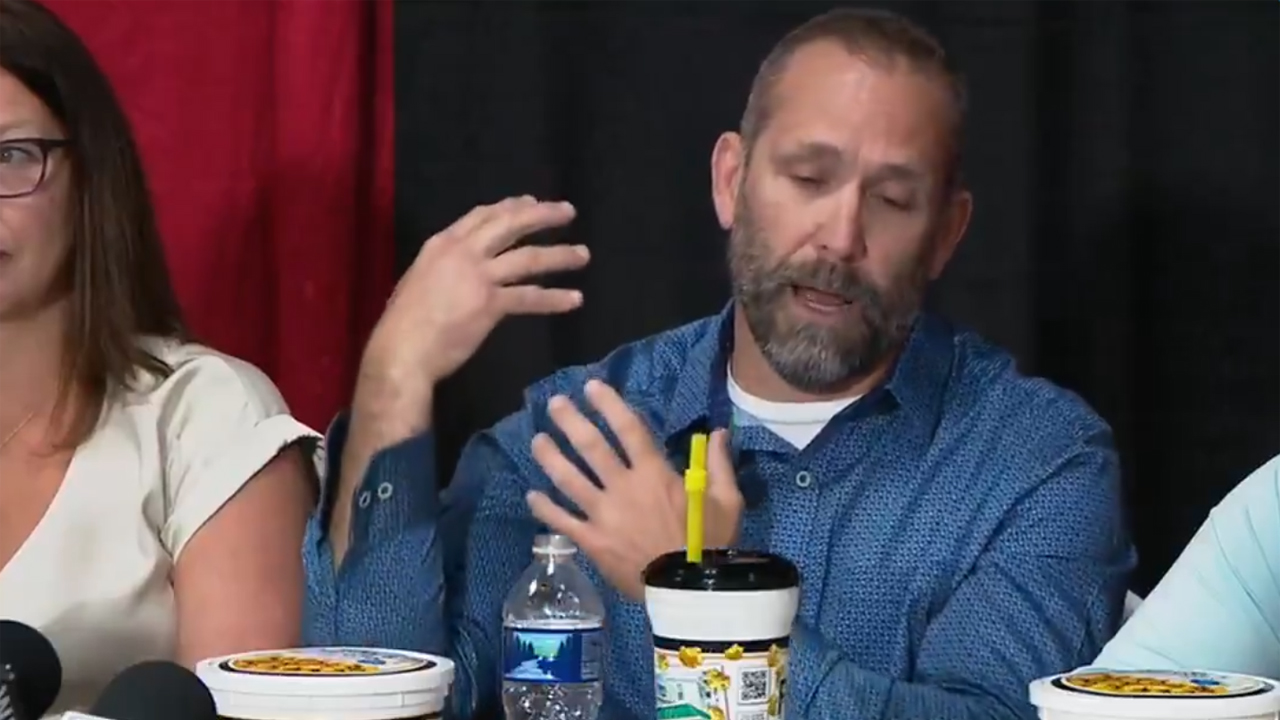 Credit: Twitter/7NewsDC
A Good Samaritan who leaped from a bridge to save a baby after a car crash has finally come forward. And we're finally getting more details from one of the wildest stories of the year. The capital-H Hero, Jonathan Bauer, jumped nearly 30-feet off a bridge to save a two-year-old who had been ejected from a car during a five-car crash on the bridge. Bauer is a dad, and it was his dad instincts that took over when he saw the girl in the water.
He gave a press conference so he could praise the first responders who came to the scene of the crash. Bauer, who initially didn't want to be identified, said the first thing he did after the crash was made sure he and his 12-year-old daughter were OK. Then he went to the truck he saw turn over the railing.
After helping someone out, they just pointed down to the water.
"I saw the car seat and some other items and about six feet away from the car was a little girl," he said. "She was on her back, completely floating, head completely out of the water, arms moving, legs kicking and a little pink dress."
Then the girl flipped over and sunk under the surface. That's when Bauer told his daughter to tell the first firefighter or police officer to arrive what happened. And then Bauer, who is afraid of heights, moved the edge of the bridge, and JUMPED INTO THE BAY BELOW TO SAVE THE BABY.
Total legend move. But when a dad sees a kid facing mortal danger, there are no other options than epic heroism. His own daughter said seeing her dad jump off the bridge was the scariest part of her life. At the press conference, his wife said he's afraid of heights.
"The scariest part of my life: seeing my dad jump off a bridge."

An emotional afternoon in Ocean City as Jonathan Bauer, who jumped into Assawoman Bay to rescue a toddler, and his 13-year-old daughter Ava, who called 911, recalled their experience.

MORE: https://t.co/Lys07dFINp pic.twitter.com/mB2lMBbCK5

— 7News DC (@7NewsDC) May 7, 2021
"I can't say how proud I am of him," his wife said, tearing up. "It doesn't surprise me. If you know him, you know that that is something he would do."
WATCH: Jonathan Bauer, who jumped off a bridge to rescue a 2-year-old from a Maryland bay after a car crash, speaks out.
@KristenDahlgren reports. pic.twitter.com/jxYcahcZBa

— NBC Nightly News with Lester Holt (@NBCNightlyNews) May 8, 2021
Bauer said he popped up, swam over to the girl, and put her against his shoulder as he aggressively patted her on the back. She spit up a bunch of water, coughed a lot, and then took a deep breath.
Boaters pulled the two out of the water, and the toddler was flown to a nearby hospital, having her life saved by Bauer.
The mayor of Ocean City called him a "humble hero", but he's bigger than that. He is a full legend.