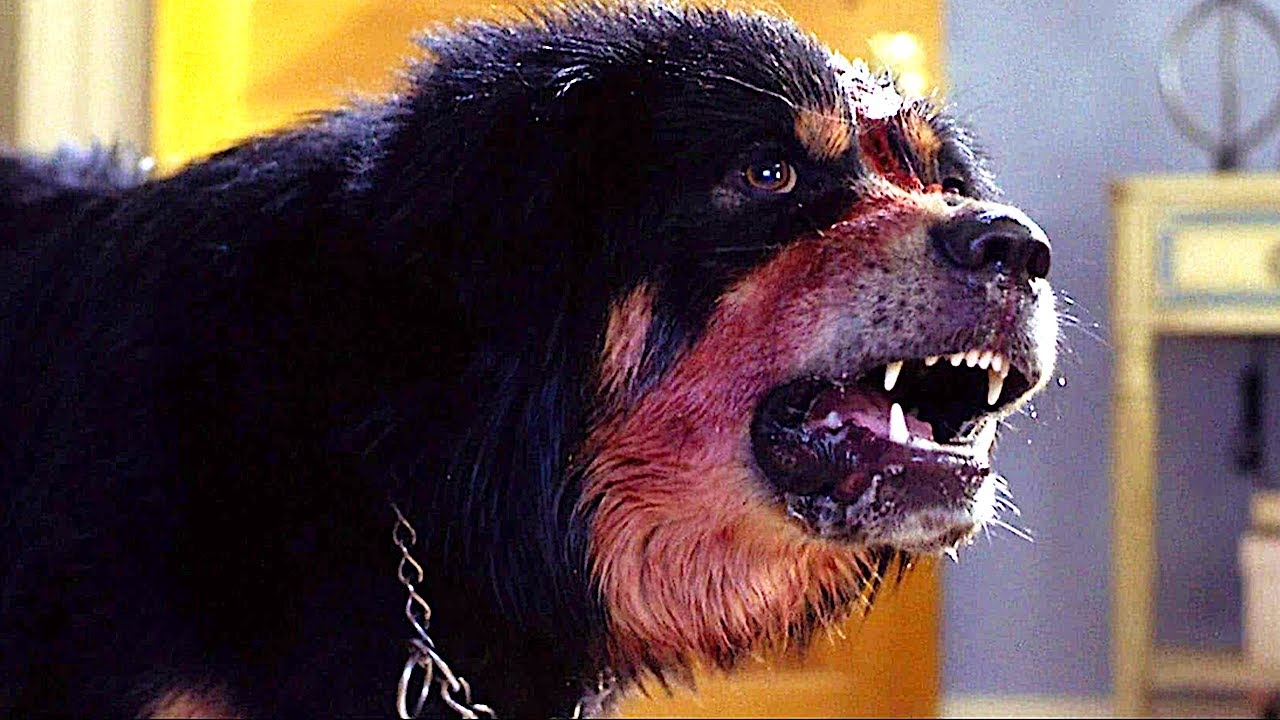 Credit: New Line Cinema
Typically, when you think about dogs in movies, you probably think about man's best friend, right? You know, the classics like Beethoven or Chance and Shadow from Homeward Bound. But there's another category of canines in film that may have had an even more profound effect on your childhood: horror dog movies. Sure, Beethoven was funny — but someone made you watch Cujo when you were a kid, and you've been distrustful of St. Bernards ever since. Watching Pet Sematary Two for the first time derailed your dreams of getting a husky. You know that dogs are man's best friend, but horror dogs have taught you that evil forces can turn them into hounds of hell.
Of course, that doesn't mean you love dogs any less. You probably have one (or a few) of your own who you consider your four-legged family members. Still, sometimes it's fun to take a little stroll down memory lane to look at the scariest dogs in cinema. They might make you consider becoming a cat person, but just think of it this way: Your pup is a good doggo who would never terrorize you. You're one of the lucky ones.
Now, onto the hellhounds.
The 5 Most Terrifying Horror Dog Movies
1. Cujo (1983)
Are there flashier movies on this list with better special effects? OK, yeah. But classics are classics for a reason, and this early '90s horror still holds up decades later. The story of the friendly St. Bernard named Cujo that contracts rabies from a bat — and subsequently terrorizes a small town — has haunted us since that first ill-informed watch as kids.
2. Man's Best Friend (1993)
If ever there was a cautionary tale about genetic testing on animals, it's this 1993 cult classic. While investigating a story about animal cruelty, reporter Lori Tanner (Ally Sheedy) is followed out of an animal-testing facility by one of the facility's subjects: a massive dog named Max. The two quickly bond, and she decides to keep him — which is all well and good until she realizes the facility genetically engineered Max to be a weapon of mass dog-struction.
3. Baxter (1989)
Cujo might get most of the horror dog clout, but the title bull terrier in this French horror film deserves his fair share of fear, too. At the movie's start, Baxter is taken out of a shelter and given to an older woman. Innocent enough, right? Just wait, though, because things get much darker as Baxter's murderous nature starts to emerge.
4. Pet Sematary Two (1992)
If the memory of a resurrected toddler slicing people's ankles open in Pet Sematary wasn't enough to scar you for life, the franchise fully committed to doing so with their second installment. For those of us who wanted a pet husky growing up, the resurrection of Drew's dog Zowie pretty much nipped that in the bud. (Although, in Zowie's defense, Gus was the worst and got what was coming to him.)
5. White God (2014)
We're not sure what's more terrifying about this Hungarian film: the army of dogs that rises up against humans or the arguably all too accurate commentary on human nature. On the surface, White God tells the story of the bond between a young girl and her dog. However, the complexities in their relationship, the relationship between the girl and her father (who abandons the dog), and the larger relationship between dogs and people make this an unsettling — and compelling — watch.
Honorable Mention Horror Dogs
The Grey (2011)
Dracula's Dog (1977)
Devil Dog: The Hound of Hell (1978)
The Pack (2015)
Into the Dark: Good Boy (2020)
Trapped (1973)
White Dog (1982)
Frozen (2010)
The Hound of the Baskervilles (1959)
The Breed (2006)
Wolf Town (2011)
They Only Kill Their Masters (1972)