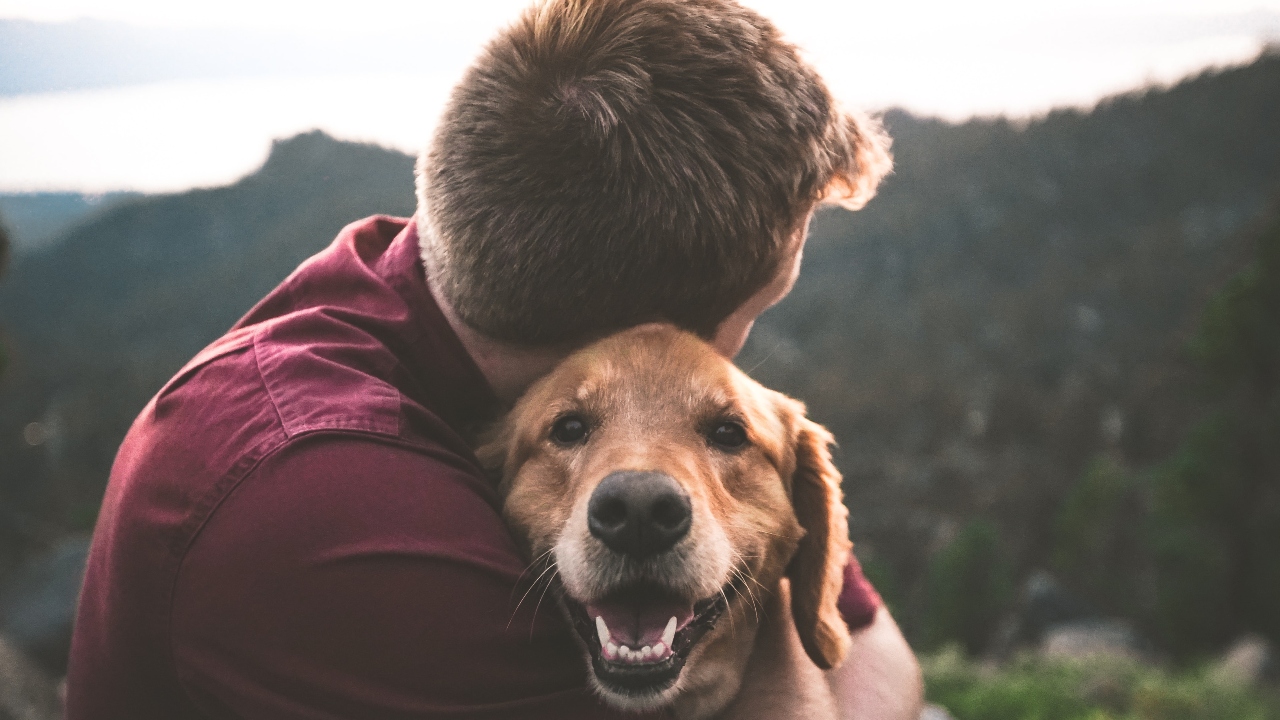 Credit: Eric Ward/Unsplash
Naming anything is a challenge: Your car, your kids, your boat… (Hey! Can we be friends?) But, naming your dog might be the hardest of them all. You're going to be judged every time you take that scruffy thing to the vet, introduce her to the other puppies at the dog park, or drive through your neighborhood bellowing for him when he escapes. Plus, if you don't think quickly, your kids will hijack the process. You could end up with a greyhound named Moana or a mastiff named Baby. Ironic? Maybe. Embarrassing? Definitely. So, what are you gonna name that new mongrel?
If you're a film buff, people are probably expecting that to shine through in your dog name. You could choose the name of a famous dog from a movie, like Rin-Tin-Tin or Cujo. If you want to be vague but still reference a great film, you could try Baxter (Anchorman) or Daisy. Just be prepared with a few recognizable quotes to share when you're introducing your furry friend. For instance, try "What? You pooped in the refrigerator? And you ate the whole wheel of cheese?" It's so absurdly silly. It's easy to recognize (if you're an Anchorman fan) and fun to say. Or you could go another route and use puns to riff off your favorite movie or movie character. You could keep with your Will Ferrell theme by going with a name like Tailadegga Nights or Brennan Ruff (Step Brothers, y'all!) Need ideas? Oh, buddy. We have plenty of dog names from movies just for you.
Dogs' Names From Movies
Barney (Gremlins)
Baxter (Anchorman)
Beau (Iron Will)
Beethoven (Beethoven)
Benji (Benji)
Bingo (Bingo)
Bolt (Bolt)
Boomer (Independence Day)
Bruiser (Legally Blonde)
Buckley (The Royal Tenenbaums)
Cujo (Cujo)
Chance (Homeward Bound)
Charlie B. Barkin (All Dogs Go to Heaven)
Copper (The Fox and the Hound)
Daisy (John Wick)
Daphne (Look Who's Talking Now)
Dug (Up!)
Einstein (Back to the Future)
Fang (Harry Potter)
Frank (Men In Black)
Fred (Smokey and the Bandit)
Hercules (The Sandlot)
Hooch (Turner and Hooch)
Jock (Lady and the Tramp)
Killer (Half Baked)
Lady (Lady and the Tramp)
Marley (Marley and Me)
Matisse (Down and Out in Beverly Hills)
Max (The Terminator)
Milo (The Mask)
Mother Teresa (Must Love Dogs)
Nanook (The Lost Boys)
Otis (The Adventures of Milo and Otis)
Padfoot (Harry Potter)
Perdita (One Hundred and One Dalmatians)
Pippin (Jaws)
Pongo (One Hundred and One Dalmatians)
Pops (The Secret Life of Pets)
Puffy (There's Something About Mary)
Quark (Honey, I Shrunk the Kids)
Samantha (I Am Legend)
Sandy (Annie)
Scraps (A Dog's Life)
Shiloh (Saving Shiloh)
Slinky (Toy Story)
Sparky (Frankenweenie)
Speck (Pee-Wee's Big Adventure)
Snots (National Lampoon's Christmas Vacation)
Stitch (Lilo and Stitch)
Toto (The Wizard of Oz)
Verdell (As Good As It Gets)
Whiskey (Bladerunner 2049)
Wilby (The Shaggy Dog)
Winn-Dixie (Because of Winn-Dixie)
Zero (The Night Before Christmas)
Marvel Dog Names/MCU-Inspired
Storm
Wolverine
Rocket
Killmonger
Rogue
Falcon
Whiplash
Viper
Drax
Shuri
Okoye
Nakia
Groot
Thanos
Star Lord
Gamora
Nebula
Ronan
Yondu
Kraglin
Loki
Doctor Octopus (or Dogtor Octopus)
Magneto
Mystique
Cyclops
Sabretooth
Juggernaut
Beast
Bucky
Fury
Pepper
Zemo
Dog Names That Are Movie Puns
Bark Griswold
Bark-eye
(The) Bark Knight
Bilbo Fleabaggins
Bilbo Waggins
Blue Hairy
Boba Fetch
Casabarka
Chewbarka
Citizen Canine
Corgi Longstocking
Darth Maul
Dirty Hairy
Dogfather
Dogula
Dogzilla
Donnie Barko (or Donnie Doggo)
Dumdledog
Frodog Gamgee
Fuzz Lightyear
Hairy Godmother
Hairy Pawter
Jabba the Mutt
James Pawnd
Luke Skybarker
Luna Lovedog
Mary Puppins
McBarkin
Minerva Magonnapaw
Pawchahontas
Pawlificent
Pawnald Weasley
Puppin
Repupzel
Robodog/Robopup
Ron/Ginny/Molly/Etc. Fleasley
Scarlett O'Terrier
Sm-beagle
Star Paws
The Poopinator
There's Something About Hairy
DIY Pun Help
Want to make your own movie-themed, super punny dog name? Make a list of your favorite movies and movie characters. Then see if any of these dog-related words might rhyme with something on your list.
Bark
Dog
Doggo
Flea
Fur
Furry
Fuzz
Growl
Hair
Hairy
Howl
Mutt
Paw
Poop
Pup
Ruff