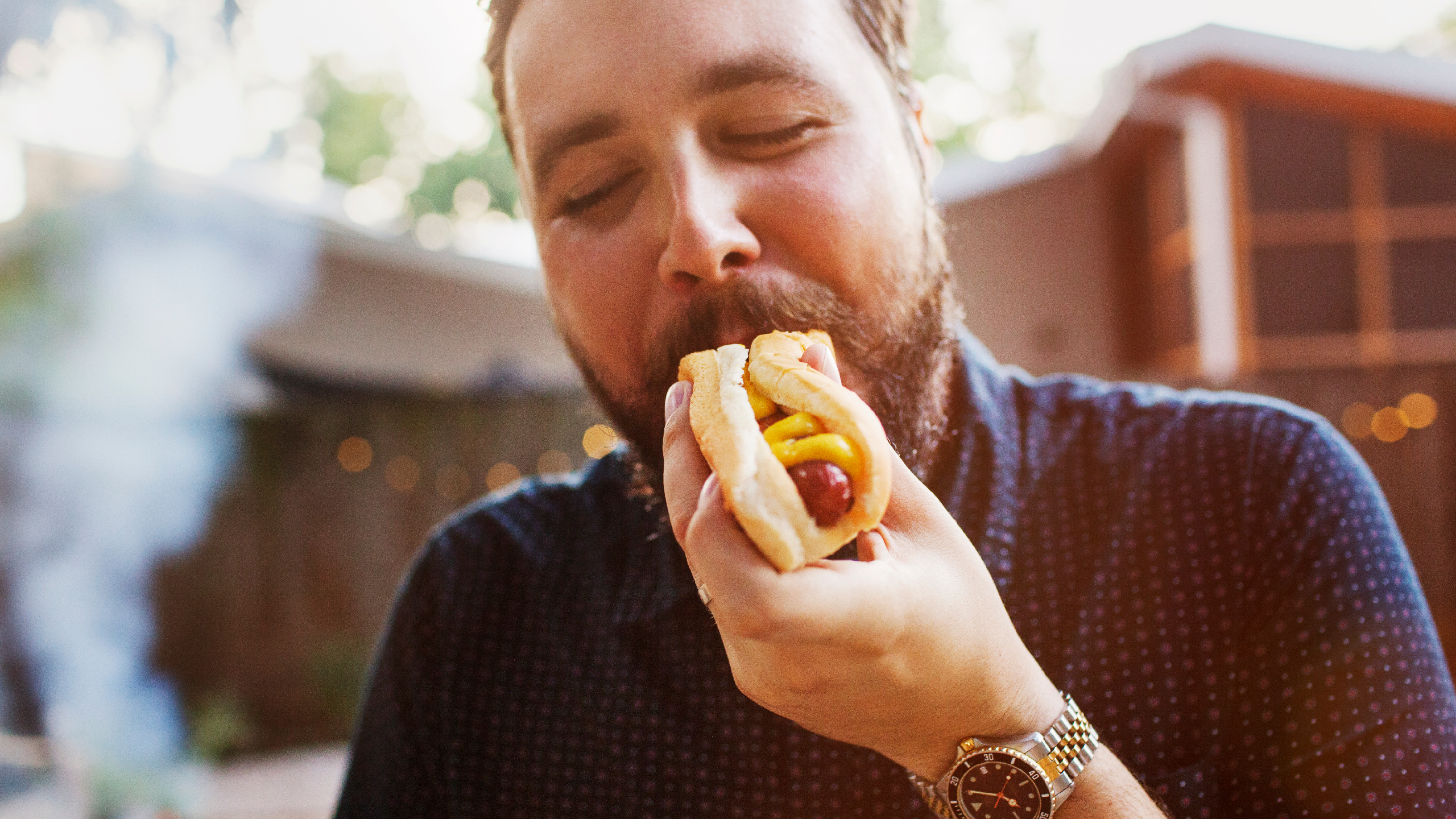 Credit: Getty Images/Cavan Images
A new study conducted by researchers at the University of Michigan indicated that you could be taking 36 minutes off your life for every hot dog you consume. That's probably not good news for Joey Chestnut who ate 76 hot dogs in 10 minutes. I might as well be that kid from the "Sixth Sense" because I see dead people at every neighborhood cookout I attend.
The researchers studied more than 5,000 foods to create a nutritional index to help inform guidelines and educate people on how to achieve healthier and more environmentally stable diets. Basically, they are trying to make it clear how some foods could be more beneficial for you long term.
So things like processed meats and beef can be problematic, as eating a hot dog on a bun can take 36 minutes off your life. But, eating some nuts like almonds and cashews can ADD 16 minutes to your life. Eating a single chicken wing can slice 3 minutes off your life, but eating 30 of them will make your Saturday so fun you won't even care.
New research evaluated more than 5,800 foods and their impact on human health & the environment.

An astonishing finding? Eating a hot dog could cost you 36 minutes of healthy life, & eating a serving of nuts instead could help you gain 26 minutes.

READ: https://t.co/SZ7GMYPUEQ pic.twitter.com/t3nm89zUzQ

— MichiganPublicHealth (@umichsph) August 19, 2021
The same goes for hot dogs. Do you want to take my hot dogs? You'll have to pry them out of my cold, dead-earlier-than-expected hands. But, if you want to live to see the fourth Star Wars reboot, you could always throw salmon on that grill instead of a burger. That'll add 16 minutes to your life. And what about that peanut butter and jelly sandwich for lunch? That'll add 33 minutes (I don't make the rules, I just mock them gently).
Of course, boring foods like vegetables, fruits, and nuts are always going to be better for you. And if you're looking to clean up your diet a bit, the study makes a good case for why small choices can actually be really beneficial.
"We use the results to inform marginal dietary substitutions, which are realistic and feasible," the authors wrote in the study. "We find that small, targeted, food-level substitutions can achieve compelling nutritional benefits and environmental impact reductions."
Who can argue with "compelling nutritional benefits"? I'm sold. And while eating a hot dog can take 36 minutes off your life, they didn't even factor in all the time wasted discussing whether or not a hot dog is a sandwich.