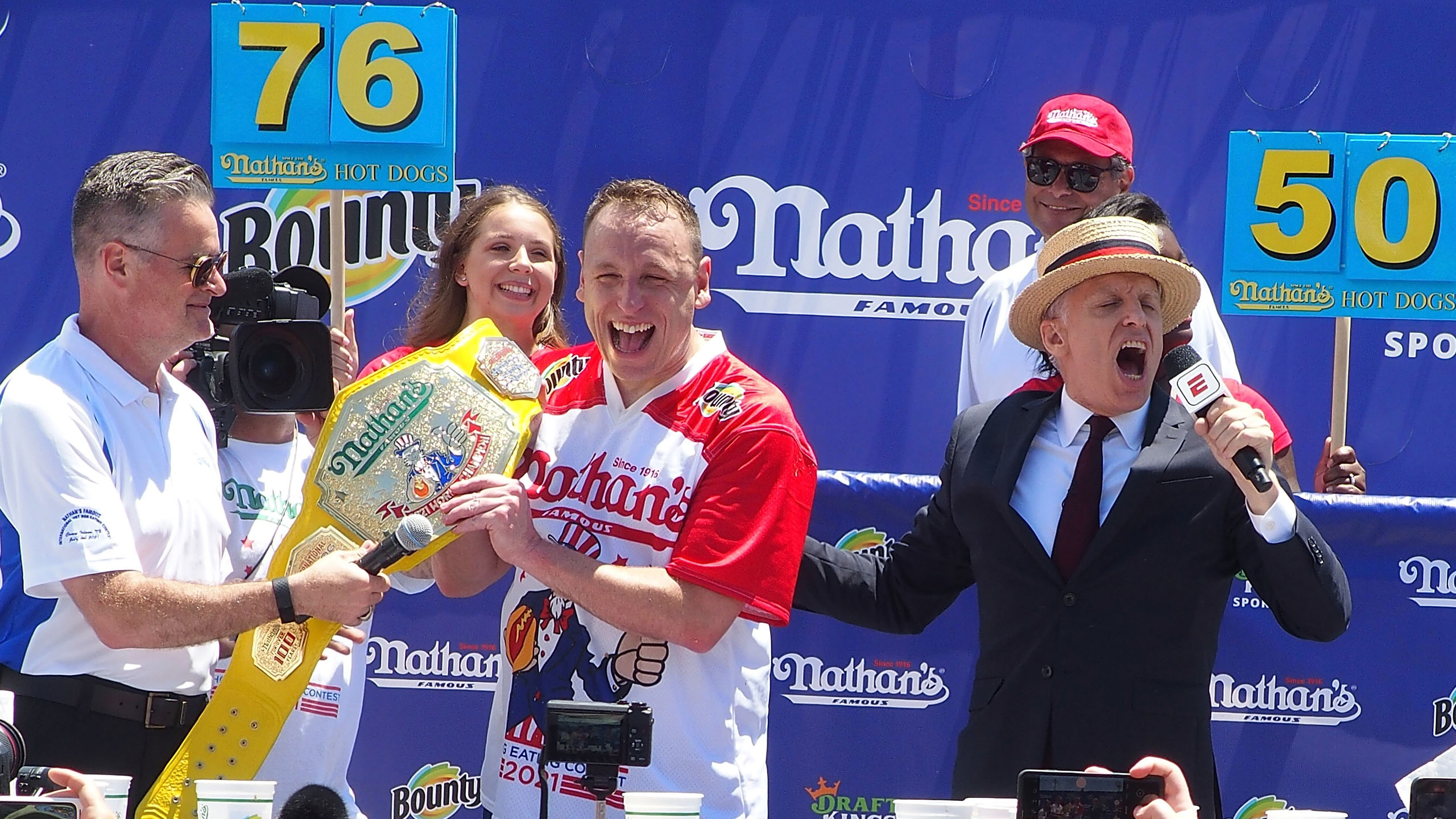 Credit: Getty/Bobby Bank/WireImage
Put the champ back in front of his fans, and greatness will be witnessed. That's the easiest way to sum up the most important sporting event that takes place every July 4th. That's right, Nathan's Famous Hot Dog Eating Contest, which was not only won by Joey "Jaws" Chestnut for the 14th time, but the legend broke his own world record in the process.
While the 2020 contest was held indoors, without fans, because of the pandemic, the 2021 edition was back in front of the people. And Joey Chestnut, the hero we need if not the hero we deserve, crushed that contest by keeping that "Dad on his first plate at a cookout" energy for the entire contest, consuming 76 hot dogs in the 10-minute showdown. He narrowly eclipsed his own world record of 75 hot dogs, set during the worst year ever.
JOEY CHESTNUT WITH A NEW WORLD RECORD 76 HOTDOGS IN 10 MINUTES 😳

14 titles 🐐 pic.twitter.com/3iia7YIHdr

— SportsCenter (@SportsCenter) July 4, 2021
The event WAS a little different this year, as it was held in a minor league baseball stadium instead of Coney Island. But still, Chestnut was PSYCHED fans were back.
"I've been looking forward to this all year," he told ESPN before the event. After his historic win, he told ESPN the fans pushed him to the world record.
Joey Chestnut 🐐 pic.twitter.com/kWqe2dvbex

— SportsCenter (@SportsCenter) July 4, 2021
"It just feels good," he said. "Even if I was uncomfortable, having everybody cheer me and push me, it made me feel good."
Chesnut remains the king of the competitive eating game, and he was more than 25 hot dogs ahead of the second-place finisher as he took his 14th championship. Winning the title for the 14th time puts him in a class of his own in the in the sports world, depending on how seriously you want to take competitive eating.
And make no mistake, the only competition for Chestnut 2021 was Chesnut 2020, and that made his finish much more dramatic as he closed in on his world record, tied it, and swallowed his way right through it.