How to DIY Clean Your Dishwasher (Even Though Its Only Job Is to Clean Things #MindBlown)
Sometimes, my kids come up with logic that I have a hard time refuting, which simultaneously pisses me off and impresses me.
For example, the kid asks, "Why do you have to take away my favorite bath towel and put it in the washing machine? It's only used for drying after we're already clean, so isn't it also clean?" After I sit there for a minute dumbfounded, I call them a smart ass under my breath and threaten to send them to bed early … which they know is an empty threat. Hell, it's tough enough to get kids to go to bed on time, let alone early.
Or when the kids ask if apples would be a healthy, low-sugar snack before bed, and I say yes. Then they come back with a bowl of Apple Jacks and give their sister a slice of apple pie with ice cream. I just shake my head and wish I'd have thought it through.
So when my wife says it's time to clean the dishwasher, which sounds like a simple DIY task, it tempts me to break out some kid logic. The dishwasher's job is to clean dishes, keeping them sanitary enough to use for eating and drinking. (I mean, that's way beyond the job of a bath towel.) So why would we ever need to know how to clean a dishwasher? I mean, I know why I need to (partially) clean the grill to make great BBQ, but the dishwasher? It should be cleaner inside thereafter it does its job, right?
Truth is, as crazy as it sounds, it does need cleaning. Using the best dishwasher cleaner means it will smell better and clean more efficiently. Additionally, the dishwasher contains a filter that catches certain solids, and you need to remove these to keep it running without backing up and flooding. If there is gunk or pet fur on the seal or on the edges of the door, the dishwasher might leak as it runs.
So, yes, we do need to know how to clean a dishwasher, no matter how silly that sounds. (Now if we could only come up with a cool hack like the dad who cleans baby bottles with a power drill, then we'd love cleaning the dishwasher.)
How to Clean a Dishwasher
The best plan to clean the dishwasher is to clean the individual parts separately.
1-How to Clean the Removable Parts
Items like the dishwasher rack and silverware rack will come out of the dishwasher. You then can clean these in the sink, if desired.
Clean the dishwasher racks with vinegar. Fill half the sink with warm water, add a cup or two of white vinegar, and let them soak 15 to 30 minutes. Then wipe them clean and return them to the dishwasher.
2-How to Clean the Interior
To clean the dishwasher interior with vinegar or another product, you can do it with the racks removed from the dishwasher or with the racks left inside, including:
By hand: When wondering how to clean a dishwasher by hand, you can use a regular household cleaner without bleach and scrub it with a sponge or rag. Remove all the racks to simplify the job. Wear rubber gloves.
With a product: A few different drop-in products will work as the best dishwasher cleaner. These will run during the regular dishwashing cycle or with the appliance empty. These cleaners remove odor, grime, and grease.
With vinegar: To clean a dishwasher with vinegar, add a cup of vinegar to a bowl and set it upright on the upper rack. Run the regular cycle and allow the dishwasher to air dry.
With baking soda: To clean a dishwasher with baking soda, sprinkle a cup in the bottom of the machine, and run a regular cycle. Allow the dishwasher to air dry.
With bleach: Do not use bleach on the interior of a dishwasher if it consists of stainless steel. Otherwise, for cleaning a dishwasher with bleach, place a cup of bleach in a safe bowl on the top rack and run the regular cycle. Let the appliance air dry.
One last piece of advice: Do not use more than one of these substances at the same time. You've seen the videos of people creating baking soda/vinegar volcanoes? You don't want this to happen inside your dishwasher.
3-How to Clean a Filter
Did you know your dishwasher has a filter? No? Uh-oh. (To be fair, some newer dishwashers don't have filters that need manual cleaning, so you might be off the hook.)
If it's a manual filter, it'll be in the base of the dishwasher. When the filter is installed in the dishwasher, you'll be able to see the top section of the filter (pictured on the left). Some dishwashers have an upper filter too, near the upper rack.
Turn the top of the filter a quarter or half a turn and lift it straight out. Once the round filter is out, you may see a C-shaped, flat filter that also will pop out (pictured on the right) that protects the drain area. Remove the flat filter and clean the interior of this drain area too.
Remove any food particles you see. If needed, you can soak the filters in warm water in the sink for 10-15 minutes.
4-How to Clean a Rubber Gasket
Check the rubber gasket and edges around the door of the dishwasher. Contaminants on the rubber will prevent a perfect seal and cause a leak. Use warm water and an old toothbrush to clean the gasket.
5-How to Clean Spray Arms
Sometimes, the jets on the spray arms will become plugged over time. You can remove any blockages using toothpicks in the holes for the jets.
6-How to Clean a Heating Element
The heating element is the curved piece of metal that surrounds the drain and filter.
This element may end up with scaling on it. You can use an old toothbrush and lemon juice or CLR to clean the element. There may be multiple layers of hard scale attached to the heating element, so this cleaning could take a while.
7-How to Clean an Exterior
Use warm water and a little bit of dish soap on a sponge or dishcloth to clean spots off the outside of the dishwasher.
If you have a stainless steel dishwasher, you can choose to use a stainless steel cleaner instead. These come in sprays or wipes and are the only way to get fingerprints off of the stainless exterior.
8-How Often to Clean a Dishwasher
You don't need to clean the dishwasher daily, but one to two times per month should be adequate. Those who run cycles in the dishwasher daily will want to clean it a little more frequently than suggested here. Those who only run a load a couple of times a week can probably clean the dishwasher a little less frequently.
Every 10-14 Days: Clean the interior of the unit a couple of times a month with a cleanser like Finish. At the same time, remove the filters and looking for bits of food, which can cause odors over time.
Every 45-60 Days: Clean the dishwasher with vinegar or bleach every couple of months. Check the spray arms and the gasket around the edge of the door at this time, too. If you want to clean the racks separately, every couple of months should be adequate.
As Needed: Clean the front of the dishwasher with the best dishwasher cleaner that matches the material used on the front door.
Best Products For How To Clean a Dishwasher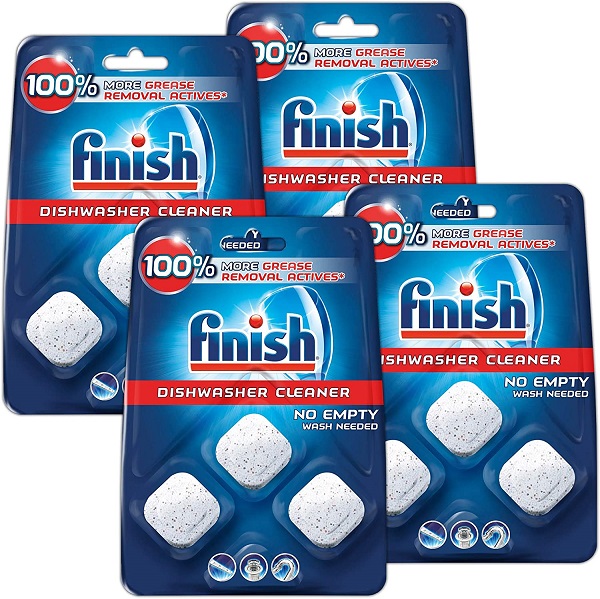 When you are wondering how to clean a dishwasher interior in the easiest method possible, Finish drop-ins greatly simplify the process. Just drop one in the bottom of the dishwasher occasionally when running a load of dishes, and it'll clean all of the interior parts efficiently and easily. #LazyCleaningIsTheBestCleaning
Clean the interior of the dishwasher with this drop-in tablet that's safe enough even to use with septic systems. Powers away lime and mineral build-up. It's odor-free as well, so you'll remove the funky smell from inside the dishwasher and not replace it with an even funkier smell. Isn't it a great time to be alive? Recommended for use once a month, buy a few packs, and be pro-active on the cleaning front.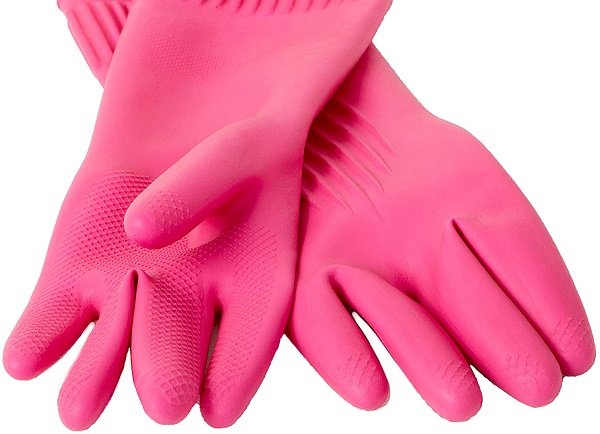 We agree that it seems a little silly to use manual dishwashing rubber gloves to clean the automatic dishwasher, which is an appliance that makes it so you don't have to manually wash the dishes and wear rubber gloves. But you're still going to want to wear them if working with cleansers inside the dishwasher.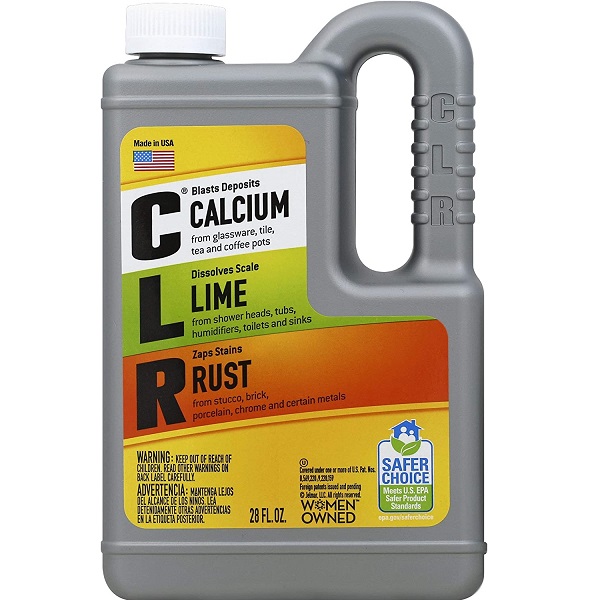 CLR works well for removing limescale and rust from inside the dishwasher and from the heating element. It also works to clean rust stains and scale on items inside the bathroom and kitchen, including glass, porcelain, and chrome.
Use this regularly throughout your home and your wife will dub you the king of cleaning. (On second thought, maybe not a title you want to hold.)
Remember how important Windex was in My Big Fat Greek Wedding? That's vinegar to all of us, it is a cure-all, clean-all. Having this concentrated natural product on hand in gallon size will ensure you always have plenty available to do whatever job you have in mind— starting with cleaning the dishwasher with vinegar.
Just be sure to hide it from the kids. Who knows what destruction they could cause using this huge bottle of vinegar in a giant baking soda volcano?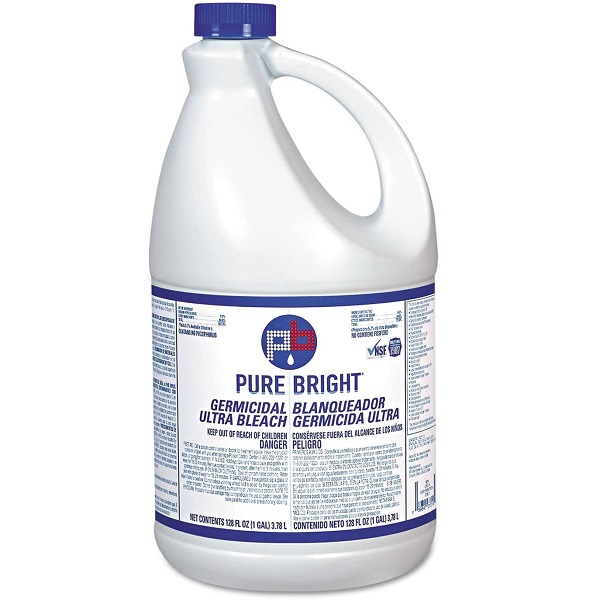 You can use bleach in so many different ways around the house that it's always good to have some on hand, including for cleaning a dishwasher with bleach … as long as it's not a stainless steel interior dishwasher. Just keep it somewhere safe, it doesn't mess around.
Stainless steel appliances look amazing … until the kids touch them with whatever disgusting goo they have on their hands 24/7. Unless you've banned your kids from the kitchen, we're guessing you may go through this entire bottle of stainless steel cleaner in a few days, because their grubby little hands just can't resist the shiny stainless steel surface.
We've assumed throughout this discussion of the best dishwasher cleaner techniques that you have an automatic dishwasher. If, instead, you are the dishwasher in your house — the manual dishwasher — maybe it's time to purchase an automatic dishwasher.
This Maytag model runs quietly, has an effective drying system, and features a stainless steel front.
And once you have it installed, we're sure you'll love cleaning it instead of cleaning the dishes daily.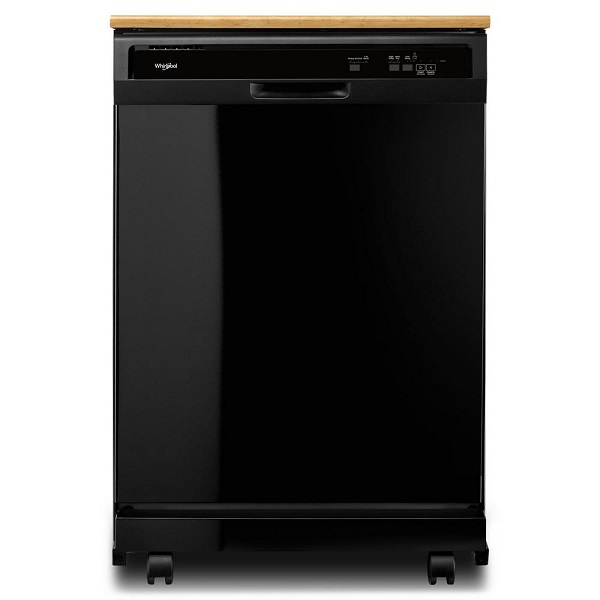 If you don't have room in the kitchen for a built-in dishwasher, this Whirlpool portable model is a nice choice. Roll it to the sink when it's time to wash dishes, and roll it out of the way when the cycle is finished.
Just be ready for the top of it to collect all of the kids' crap when they get home from school. Any open counter space or tabletop space is irresistible to any kid who's carrying something, which really sucks. After all, when the kids cover every open space with backpacks, lunch boxes, and jackets, where the hell are you supposed to throw your keys and the mail?
Although we only recommend picks we really love, we may earn a commission on purchases made through links from our site.