Jar Jar May Return For The Disney+ Kenobi Series, For Some Reason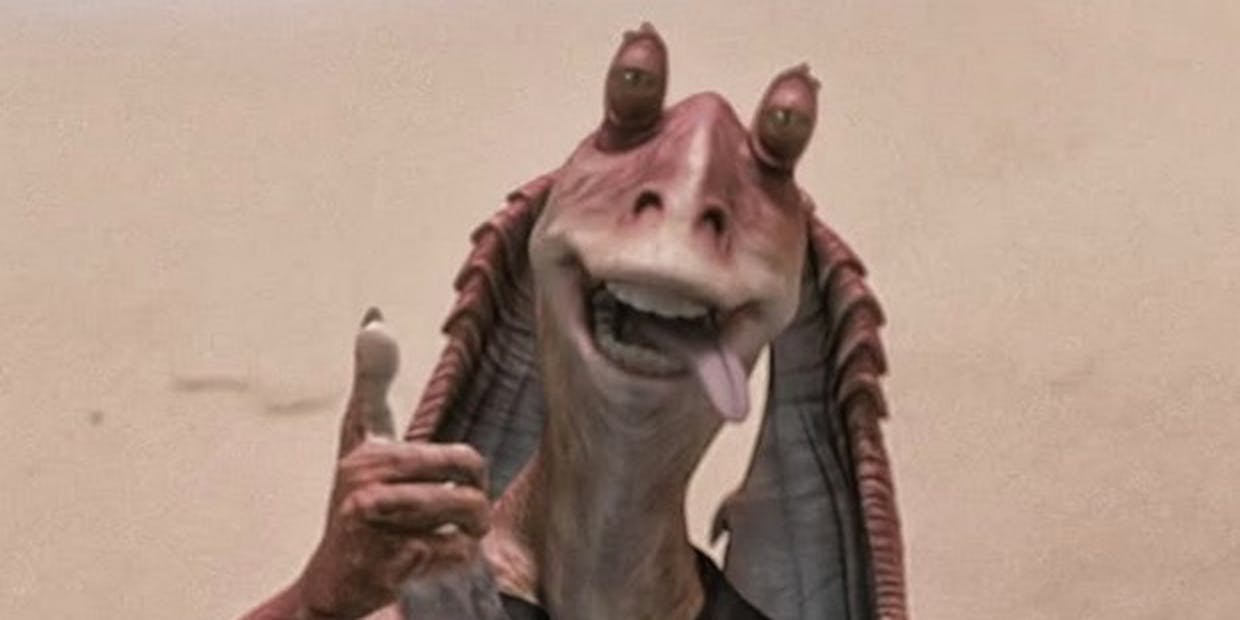 Say what you want about The Rise of Skywalker: it was too frenetic, the plot was stupid, the explanation behind the Emperor's return was non-existent, the force powers were absurd, the #bensolochallenge is lame, whatever. There's one thing we can all agree on: thank God they didn't bring Jar Jar back.
The new movie, and the last in the Skywalker saga, featured plenty of callbacks to the older movies and even included cameos – visual or voice – from a variety of former characters. But Jar Jar, perhaps the most maligned character in the history of Star Wars, was not one of them. Which was for the best.
Unfortunately, the Star Wars expanded universe does not appear to be done with the hated Gungan.
Disney+ has a series about Obi-Wan Kenobi in development, and the latest word is that Jar Jar Binks will make an appearance. Even more perplexing, he'll have a beard. For some reason. Maybe he'll even be drinking craft beer.
According to the website Making Star Wars, "Kenobi crosses paths with his old friend from Naboo, Jar Jar Binks. Early work has been conducted for the CGI Gungan's return to Star Wars. Jar Jar has a beard to reflect where he's been and what his life has been like since they were all deceived by a great lie that ushered in the first Galactic Empire. Kenobi will not be the only bearded character this time."
Even if you subscribe to the conspiracy theory that Jar Jar was a Sith sleeper agent purposefully playing patsy to help the Emperor consolidate power and complete his nefarious plan (come on, George Lucas ain't that sneaky), you probably don't need to see more of the long-eared imbecile.
An obnoxious, borderline racist character that was mostly relied upon for fart jokes and slapstick humor, is now a grizzled, regretful old dude, depressed about his role in ceding the empire to Senator, then Emperor, Palpatine? This does not sound like something I'm interested in. The rest of the Kenobi-centered show does sound cool, though, as it will star Ewan McGregor in six hour-long episodes, and will purportedly take place a few years after Revenge of the Sith, in the gap between Sith and A New Hope.
The show hasn't even started filming yet, so who knows if the Jar Jar rumor is true. It might not even be until 2022 that we see for ourselves. Meesa hope we don't.
But we're totally cool with the actor who portrayed Jar Jar hosting a new gameshow on Disney+.