Jason Momoa Gets Mocked for Having a Dad Bod That Clearly Isn't One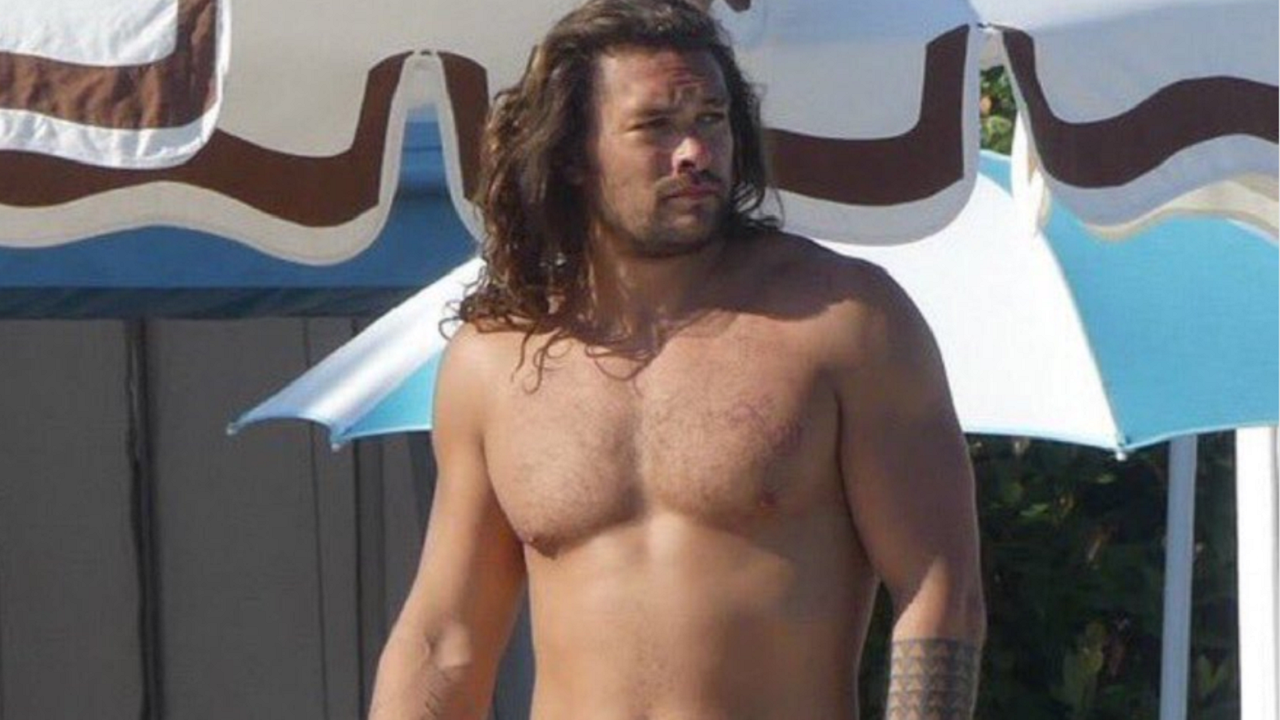 Last month, we shared a story about the popularity of dad bods. Based on a poll conducted by Planet Fitness, not only are men comfortable with having a dad bod, women seem to appreciate them. The poll even suggested that many women prefer a little paunch to a six-pack.
The results of the poll seemed dubious, but an incident that occurred last week perhaps sheds some light on what those women are thinking. Because I'm not sure the phrase dad bod means what everyone thinks it means. Like the time Tom Brady got called out for having a dad bod.
Well, you've heard of Jason Momoa, right? Khal Drogo, Conan the Barbarian, Aquaman? The dude is a hunk, there are no two ways about it. And in those roles, he has what one might understatedly refer to as the exact opposite of a dad bod. But he was recently spotted on vacation, taking a well-deserved break from inciting drool wherever he goes, and it seems he's completely let himself go. I mean, just take a look at the once buff movie star having gone to vacation-based seed, and sporting his brand new dad bod.
Gorgeous #JasonMomoa ❤️❤️❤️ pic.twitter.com/ryOuwJFBmF

— Kim Clark. Kimberly. (@Kimclar21535869) July 3, 2019
Some people on the internet were not happy with his less-than-chiseled physique.
— Dusty Smith ???? (@cultofdusty1) July 10, 2019
Quite obviously, those people are insane, and not only don't know what a dad bod is – the dude might not have Aquaman's abs, but he's still in enviable shape – but they are engaging in harmful body shaming. That's right, men aren't immune to it either.
Thankfully, common sense prevailed and the rest of social media defended the star.
If I had half the body Jason Momoa has in the picture, I'd literally never wear a shirt again. https://t.co/msckFaJoFH

— Matt Rigg (@NorthernPixels_) July 10, 2019
CN: body shaming
FFS PEOPLE ARE YOU FUCKING KIDDING
1. It is never okay to body shame or fat shame. Never. Not even a little, not even at all!
2. #1 again
3. Are you using your eyes? This man could probably pick you up and throw you in the ocean, only he's too nice to do that. https://t.co/dm7p6EgIbe

— FrostyWitchGoddess (@amandajhelling) July 10, 2019
Promoting unrealistic expectations for how someone should look is harmful to both physical and psychological health. Something tells me that Momoa is unfazed, as he enjoys a relaxing vacation with wife Lisa Bonet, but that doesn't mean it's okay. Especially not when most of the people doing the mocking probably have no idea what it takes to maintain an action star physique.
100 percent can confirm. Maintaining single digit(even the 10-12%) body fat percentage levels are extremely high maintenance life styles, even I, a commited bodybuilder struggle to maintain that super leanness. Think about that if you've never forgetten what bread tastes like https://t.co/IjaBmCMweO

— Grey-May-2000000 (@GreyMay2k) July 10, 2019
Sometimes, the internet can leave a bad taste in your mouth. Thankfully there remain heroes who can succinctly end the conversation with one well-considered comment:
this is not a dad bod.. tbis is a 'Who's your daddy' bod.. ????????????????????????????

— *Bl4kk4t (@m3bl4kk4t) July 11, 2019