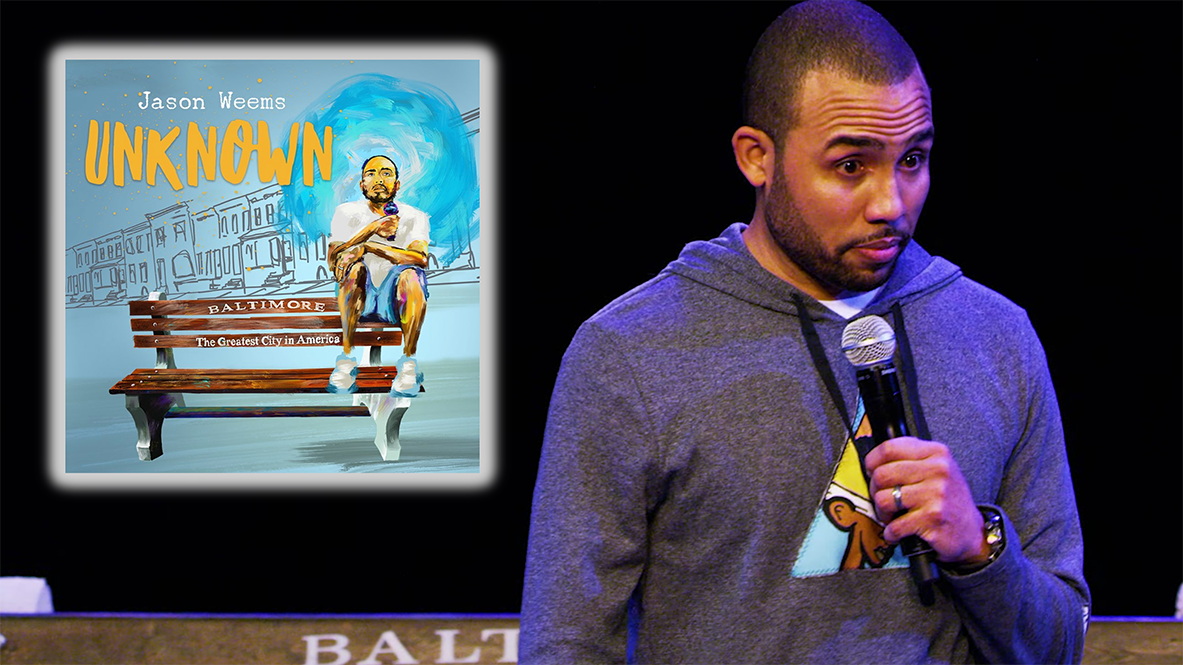 Credit: Amazon Prime
Jason Weems died in 2017. Literally, flatlined on the floor of a comedy club in Philadelphia. No heartbeat for 5 minutes thanks to a severe asthma attack.
He was (and still is) a rising star in the comedy world after reaching the semi-finals on two seasons of NBC's "Last Comic Standing" and performing at the Just For Laughs festival in Montreal, and thankfully, his brush with death has only given him more material.
His newest special, which debuted on August 4, is titled "Unknown" in reference to the bizarre way the hospital labeled him on that fateful night.
Weems is also a father of three (and has plenty of material to prove it), so kicking the bucket that day would not only have been a tragic end to a promising career, but would've left his sons without a father.
In light of his new special and Grade-A dad material, we sat down with Weems to discuss near-death experiences, his sons' pediatrician (who moonlights as a DJ), and balancing his roles of comic and father.
---
Jordan: So the title, "Unknown." Can you jump into the origins of that a little bit?
Jason: Of course. One of the main themes for the special is I die, May 3rd, 2017.
Hell of a strong start.
[laughing] Yeah, I had a severe asthma attack in Philly, a few minutes into a headline set at a show. There was a doctor in the crowd, but unfortunately, they weren't able to hook my nebulizer up quickly enough. And the attack was so aggressive that it literally shut down my airways and then ultimately stopped my heart from beating. From what I'm told from third-party people who were there—audience members, bar staff, all that stuff—I literally just coded right there in the venue.
Then there was a 16-hour period when I was unconscious in a Philadelphia hospital. And when I came to, they had me listed as "Unknown". So, in the literal sense, it comes from that.
And it's almost a decade since your first special, right? "Intellectual Property"?
Literally a decade. That was filmed December 4th of 2010, and this one's coming out 2020.
That one was also filmed here in Baltimore at another great theater, completely self-produced. Both of these specials have been self-produced.
It wasn't like somebody put the money up for us [for "Unknown"]. There was no guarantee for distribution. It was a true hail Mary, but it was a story that I felt was important. I felt it was, as much as "Unknown" as a comedy special, I feel it's also a celebration of life.
You definitely delve into those deep and heavy themes that a lot of people might steer away from, but it's those topics that really makes it feel authentic and real.
Yeah. Absolutely.
And speaking of this whole show being a community effort to come together and create something great, your house DJ and your kids' pediatrician… are the same person?
Same dude.
I'm going to need you to talk about that.
Yeah. So, this guy's name is Ashanti Woods. If anybody ever moves to Baltimore and needs a good pediatrician, this guy's amazing. His wife and my wife went to high school together, but then they lost contact. Years later, I become a father and we need a new pediatrician. This was a world that we were new to. We wanted somebody that could grow up with the kids, not somebody who's 85.
So we put out some feelers on Facebook and she responded to my wife, like "Hey, my husband's a pediatrician". And then we realized, 'Oh, we do know him. And he's a great guy.'
He was amazing with the kids. It was an instant comfort. And then years later, I'm a couple of years into doing comedy. I see that he's starting to DJ.
Did he have posters in his office about future shows and stuff? He's like, "Oh yeah. After you get this prescription, come down to this club." Like, how does that translate?
[laughing] Yeah. And it feels like he does. So his name is DJ P-O-P. If you look at the trailer, that's my DJ. P-O-P stands for Prince of Pediatrics.
Of course it does.
So then we were pulling this special together and we really didn't want to outsource the talent. We wanted this to be us all the way through. So it was a no-brainer. It was just a matter of whether he was going to say yes or not.
And he was into it?
He was into it. He's a dad as well. He's got two little ones.
Speaking of kids, how has fatherhood impacted this new special compared to the last one? Have you noticed a shift?
Oh, absolutely.
I noticed you're not wearing crispy white New Balances when you're out there. You don't have cargo shorts on or anything, but I'm assuming there had been some kind of development or evolution.
Definitely in the sense of material. I mean, the first special was 2010. I wasn't even a dad yet. So we filmed the first special, "Intellectual Property," December 4th, 2010, and I think December 11th or 12th, I found out that we were having our son.
We had shot the show. Everybody was exhausted. So my wife and I flew to Florida and went down to the Harry Potter resort.
We're drinking Butterbeer and walking all around the streets, and she just kept telling me that she felt weird. So I figured we just drank too much Butterbeer.
You never know how that's going to hit. It's a magical concoction, man.
Then we got back to Baltimore, it was still continuing. And we were out with one of my buddies for his birthday party and she said, "Can you drop me at the house? And you guys can just continue on."
So then I came home from the party and she was standing at the door with the test and it was a strong-ass plus sign.
Strong plus sign, like it's punching through the screen.
[laughing] Yeah. You could feel it. It was like braille.
And then it instantly shifted the way I toured, instantly shifted the way I performed, how I accepted shows.
I was passing up so many gigs, because it was like, 'I'm just in love with this little guy.' But then it got to a point where, financially, I needed to start taking shows again.
But the thing was, I just filmed the special "Intellectual Property," so I hadn't been out enough to turn over new material and truly test it. So I started riffing a lot on stage. I've always been quick on my feet, but the crowd work element of my stand up, the fast and loose stuff, it really grew out of me becoming a father.
And now that's probably what I'm known for the most. Like, if you talk to comics in the Baltimore-DC area, all of them go, "Weems just goes off the top of his head, he just riffs it. He just comes out of thin air."
View this post on Instagram
And you can tell a lot from your material that you're a dad who's involved. Like, I couldn't help but notice the amount of overlap when it comes to bathroom material and kid material. I think a lot of parents would have that Venn diagram, too. Toilets and showers and bath time… there's always a story.
Right. I mean, there are just so, so many things can go wrong when you're washing a little person. Or when you send a little person into a bathroom alone, you don't know what's going to come out. It's always a gamble.
There's a sentence in your special where you're talking about giving your boys a bath and you say, quote "nut crumbs… butt crumbs… armpit juice… and piss."
Right, it's a good summary of boys in general.
Have any of your boys manifested that entertainer gene yet? Has that been passed down through your bloodline?
All of them…
Oh no.
It's like The Wayans Brothers. Like straight up, these kids are so talented. Our oldest is eight turning nine, yet the level of humor that he possesses is easily that of a 14 to 16-year-old. I swear, he's coming for my position.
Yeah, I'd totally feel a little threatened.
Now, the other two, they're hilarious. I have twin six-year-olds. So the youngest twin is younger by a minute. He's the most flamboyant and like really out there and he wants to dance on stage and be in front of people. And he has that real kind of firecracker type of humor.
My other twin, little quieter, his stuff is more, he'll slip in something real quietly under a conversation. Like, me and my wife will be talking, but you hear him say something like [quietly, under breath] "I would have done that…" Like just real quiet.
Ooh, like a little sarcastic dagger.
A little dagger, yeah. Also, things lined up and my kids are in this special! Like physically you see them when the special ends. My wife, my parents are sitting front row and my mother-in-law, people I went to college with and high school. So it's almost like a block party.
Yeah. It feels like a homecoming. A love letter to Baltimore.
It's beautiful. Truly a love letter to Baltimore.
---
You can check Jason's new comedy special "Unknown" here on Amazon Prime.