Theater Student Wows Entertainment Industry With Incredible Visual Effects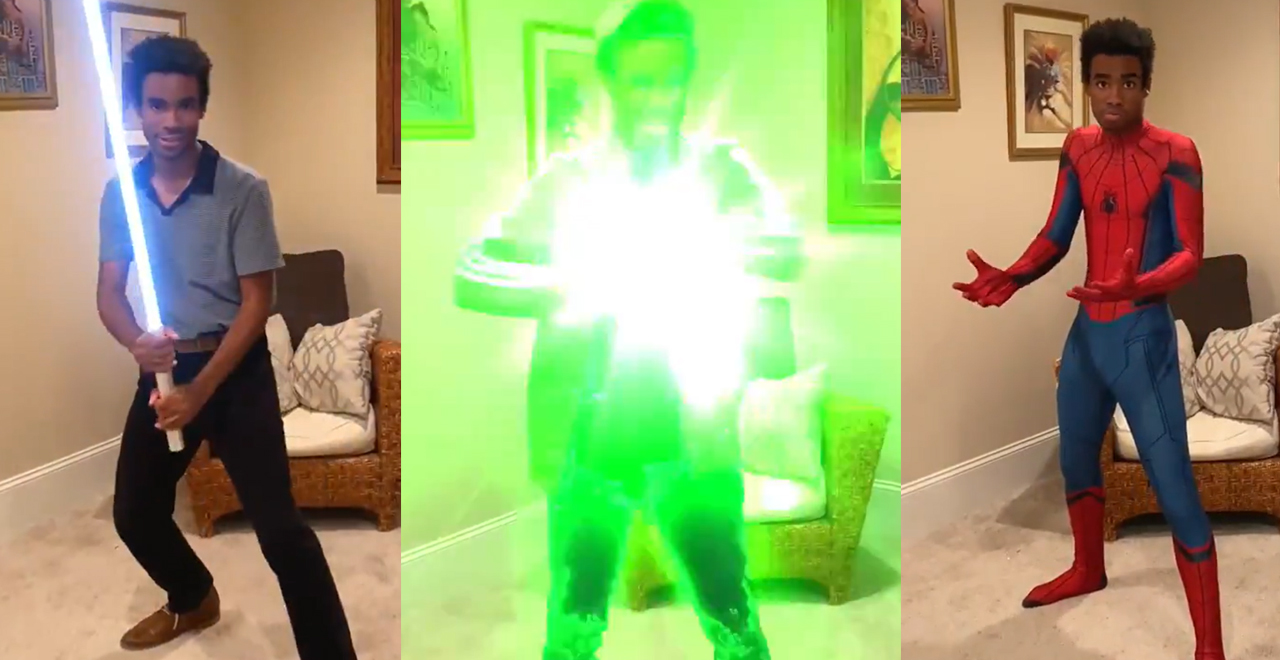 One of the great benefits of social media and the rest of today's easily accessible technology is the opportunities afforded to regular joes. Thanks to the internet and smartphones, we no longer need big bucks to create a dream project, and thanks to Twitter and Instagram and TikTok and the like, it's easier than it's ever been to get exposure for those projects.
Create something clever and blast it out online and people are going to see it, and if it's good and someone enjoys it, they're going to make sure other people see it, with nothing more than a click of a button. Suddenly you can go from making stuff in your bedroom for your friends to getting hired by Lucasfilm or Pixar or Marvel to make stuff for them, and for the world.
That may be exactly what's about to happen to Julian Bass, a 20-year-old theater student in Atlanta who created a fun visual effects video displaying his skills and posted to Twitter in the hopes that someone – in his case, Disney – might notice it. Well, Disney noticed, and so did many, many other big wigs in the entertainment world. They're impressed and for good reason.
In the video, which has over 20 million views, Bass stands in a room and suddenly, seamlessly, transforms himself into a Jedi, the animated character Ben 10, and finally, Spider-Man. It's quick, creative, and you can't see a single string.
Check this out:
if y'all can retweet this enough times that Disney calls, that'd be greatly appreciated pic.twitter.com/GrKlIRxg3J

— Julian Bass (@thejulianbass) July 2, 2020
The caption reads: "if y'all can retweet this enough times that Disney calls, that'd be greatly appreciated," and while we don't yet know if Disney has called him, they were among the people who noticed, via former CEO Robert Iger.
The world's gonna know your name!!!

— Robert Iger (@RobertIger) July 3, 2020
Guardians of the Galaxy director James Gunn and Scrubs star and Garden State director Zach Braff were impressed:
Hire this man, Gunn!

— Zach Braff (@zachbraff) July 3, 2020
Sony noticed:
👀🤯

— Sony (@Sony) July 3, 2020
Bass spoke to NPR about who else he's heard from, saying, "The first one for me was The Lonely Island. And then I started seeing Josh Gad, Matthew Cherry. I saw Mark Hamill liked it. I mean if Mark Hamill likes it, I'm a Jedi now."
Based on the supersized reaction his talents have caused – he's also heard from HBO Max and Marvel co-president Louis D'Esposito – he may soon be a real Jedi, at least behind the scenes.
"Yeah to be a fan of something and then to see people want you to be a part of it, that's a chance that I will not ruin for myself whatsoever," Bass said. "If they pass on it, look, that's OK, there's plenty more opportunities. But I feel like I'm ready to take my shot and that's truly what it's all about right now."