Cold Stone Announces Limited Lucky Charms Flavor For March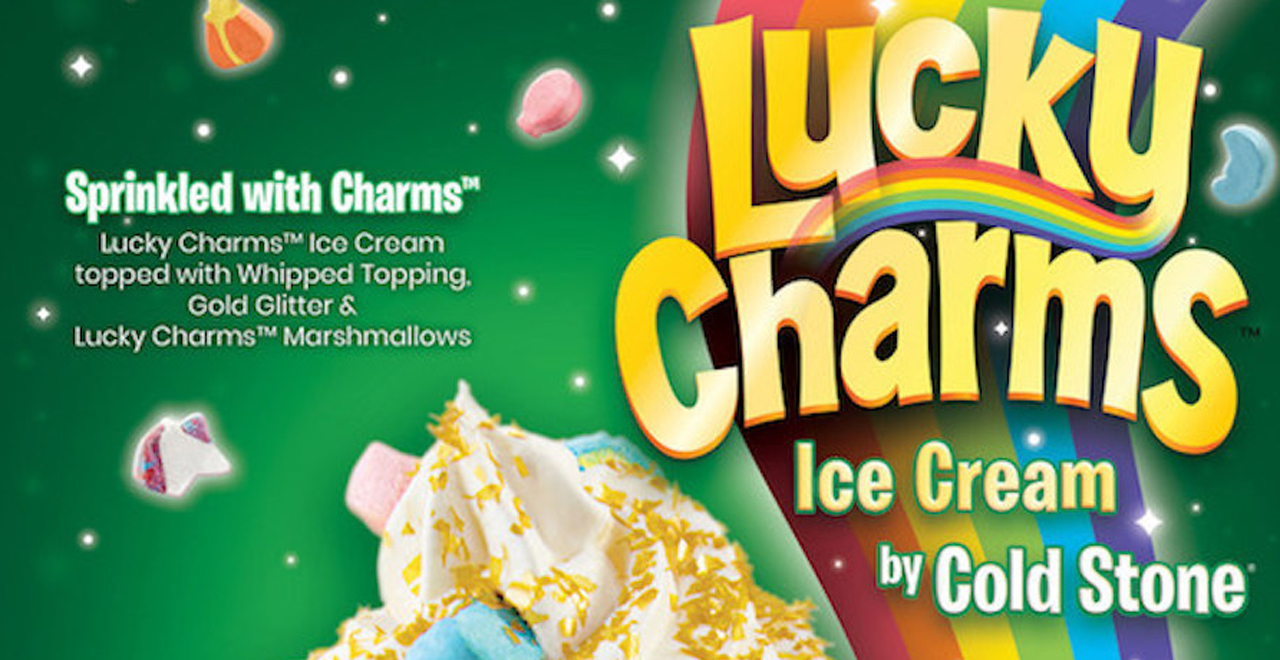 I don't understand healthy cereal. Sure, as a parent who is desperately attempting to feed a nutritious breakfast to my kids, it makes sense. But as an adult, I only want chocolatey, sugary cereals that taste great in the morning or at night.
My kids, despite my efforts to get them to eat healthy foods, seem to agree. They love it when I sneak some Cocoa Krispies or Fruity Pebbles into the house, and by far their favorite cereal is Lucky Charms. But only half of it.
Because they only eat the marshmallows.
They just want the sweet, sugary stuff, and now, thanks to a partnership between Cold Stone Creamery and General Mills, they can get it. In ice cream form!
On Monday, the ice cream chain announced a special limited edition Lucky Charms flavor of ice cream available at their stores, just in time for St. Patrick's Day.
It's called "Ice Cream at the End of the Rainbow" and features the green-tinted Lucky Charms-flavored ice cream, packed with twice the marshmallows as in the popular cereal. The ante is further upped by a topping of whipped cream and a sprinkling of gold glitter. This all comes inside a green waffle cone or bowl, or you can order a "Sprinkle With Charms" shake instead. The Lucky Charms leprechaun must be furious!
"Cold Stone Creamery is delighted to partner with General Mills this month to bring the magic beyond the cereal bowl and introduce this limited time flavor," Sara Schmillen, vice president of marketing at Kahala Brands™, the parent company of Cold Stone Creamery, said in a press release. "Guests of all ages will enjoy the nostalgia of this combination, and it's sure to bring some luck your way!"
The flavor is a perfect complement to the beer we'll be swilling in a couple of weeks, and even after St. Paddy's has passed, the Lucky Charms Ice Cream at the End of the Rainbow flavor will be available at all Cold Stone Creamery stores until March 31. Which gives my kids an entire month to bug the hell out of me for ice cream.