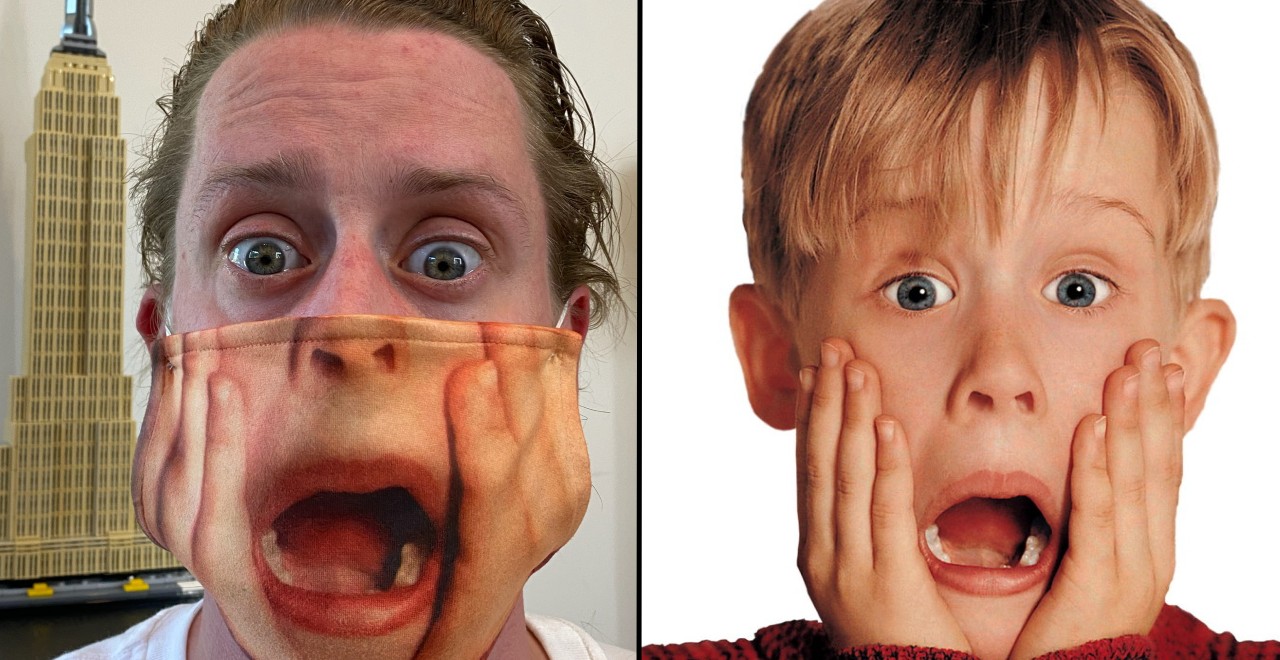 Credit: Twitter/IncredibleCulk 20th Century Fox
Wearing a mask is now part of life in 2020, but the type of mask you wear? That is entirely up to you. Everyone has their own preference, but seeing as how we're in this COVID state for at least another good chunk of time (masks, social distancing, Zooming, complaining), you might as well have fun with it. That's the attitude of not-a-child-star anymore Macaulay Culkin, who showcased what may be the most terrifying mask I've ever seen during this pandemic.
Just staying Covid-safe wearing by the flayed skin of my younger self.

Don't forget to wear your masks, kids. pic.twitter.com/RBd3X1AayD

— Macaulay Culkin (@IncredibleCulk) October 7, 2020
He rocked a custom mask of his iconic scene from 1990's 'Home Alone', where young Kevin McCallister applies aftershave and yells. Now, put that on the grown-man version of Kevin, and it's the type of mind and time-altering experience typically reserved for a Christopher Nolan movie.
"Just staying Covid-safe by wearing the flayed skin of my younger self," he tweeted. "Don't forget to wear your mask, kids."
It's tough to process because Culkin, who became child-famous for the monster 'Home Alone' hit, is still a kid in the minds of many. Partly because of the rewatchability of the classic (with your own kids, it's not like a great sit down and watch it alone type movie) and partly because it's his most memorable role.
He is returning to acting in an upcoming season of 'American Horror Story,' so we'll get more Macaulay soon, and if his social media is any indicator, his performance should be just as haunting.
He's also pretty self-aware (especially for a celeb) with how he's perceived and likes to really lean into it.
Hey guys, wanna feel old?

I'm 40.

You're welcome.

— Macaulay Culkin (@IncredibleCulk) August 26, 2020
As far as masks go, his only works for him. But what works for you? We've got that covered too. Again, if you gotta wear em (and most businesses/restaurants/everywhere/etc. require them), you might as well wear a good one. That's where we've got you covered (literally).
The mask speaks for all of us. https://t.co/1150gwcQbd

— The Dad (@thedad) October 7, 2020
"Don't forget to wear your mask, kids."