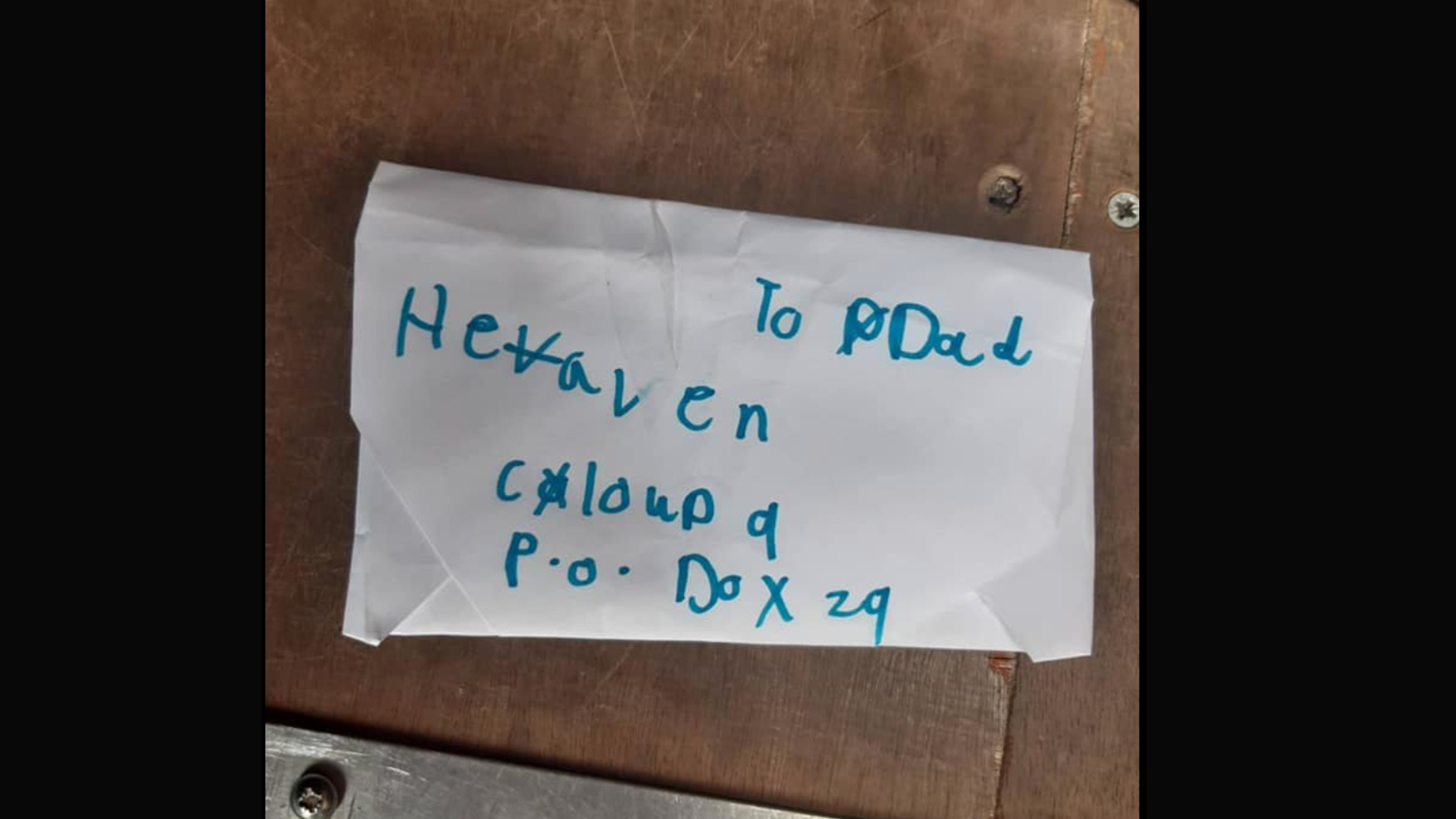 Credit: Facebook/SpottedBraunston
A mailman used social media to track down the family of a young girl who mailed a Father's Day card to her late dad, addressed to him in Heaven. He posted about it on social media, where it was shared by thousands, and helped him get in touch with the girl's mom so he could return the letter to her. She was overcome with emotion.
He shared a photo of the letter in a local community Facebook group, writing:
I'm a postman…earlier today I emptied the red pillar box… and there was a letter in a child's handwriting addressed to their dad in heaven, cloud 9. I'm trying to find the parents of the child as I would like to reach out to them and with their permission sort out a little something for the child. I myself lost my dad last year and as an adult found it hard so I can only imagine what this child is going through. Please, if anyone has any details then it would be hugely appreciated
He was in touch with the girl's mom, Sarah Tully, a scant 15 minutes later. Tully thanked all the commenters for their overwhelming support. The mailman knew the letter would be thrown out since it had no real address, so he wanted to return it to the family, along with a gift for the girl (a father and daughter figurine).
Sarah said the girl lost her dad when she was young. Now 8-years-old, she sends letters to her dad on Father's Day and Christmas to help feel connected to him. Her mom said she's "really struggled" without him and that the letters help her cope.
"I think this year might have hit her the hardest because she was more emotional," her mom said. She had asked what her dad's address was, and when her mom told her it was too late to send it, she broke down in tears. So her mom told her she could address it to heaven.
And now she has the letter for the girl to read someday, as she saved it in a box along with several of the hundreds of encouraging social media comments readers have left for her. She wanted to send her love to her dad, and so she was able to do that, and get so much more in return.