Credit: Twitter/Sethrogen
There are a handful of dates that movie fans have burned into their memories. November 5th, 1955, August 4th, 1997, December 25th, 1985. Whenever one of these dates pops up, social media abounds with references to the cinematic vents for which those days are known. Yesterday was no exception, though it's a bit more obscure than that historic Christmas night when Rocky IV ended the Cold War.
It was June 3rd, and if you have eagle eyes and remember the most legendary fake ID in the history of film, you'll know it was McLovin's birthday.
Jun 3rd 1981 – Fogell's alter ago, McLovin, was born. That makes McLovin 40 years old today! @Sethrogen and @evandgoldberg's #Superbad pic.twitter.com/23opjtacqg

— Dates in Movies (@DatesInMovies) June 3, 2021
McLovin, of course, is the alias Fogel (Christopher Mintz-Plasse) uses for his fake ID in Superbad, much to the befuddlement and chagrin of his friends Evan and Seth. "What are you supposed to be, some sort of Irish R&B singer?"
The date on the ID is June 3, 1981, which means yesterday was actually McLovin's 40th birthday, a fact noted by the man who created the character, back when he himself was younger than the Fogell. Seth Rogen tweeted that he was 14 when he and his friend Evan Goldberg wrote the McLovin joke.
Happy 40th birthday McLovin. (We wrote this joke when we were 14 years old) pic.twitter.com/6E4Qa2tVQi

— Seth Rogen (@Sethrogen) June 3, 2021
Mclovin himself also joined in the celebration via his Instagram account: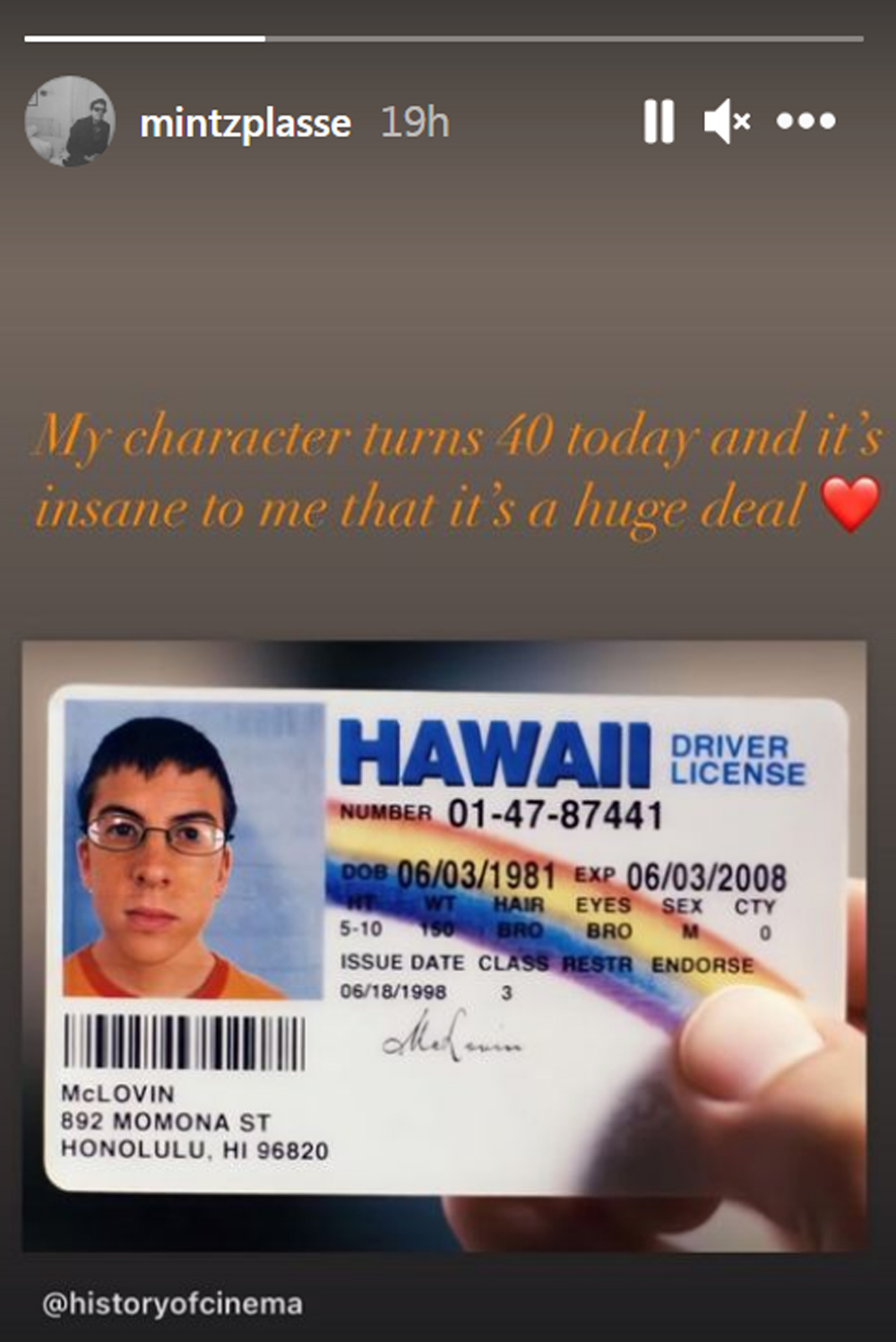 Superbad is about a day in the life of a couple of best friends who are wrapping up their senior year in high school and facing some hard truths about the future. Before they can face those truths, they want to get lit, and they need Fogell's fake ID to buy the alcohol to do so. Unfortunately, Fogell inexplicably uses the single name McLovin and makes his age 25 (Superbad was released in 2007), despite the fact that he looks about 13. Needless to say, it doesn't work out according to plan.
But Seth Rogen's career definitely has, and while he'd had some success as an actor before Superbad, this was the movie that cemented him and his partner, Evan Goldberg, as a comedic force in Hollywood, helping launch his writing and producing career, which is still going strong today.
So happy birthday to McLovin, and congratulations to the 14-year-old Seth Rogen and Evan Goldberg. None of the jokes I made when I was 14 have been immortalized in film.