3 More Monoliths Arrive and the Mystery Is Solved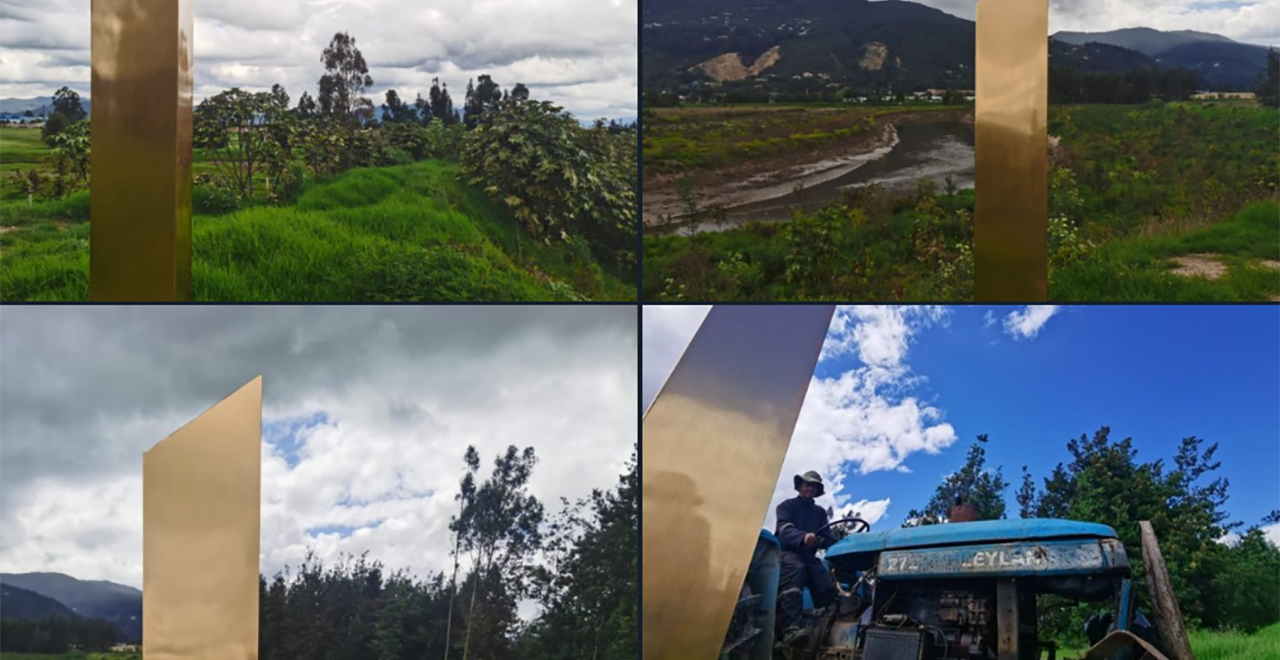 Another day, another monolith. Actually, three more monoliths!
That's right, someone must have watered one of them after midnight because after a week-plus of monitoring the appearance, disappearance, and reappearance of a 10-foot tall silver monolith, first in Utah, then in Romania, then two in California. Now another one popped up in England, another one materialized in the Netherlands, and a golden one showed up in Colombia!
They're multiplying!
Yesterday morning, someone spotted it on the Isle of Wight in the UK.
Strange monolith on Compton Beach today. Any ideas @iwcponline @iwightradio @VisitIOW ?! #IsleofWight pic.twitter.com/mvJ5Prt7GN

— Lee Peckham (@WightLawyer) December 6, 2020
Then, in the Netherlands, we got this one:
Another mysterious metal monolith is found: The Netherlands #monolith #monolithmystery pic.twitter.com/qIey4odrWv

— Marijn van den Berg (@marijn_2004) December 6, 2020
And in Colombia, a golden monolith:
Encuentran Monolito en Chía.

Se acerca el fin, el fin de los precios altos. #MonolitoEnColombia pic.twitter.com/UbB61ZmvFN

— El Pesimista (@3lPesimista) December 5, 2020
And now, just as things were heating up, the mystery may have been solved. And the answers is a lot more boring than the question.
A group called The Most Famous Artist posted an image of the monolith on their IG page – advertising it for $45,000! – and in the comments, someone asked, "was it you?" To which the Most Famous Artist replied: "If by you you mean us, yes,"
View this post on Instagram
They also posted a photo of someone seeming to construct the monolith, and Matty Mo, the founder of the group, told Mashable, "I am not able to say much because of legalities of the original installation. I can say we are well known for stunts of this nature and at this time we are offering authentic art objects through monoliths-as-a-service. I cannot issue additional images at this time but I can promise more on this in the coming days and weeks."
Matty Mo seems very pleased with himself, adding, "'What better way to end this f*cked up year than let the world briefly think aliens made contact only to be disappointed that it's just The Most Famous Artist playing tricks again."
I feel like that "again" is some wishful thinking. Not sure The Most Famous Artist has much of a profile, and if they do, not sure this monolith stunt is going to do much for it. Nobody really believed the monoliths were the work of aliens, but no one is really all that disappointed either.
In 2020, this is really just a blip that distracted us for a few days but likely won't even be in the footnotes when all is said and done.
We have bigger fish to fry – there's a 7-foot penis missing in Germany.