NFL Player Hailed as a Hero for Saving Woman From Attacker in Park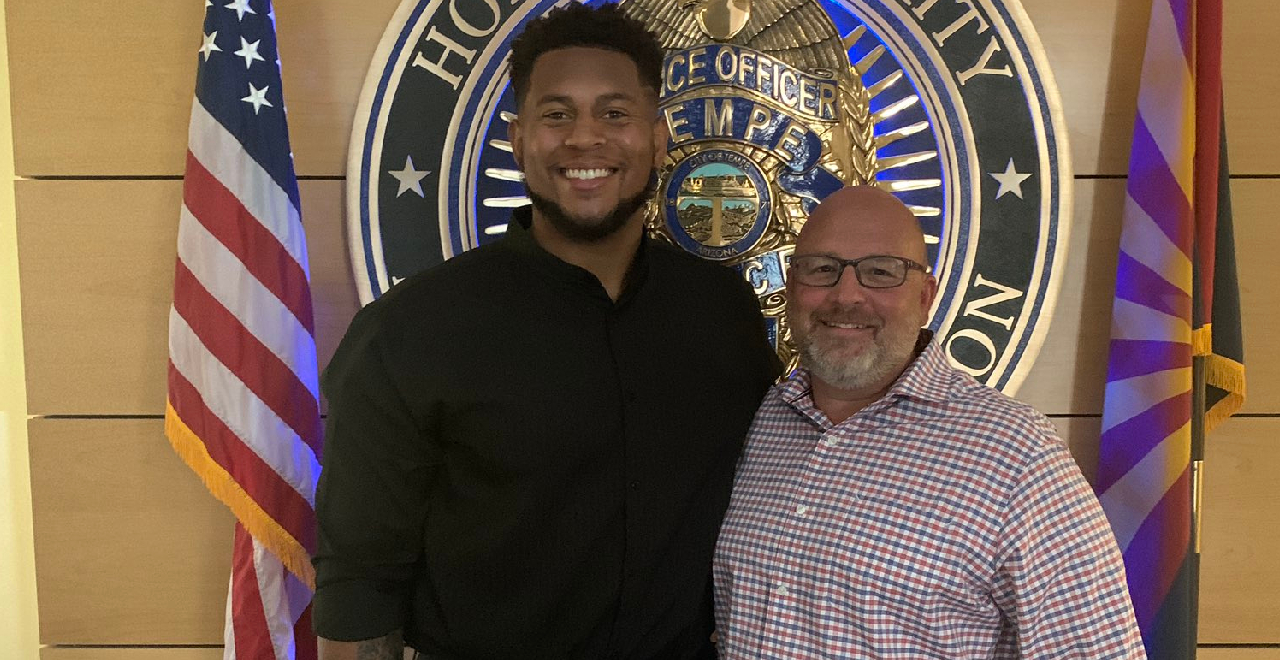 Professional athletes get called heroes way more often than they probably deserve, but there is one who truly deserves that title after his actions this week. New England Patriots offensive lineman Justin Herron is being hailed as a hero for his off-field actions as he saved a woman from being assaulted and helped detain the attacker until police arrived on the scene.
Herron said he was walking through a park in Tempe, Arizona around 11:00 a.m. when he heard a woman screaming in a nearby field. He saw a man on top of the woman and he jumped into action, quickly pulling the man off of her. He then told the attacker to sit down. Now, Herron is a large man (6-foot-5, 300+ pounds), so the attacker did exactly what he was told, and Herron and another Good Samaritan bystander stayed on the scene to make sure he didn't leave before the police arrived.
This isn't just a tall tale or over-exaggerated story, either, as Herron (and the other man) were both awarded the Outstanding Service Award from the Tempe Police Department for their heroic actions. The Tempe Police Department said the two heroes had their "sincere gratitude" for "saving an elderly victim of a vicious attack."
Our sincere gratitude to the two hero's that saved an elderly victim of a vicious attack. Can't miss this story. @azfamily @12News @FOX10Phoenix @abc15 @Patriots pic.twitter.com/Tw1woCrewA

— Tempe Police (@TempePolice) March 24, 2021
At the press conference to receive the award, Herron said he knows he's big, so he tries not to be too aggressive with people, knowing he could hurt them. But he knew he had to jump into action.
Patriots reserve OT Justin Herron was honored as a hero on Wednesday for helping stop a sexual assault in a park four days earlier.

Herron & a second man, Murry Rogers, intervened when they saw a 71-year-old woman being attacked & detained the suspect until police could arrive. pic.twitter.com/7PClY0QuGm

— ESPN (@espn) March 24, 2021
"I wish I could tell you what I was thinking, but I could just tell someone needed help," he told a local media outlet. "All I could do was rush myself over there to make sure I could help the victim and I could comfort her and be the best person I can be."
For a guy whose job is protecting a quarterback, keeping people safe just seems to be his MO, whether he's on or off the field.