Healthcare Worker and NFL Mom Gets Honored on Madden Cover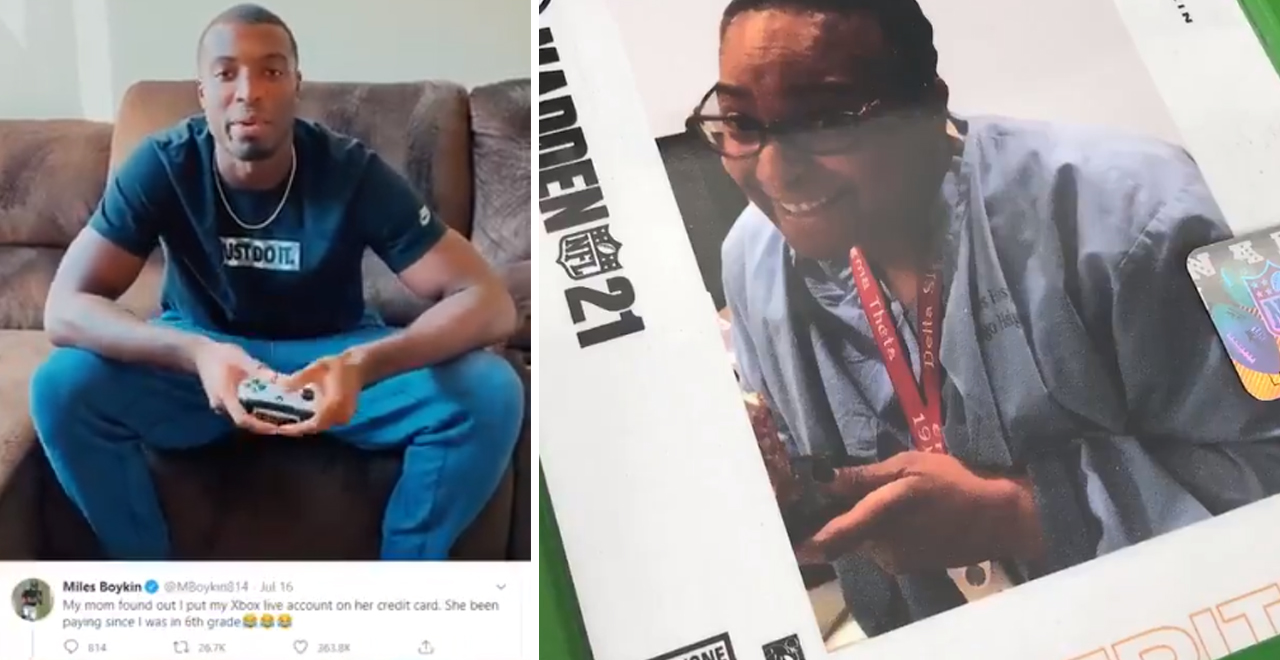 Over the summer, Baltimore Ravens receiver Miles Boykin tweeted that his mom finally discovered he had used her credit card to pay for his Xbox live membership and that she had been paying it for the NFL player since he was in SIXTH GRADE! But, with some help from Xbox and EA Sports, he made up for it by helping his mom, a healthcare hero, become the first female to grace the cover of Madden.
Madden reigns supreme when it comes to sports video gaming (personally, I'm an NBA 2k and FIFA guy, but you can't deny the Madden popularity over the years), even if the fabled Madden curse has become but a footnote in history thanks to Patrick Mahomes. And NFL players today, like Boykin, grew up playing Madden.
Still, it's always funny when a professional athlete with a multi-million dollar contract has his mom paying for his Xbox live membership. He tried to intervene and take over the payments, but she said she might as well just keep picking up the tab.
Before yall get mad I tried to start paying today and she said she been paying this long she might as well continue 😂

— Miles Boykin (@MBoykin814) July 17, 2020
Boykin appealed to Xbox for help. And they came through, in a big way.
Hey Mom, I guess all those years of paying my Xbox live subscription has paid off! Look who's on the cover of Madden 21 😏

Huge S/O to @Xbox, @Microsoft, and @EA for making this happen!#Xboxpartner pic.twitter.com/JDlqYCP1Sv

— Miles Boykin (@MBoykin814) September 14, 2020
Boykin's mom, Felicia, is a healthcare worker, so Xbox and EA decided to help Miles show his appreciation for her. She not only received an Xbox Game Pass (so she'll finally stop getting charged for Miles' subscription), she also got a copy of Madden with herself on the cover, which will also go to some of her healthcare hero colleagues (along with new Xbox consoles).
Miles also takes the chance to tell his mom how much she's meant to him and his development.
"You've always been there. You helped me become the man I am today and I will forever be grateful to you. I would give you the world if I could and you would still deserve better," he said. "You not only supported my passion for football but also my second love of gaming."
She also received a custom Xbox One controller, a pair of new Nike Air Zoom Pulses, and a pair of custom cleats for Miles to wear with her image painted on them.
It's a great way for Miles to repay a parent, and I will now consider this the threshold for all kids going forward when it comes to recurring subscription fees.