Photographer Mom Nails This Horrifically Fun Daddy-Daughter Photoshoot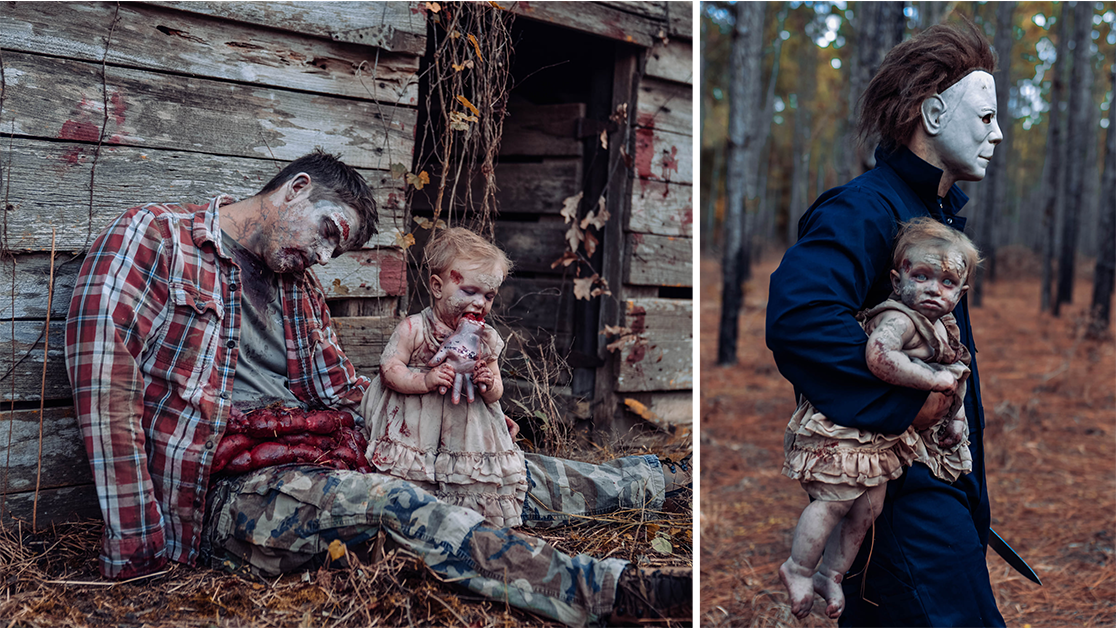 Spending quality time with the kids is going to look different for every family – maybe you like going to sporting events or piling in the car to go to the movies.
Or, if you're a photographer like Tiffany Renfroe, a family photo shoot can be the perfect excuse to get out of the house… and she's dead set on making theirs memorable.
Her latest daddy-daughter shoot with her husband, Daniel, and 11-month-old, Oakley, is perfectly-themed for this time of year and sounds like a surprisingly sweet bonding experience.
"Daniel and I are very sarcastic, as people, as parents. Life is too short to take everything so seriously," Tiffany told Bored Panda. "Our babies (Kaiden-10, Gibson-5, Oakley-11 months) are our world.
"We are active parents that would rather be doing things with them or giving them experiences over gifts or money, although, they still are spoiled. Our kids go everywhere with us and are included in everything we do (we live away from family due to jobs)."
Tiffany admits that her kids love classic horror films, especially pointing out the goofy, over-the-top acting and props.
"It wasn't hurting them, making them scared, so whatever. It's us," Tiffany said. "My kids are sweet and loving, do great in school, are nonviolent, love others, and that's all that matters to us as parents."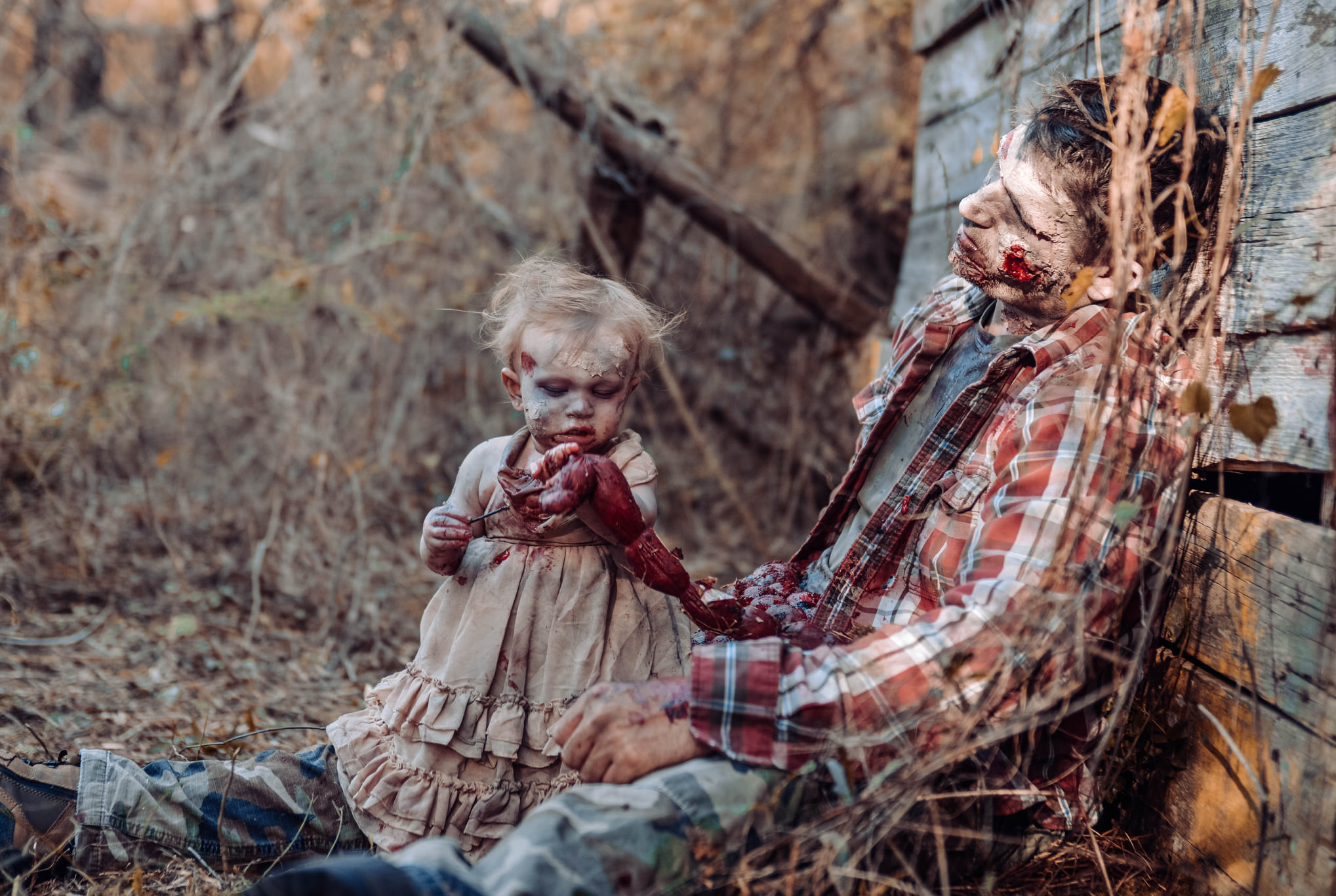 Before folks get all up in arms, Tiffany assures her viewers that this was a remarkably positive and family-oriented day.
"The day of, Kaiden and myself, started doing Daniel's makeup first, he sat propped up against the wall right next to Oakley's toys, we hoped she would just play while we worked on this. But just like a curious 11-month-old she was, she was right up in our business!"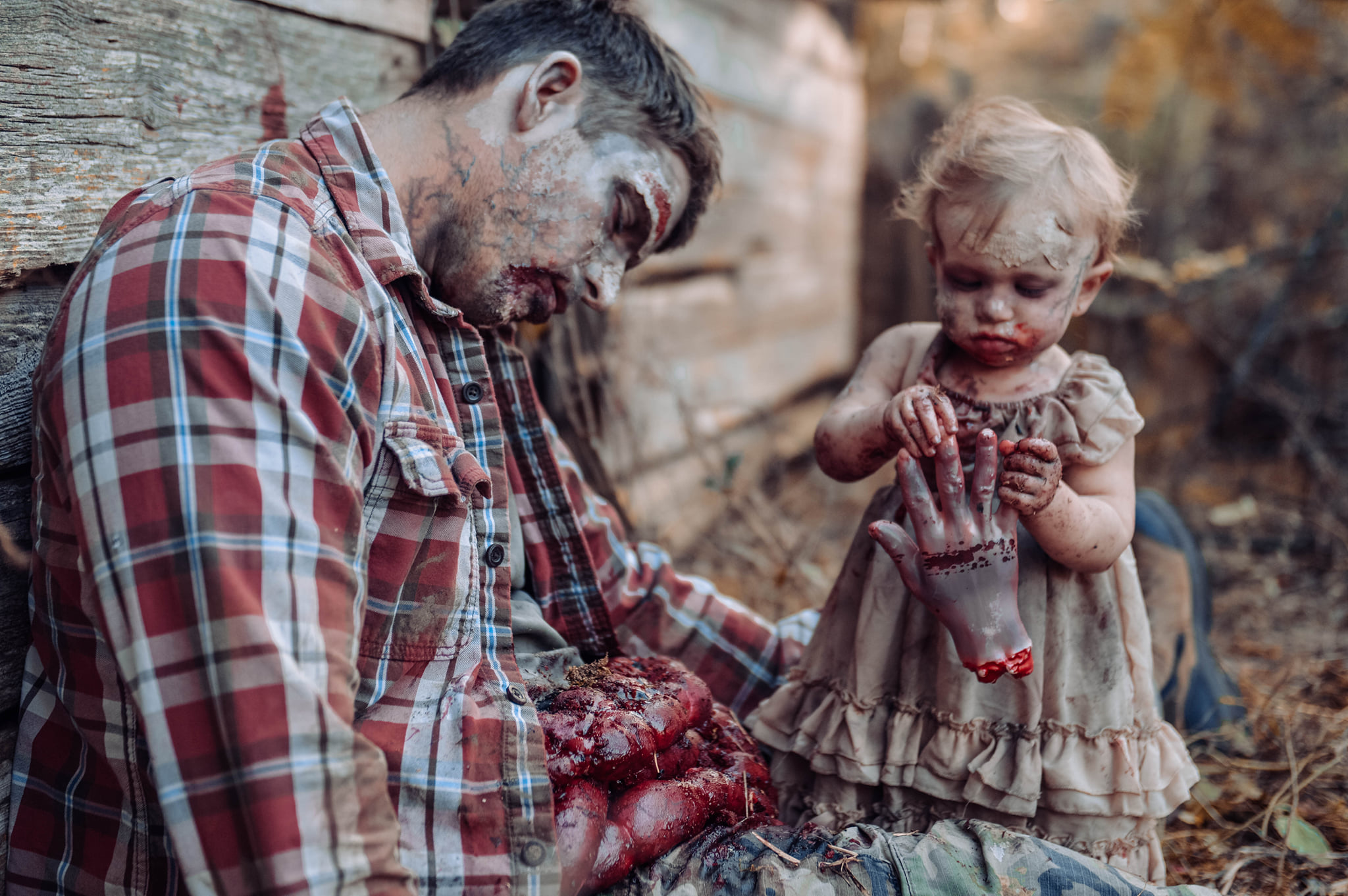 "So I would do some of Daniel's, then smudge a little on her, do a little more of his and smudge again on hers, brushes on him, brushes on her, she was even attempting to help with the makeup brushes! Her sister would tickle her with the "dirt brush". It was a game for her! About a 2-hour game.
"It took patience but was fun. There was no getting her to stay still like many online people have wondered how I did, I worked in her world and made it fun, you know, the tricks moms know how to pull when they need or want things done."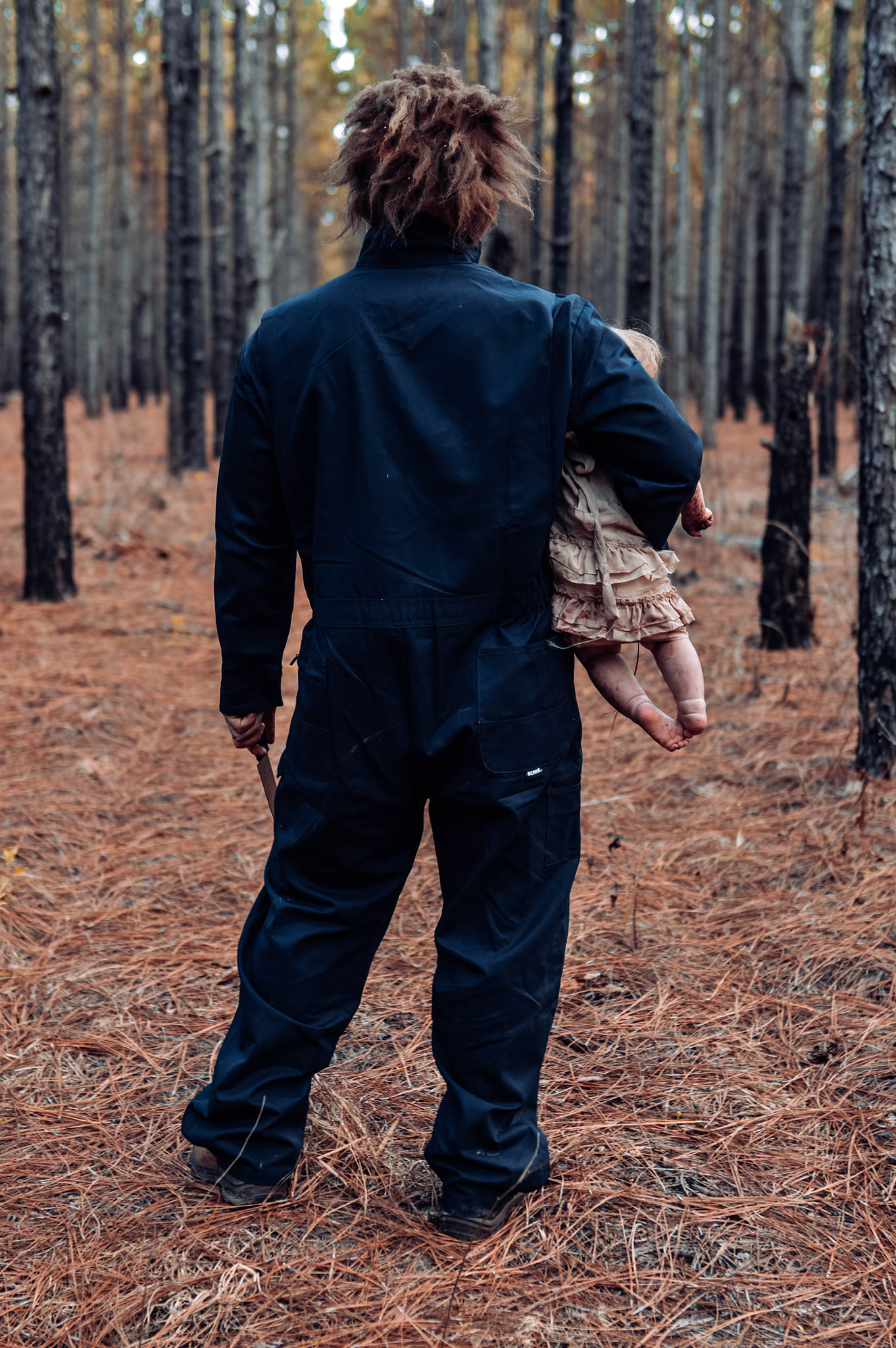 Everyone was involved in the shoot, whether that meant helping with the makeup, giggling at the goofy faces Daniel and Oakley were making, or snacking on the edible props (mostly red velvet).
"It was much more than a shoot, it was family time. I hope this not only reaches the fans of horror movie lovers, zombie lovers, and Michael Myers fans, but everyone. There is a deeper layer to all of this, which is time spent with your family."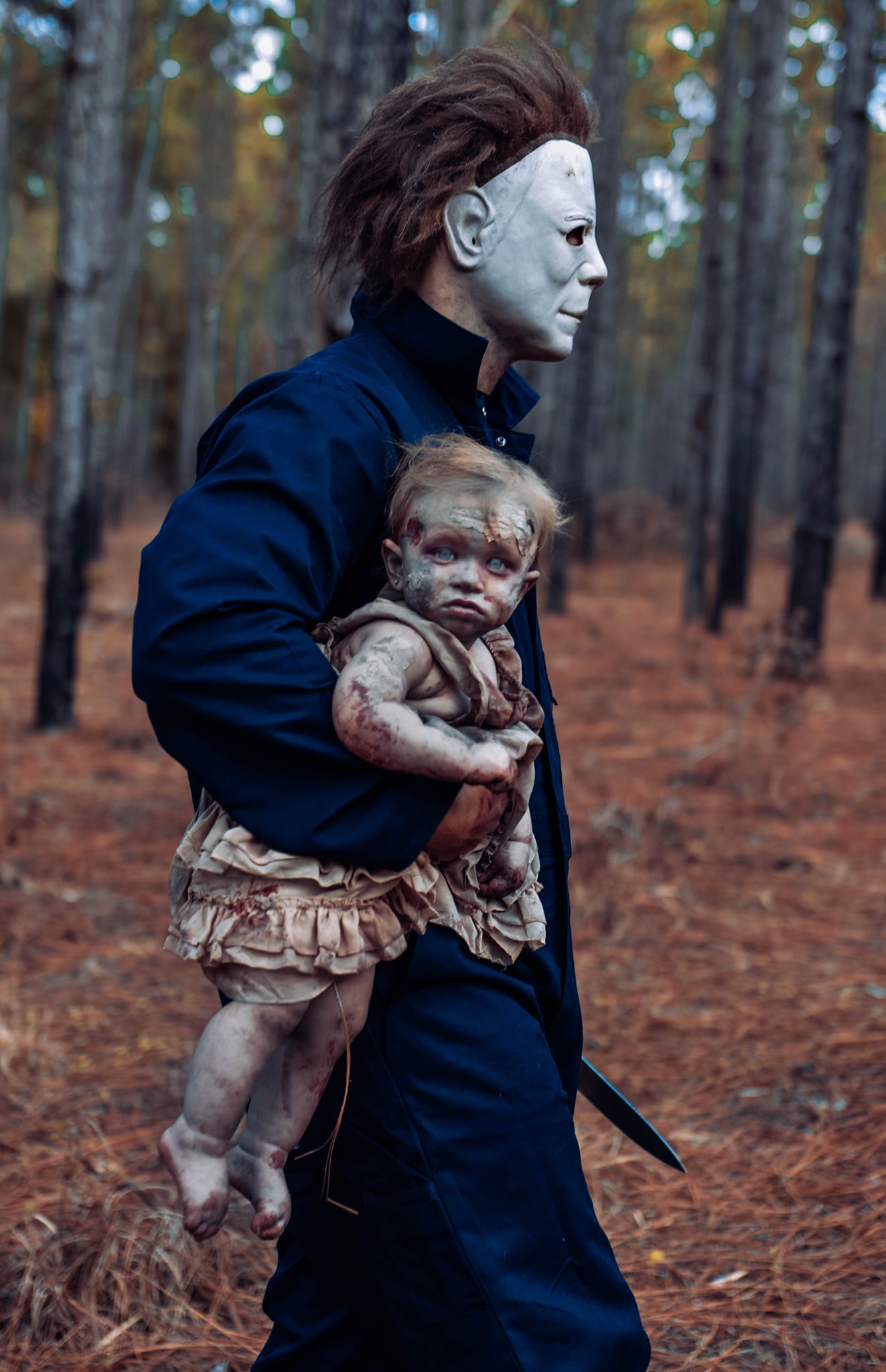 Look, I get it. A photoshoot like this would probably be a little extreme for most kids or, hell, even for some adults. But that's the beautiful thing about families and kids being so different: We get to figure out what's fun and makes us tick together.
"Children need our time, they need us, they need laughs, giggles, hugs, and adventure," Tiffany emphasized. "That is what they will remember. They aren't going to remember eating cake and berries off of some fake intestines."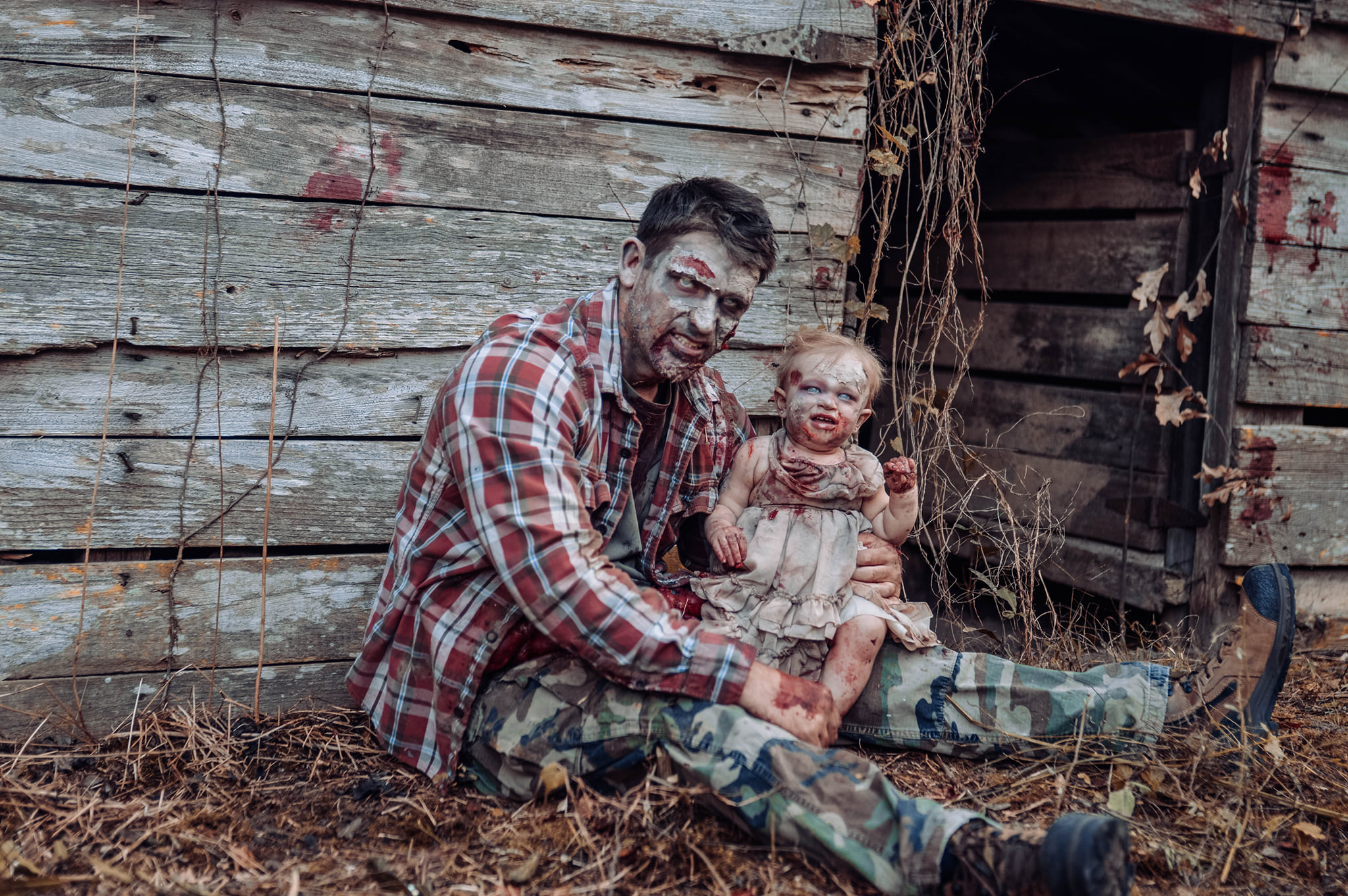 You can find the rest of Tiffany's photoshoot here. And if you need more amazing horror-themed photos in your life, don't miss this engagement shoot that went down at Crystal Lake.