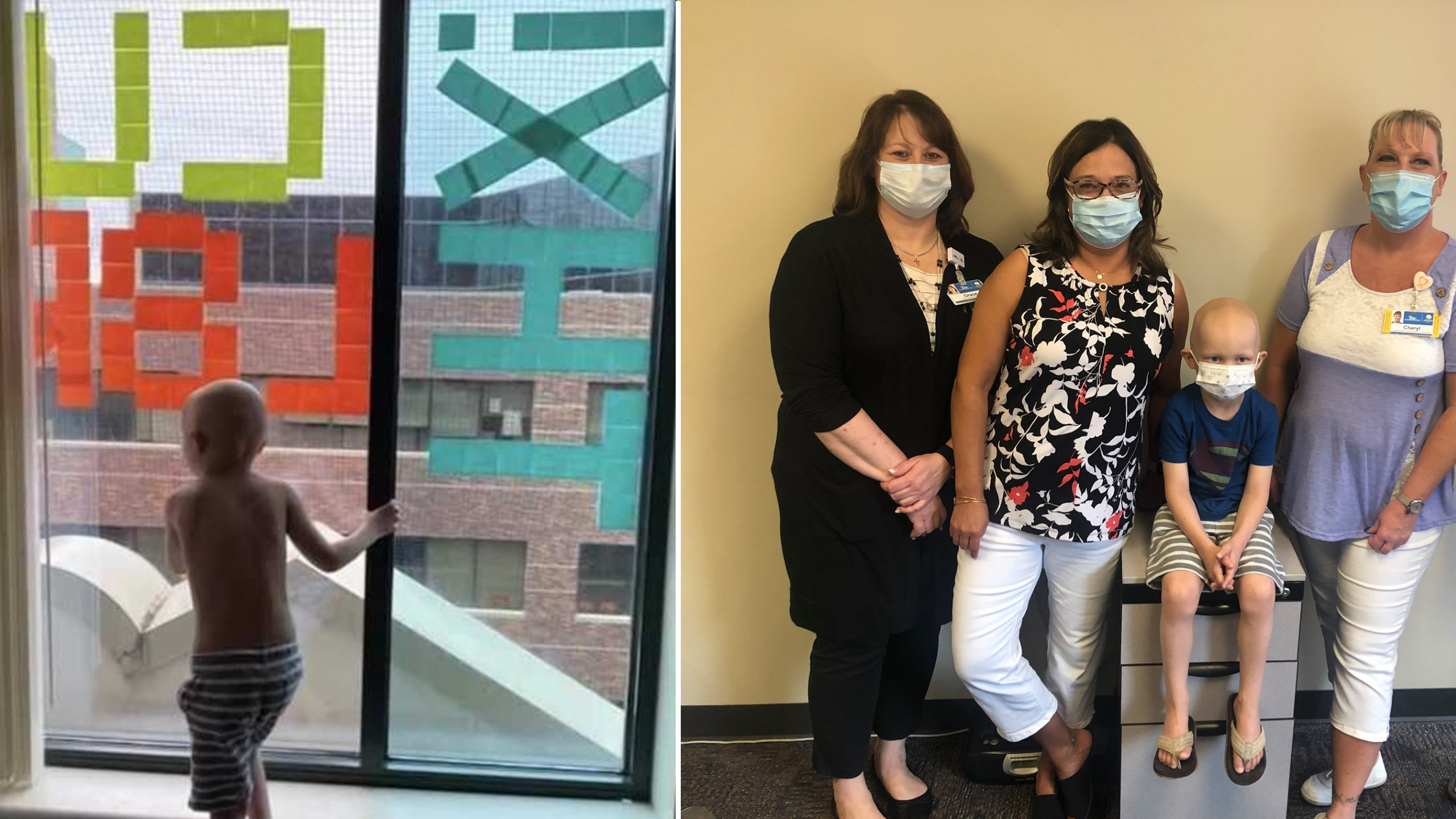 Credit: Facebook/TruMed
Hospital employees found a unique way to put a smile on the face of a five-year-old patient at a different hospital.Using elaborate Post-It note displays on their hospital room windows, the Truman Medical Center staff become the "Mystery Friends" to Meyer Mixdorf, who was undergoing treatment at a Children's Hospital and across the street.
Meyer's family put up simple shapes on his own 8th floor window. And the nurses and staff across the street took notice, soon responding with their own Post-It creations to keep up. What started as smiley or winky faces became much more elaborate, as each group started creating Minions, Ninja Turtles, superheroes and more.
The TruMed staff had no idea who was on the other side. Likewise, Meyer and his family had no clue who was playing Post-It Pictionary with them, but his mother says all that matters was the joy and excitement it brought to the young boy's time at the hospital.
Eventually TruMed staff realized they were going back and forth with a patient when they saw a  heart sign on Meyer's window that said "Thank you – Mom."
"I know there are children over there and I don't know what they're going through, and if I can make them smile a little bit, that's all that mattered," Cheryl Grey said to a local TV station.
According to his mom, the Post-It notes kept Meyer's spirits high during a really hard time because due to COVID restrictions. The hospital playroom was closed and he couldn't see his siblings.
This story came to a close in mid-July, when young Meyer got an MRI showing that he was cancer free. The Post-It note friendship ended with a face-to-face meeting.
"I knew it was him as soon as I saw him and just started crying," Truman Medical employee Joanna Schindlbeck said to a TV reporter.