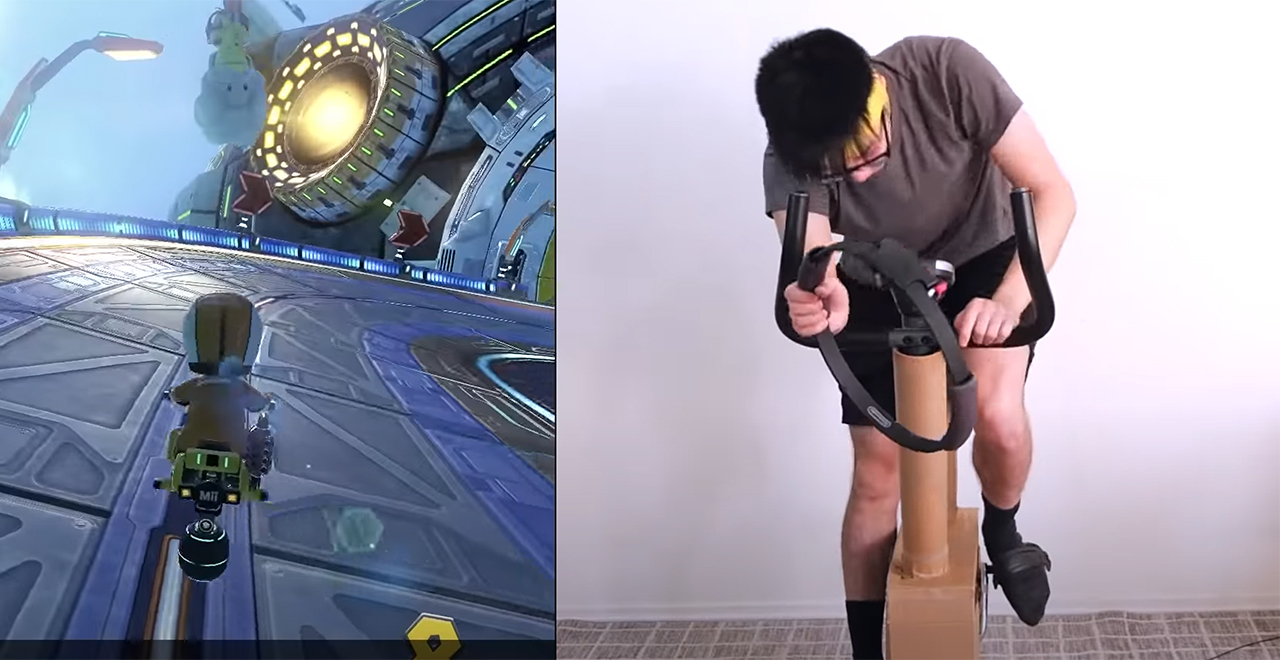 Credit: YouTube/mechachoi
When it comes to video games, they're my relax time. I think it's pretty awesome that there are games out there like Ring-Fit Adventure that can be good for your health, but I like to keep gaming and exercising separate. It would seem that tech guru and Nintendo fanatic Mike Choi feels the same way but needed to find the motivation to stay in shape. Regular old workouts just wouldn't cut it for him, so that's where his new creation comes in. It's a combination of Mario Kart 8 Deluxe, a custom Labo exercise bike, and Ring-Con accessory.
The end result is something that works every part of your body at the same time and it looks… diabolical.
The 'Labo Fit Adventure Kart Kit' is a "total-body exercise program that gets you fit while playing Mario Kart!" and would probably have me sweating mere seconds after starting to use it.
The three key components to making the kit function are:
The Bike-Con, which is an exercise bike with Labo sensors attached that gauge how fast you're pedaling, increasing your karts speed in-game.
The Ring-Con, which you use to steer by tilting it left and right and squeezing to use power-ups.
The TAPBO, which Choi created himself. It's a little device (which he even turned into his own Amiibo) that attaches to your Joy-Con and inputs button presses based on what you're doing with your limbs, which in the case of this "total-body exercise", is ABSOLUTELY EVERYTHING.
To win a race of Mario Kart with this kit requires steadfast determination, strong calf muscles, and plenty of coordination. You're holding your arms up constantly to steer, pedaling like a madman to gain speed, all while trying to focus on your race at the same time. Could you imagine 200cc while using this contraption?
I might be laughing now, but Choi's ingenuity here is admirable. It's very impressive what he's pulled off and he even mentions that this creation of his has kept him working out regularly. My hat goes off to him, but I'll just stick to my regular pro controller Mario Kart thank you very much.