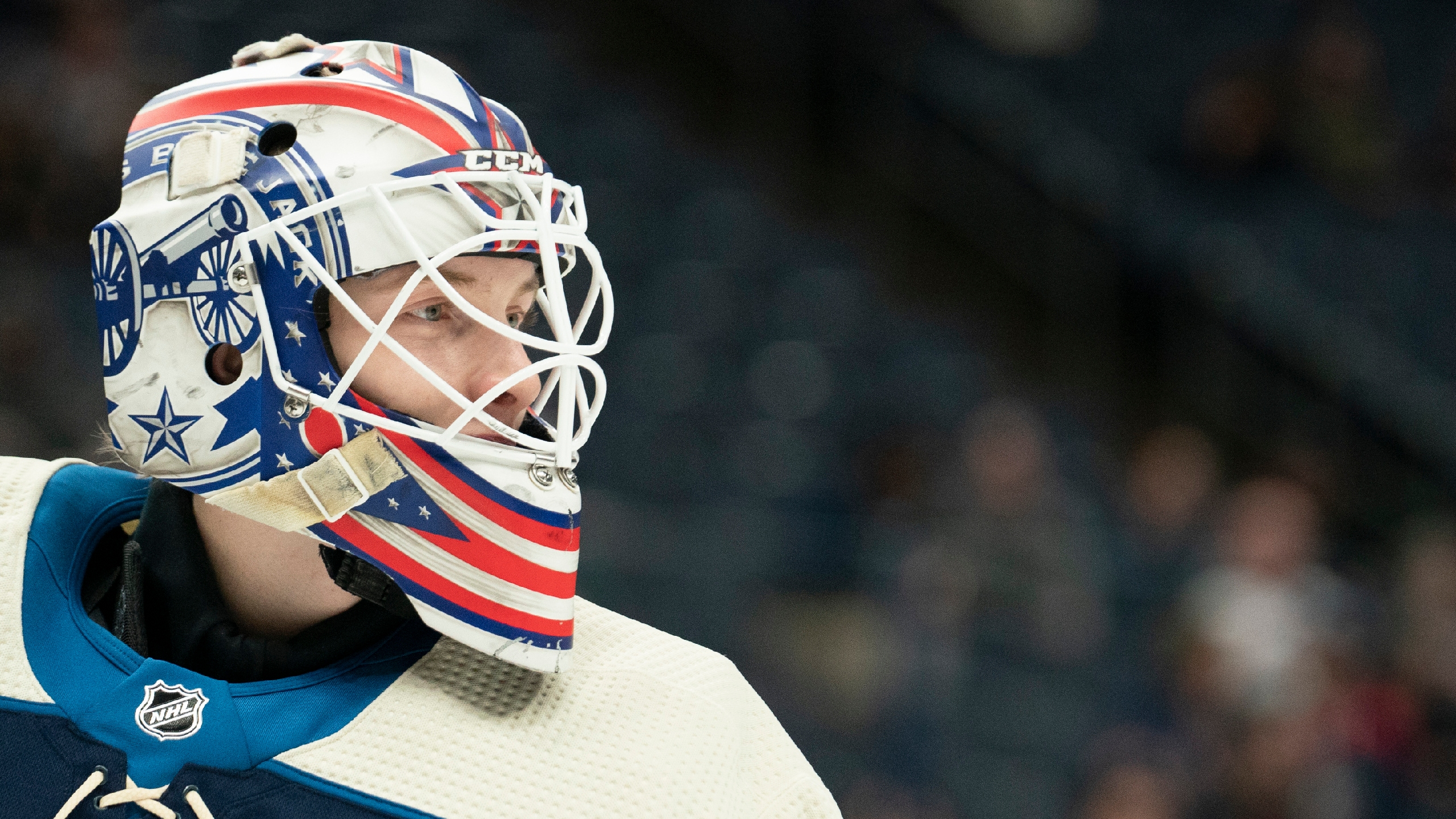 Credit: Twitter/BlueJacketsNHL
It was one of the saddest stories in sports this year. Columbus Blue Jackets goaltender Matiss Kivlenieks died unexpectedly at age 24 after suffering a firework mortar blast to the chest. Now we know a little more about what happened, and a teammate is calling him a hero.
Teammates Elvis Merzlikins described the incident briefly during the memorial service for the young NHLer. Apparently, at a 4th of July party, Merzlikins and his wife were behind Kivi, who stood up to shield others from a firework mortar blast after it malfunctioned.
Most notably, Merzlikins said Kivlenieks saved his life, and the lives of his wife and son.
"He saved my son, he saved my wife and he saved me. … He died as hero."

Elvis Merzlikins at the memorial service for Matiss Kivlenieks. Kivlenieks died after he was struck in the chest by a fireworks mortar shell on July 4. pic.twitter.com/69C09ggG67

— Sporting News (@sportingnews) July 15, 2021
"He saved not just many lives, he saved my son, he saved my wife, and he saved me." Merzlikins also said he'd be naming his son after the heroic goalie.
"He died as a hero, and that's not me saying that – that was what the doctors said…'he saved his last puck'….I just want to let you know that he was a hero and he saved a lot of lives.'
Seeing all the beautiful tributes to Matiss only further cements what kind of person he was! What a tragic loss for all of us who knew him and I am thinking and praying for his family. Heaven gained a darn good goalie and better person… Just, way too soon.
RIP Kivi! 🙏😢❤️ https://t.co/k2XWVXmfYE

— Nick Foligno (@NickFoligno) July 5, 2021
The tragic incident rocked the hockey world, with many sharing stories of how he touched their lives and made a difference.
Columbus started a Memorial Fund to raise $80,000 in honor of Kivleniek's #80, which would help fund youth hockey teams.
The Matiss Kivlenieks Memorial Fund was established by the Columbus Blue Jackets, Columbus Blue Jackets Foundation and the McConnell family in remembrance of #80.

Contributions will support youth hockey initiatives in Columbus and Latvia and will be matched up to $80,000.

— Columbus Blue Jackets (@BlueJacketsNHL) July 14, 2021