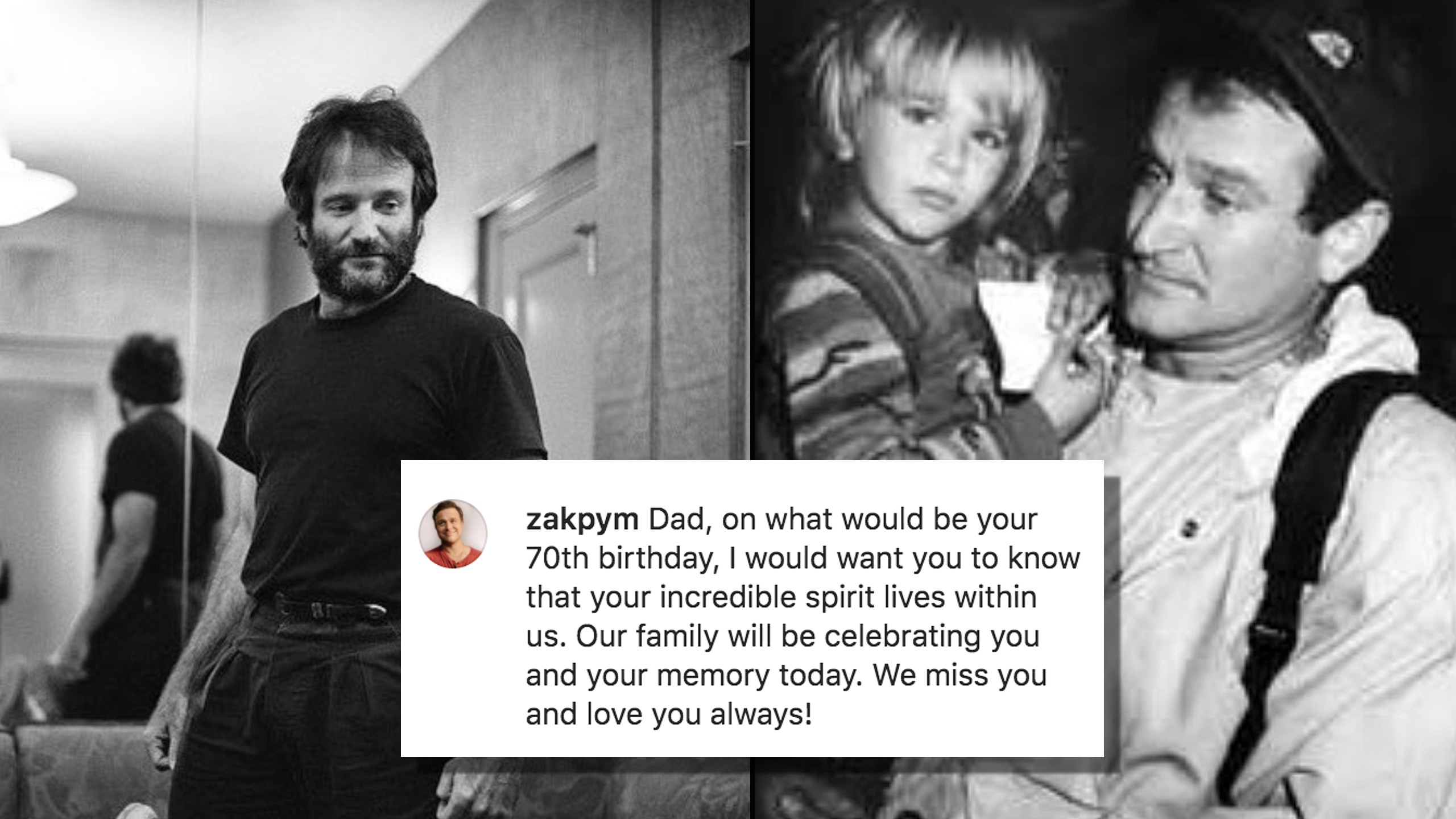 Credit: Instagram/zakpym/therobinwilliams
Few celebrities have touched as many lives in an overwhelmingly positive way as Robin Williams. He was inarguably a comedic genius and master of impressions, but perhaps most importantly, he aimed to brighten the world whenever possible. Robin Williams' death by suicide on August 11th, 2014 left a gaping void in the world of comedy, and in the lives of his loved ones. Robin Williams' son Zak recently opened up about his beloved dad, discussing the impact of Williams' death in honor of what would have been his 70th birthday.
Zak Williams is a vocal advocate for the destigmatization of mental health struggles, a pursuit greatly motivated by his dad's battle with depression. Robin Williams was misdiagnosed with Parkinson's Disease, an oversight that led to improper treatment of his symptoms. It wasn't until after his death that doctors discovered the actor was in fact suffering from Lewy body dementia, a devastating disease that impacted everything from Williams' memory to his motor control.
On an episode of The Genius Life podcast released on Robin Williams birthday, Zak discussed his dad's quiet but all-encompassing struggle towards the end of his life.
"What I saw was frustration," Zak recalled. "What he was going through didn't match one to one [with what] many Parkinson's patients experience," he continued. "So, I think that was hard for him."
Zak recalls the drugs his father was given, aggressive medications to address symptoms of a disease he didn't have. Williams' health continued to decline drastically over the next two years, and his mental health suffered immensely. Anyone who's watched a loved one suffer knows that it takes a massive toll on those closest to them, and oftentimes, the feelings of helplessness and intense stress become almost too much to carry.
View this post on Instagram
After his dad's death, Zak turned to alcohol and was eventually diagnosed with Post Traumatic Stress Disorder. Fortunately, Zak was able to find an effective treatment for his mental health struggles and is now using his experience to help others. Watching his dad suffer and subsequently experiencing his own mental health decline drove Zak to a life of advocacy, speaking openly about psychological distress and the importance of seeking help.
Robin Williams is the epitome of what it means to leave the world better than you found it, and Zak is following in his father's massive footsteps. In a 70th birthday tribute to his late dad, Zak expressed gratitude and love for his biggest hero – the man who raised him, inspires him, and continues to be a massive source of strength several years after his death.
"Dad, on what would be your 70th birthday, I would want you to know that your incredible spirit lives within us," Zak wrote. "Our family will be celebrating you and your memory today. We miss you and love you always!"
View this post on Instagram