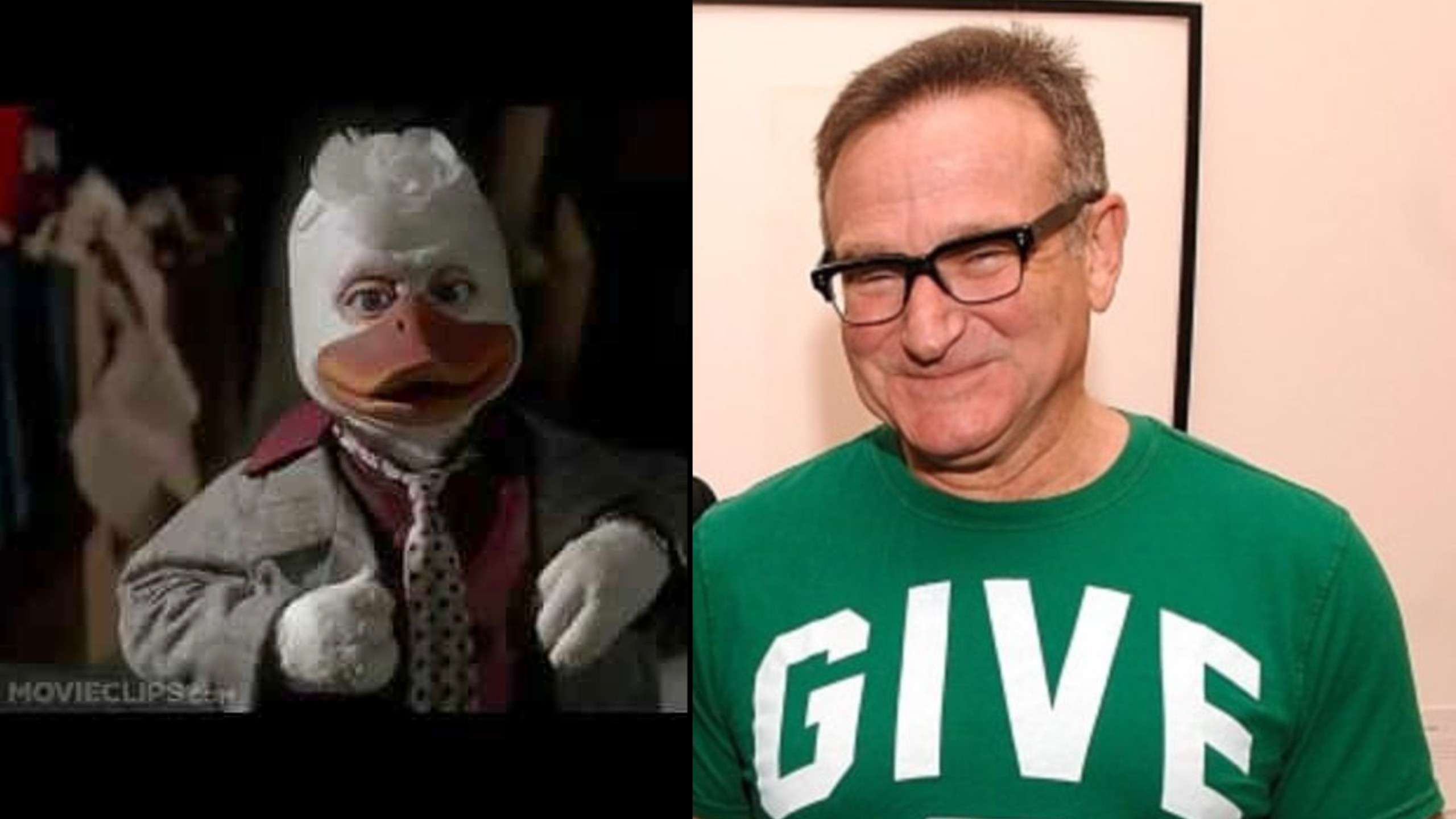 Credit: YouTube/Att Se film, Getty/Jamie McCarthy
When running through the list of actors you could fully imagine walking off set, Robin Williams probably doesn't make the cut. The late actor and comedian is remembered for more than his unique talent, he's known far and wide for being an all-around good person. He was kind, compassionate, and deeply committed to making the world a better place. Williams was also extremely passionate about his work, fully embracing and embodying every role. It was exactly that level of dedication, oddly enough, that made the late actor quit the 1986 film.
Like many cult classics, Howard the Duck initially bombed. It bombed so hard, in fact, that simply Googling "Howard the Duck" brings up a list of questions people regularly search about the movie. The most commonly asked question being, I kid you not, "is Howard the Duck the worst movie ever?"
I mean, the harrowing story of an anthropomorphic space duck who finds himself stranded in Cleveland is a tale as old as time. George Lucas fully believed in the film's potential, but early on, it became clear that things weren't going as planned. Robin Williams was initially set to voice the iconic duck, but after less than a week, he called it quits.
Even in cartoons like Aladdin, Williams was given the freedom to ad-lib some of his lines. He famously recorded multiple takes, improvising bits of dialogue that took his characters to the next level. On Howard the Duck, however, production finished before an actor was cast to voice the film's title role.
35 years ago today, 'HOWARD THE DUCK' released in theaters. pic.twitter.com/0MCw0qhpYK

— DiscussingFilm (@DiscussingFilm) August 1, 2021
Robin Williams was stunted creatively, forced to read lines in a way that exactly matched the unalterable movements of Howard's bill. Unwilling to compromise his creative integrity and frustrated by the rigidity of the role, Robin Williams chose not to fulfill his contract. Instead, Chip Zien was called to voice the space duck.
"What I was told was by the third day, Robin said, 'I can't do this. It is insane. I can't get the rhythm of this. I am being confined. I am being handcuffed in order to match the flapping duck's bill.'" Zien recalled in an interview with The Hollywood Reporter. "So, on Memorial Day 1985, I got a call from my agent who said, 'You have to get right to the airport! Robin Williams just quit and you're now Howard the Duck. You need to get there tonight. There is a ticket waiting for you at the counter.' I was incredibly excited."