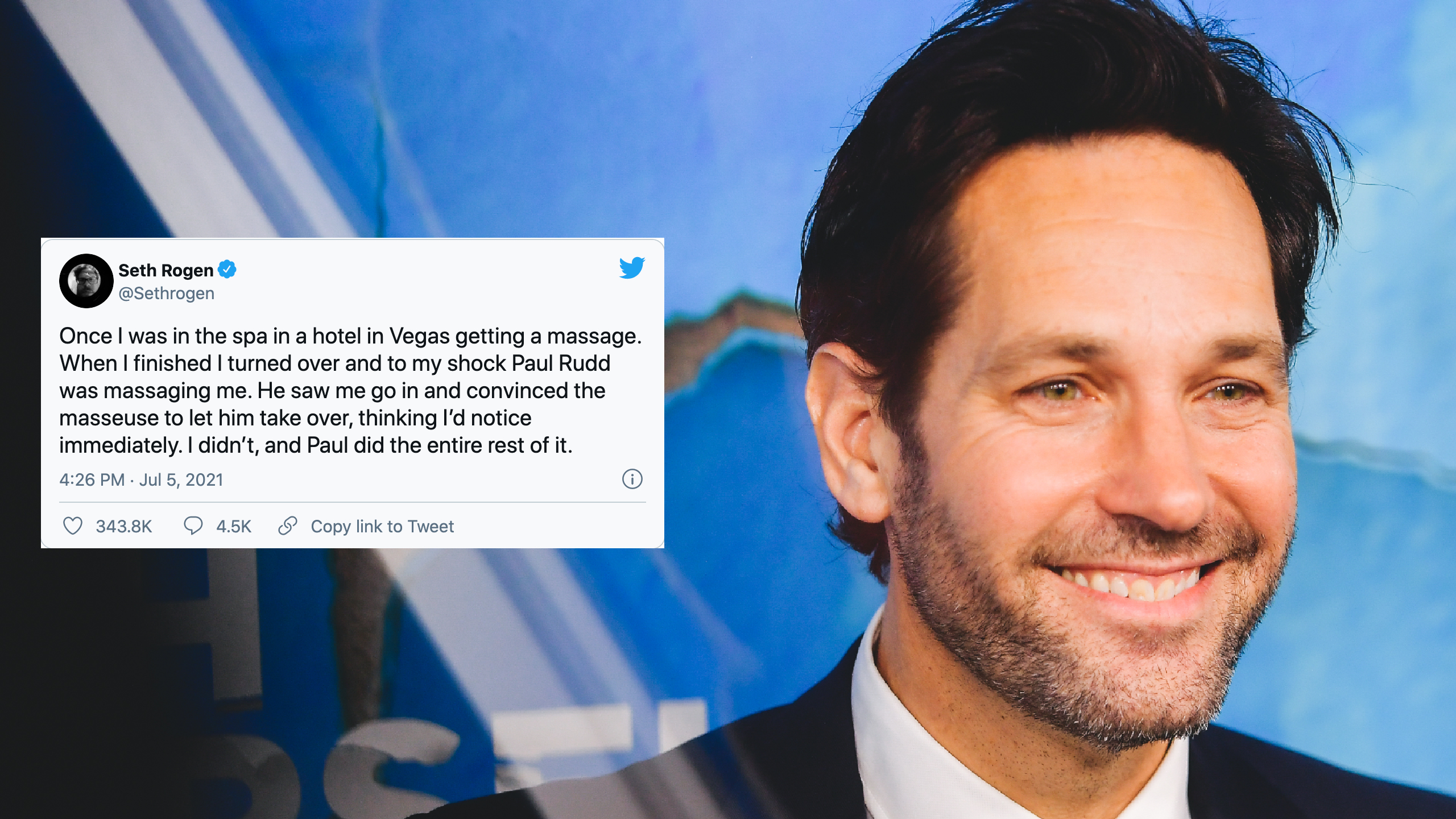 Credit: Matt Winkelmeyer/FilmMagic
Paul Rudd is an absolute delight. He apparently never ages, has the most fun in the  Marvel movies, and is more committed than anyone when it comes to doing a bit. He proved that through his legendary Conan appearances, but now Seth Rogen shared a classic Rudd story that feels true down to your bones (and has since been confirmed by Rudd himself).
Rogen said he was once in the spa in a Las Vegas hotel getting a massage. When he finished he turned over and was shocked to see Paul Rudd massaging him! Apparently, Rudd saw Rogen go into the spa and convinced the masseuse to let him take over, thinking Rogen would notice right away. Turns out Seth wasn't very observant that day, so he just did the whole massage.
Once I was in the spa in a hotel in Vegas getting a massage. When I finished I turned over and to my shock Paul Rudd was massaging me. He saw me go in and convinced the masseuse to let him take over, thinking I'd notice immediately. I didn't, and Paul did the entire rest of it.

— Seth Rogen (@Sethrogen) July 5, 2021
Outstanding! Truly hilarious that, not only would he attempt this prank, but that once it didn't play out, he just committed fully to the bit and went through it all. A media company reached out to Rudd to confirm the story that sounds so outrageous it couldn't be true, but Rudd said it was "100 percent true."
I maintain the utmost integrity with my stories. https://t.co/NhkkeY6mxd

— Seth Rogen (@Sethrogen) July 6, 2021
The whole thing sounds like a scene cut out of a film the two made together, but apparently Rudd is just as funny IRL. The story went predictably viral, but it's incredible that something so funny and out there could just exist as an off-hand tweet one day, rather than something both talk about at length.
A true testament to how great it is having funny friends.