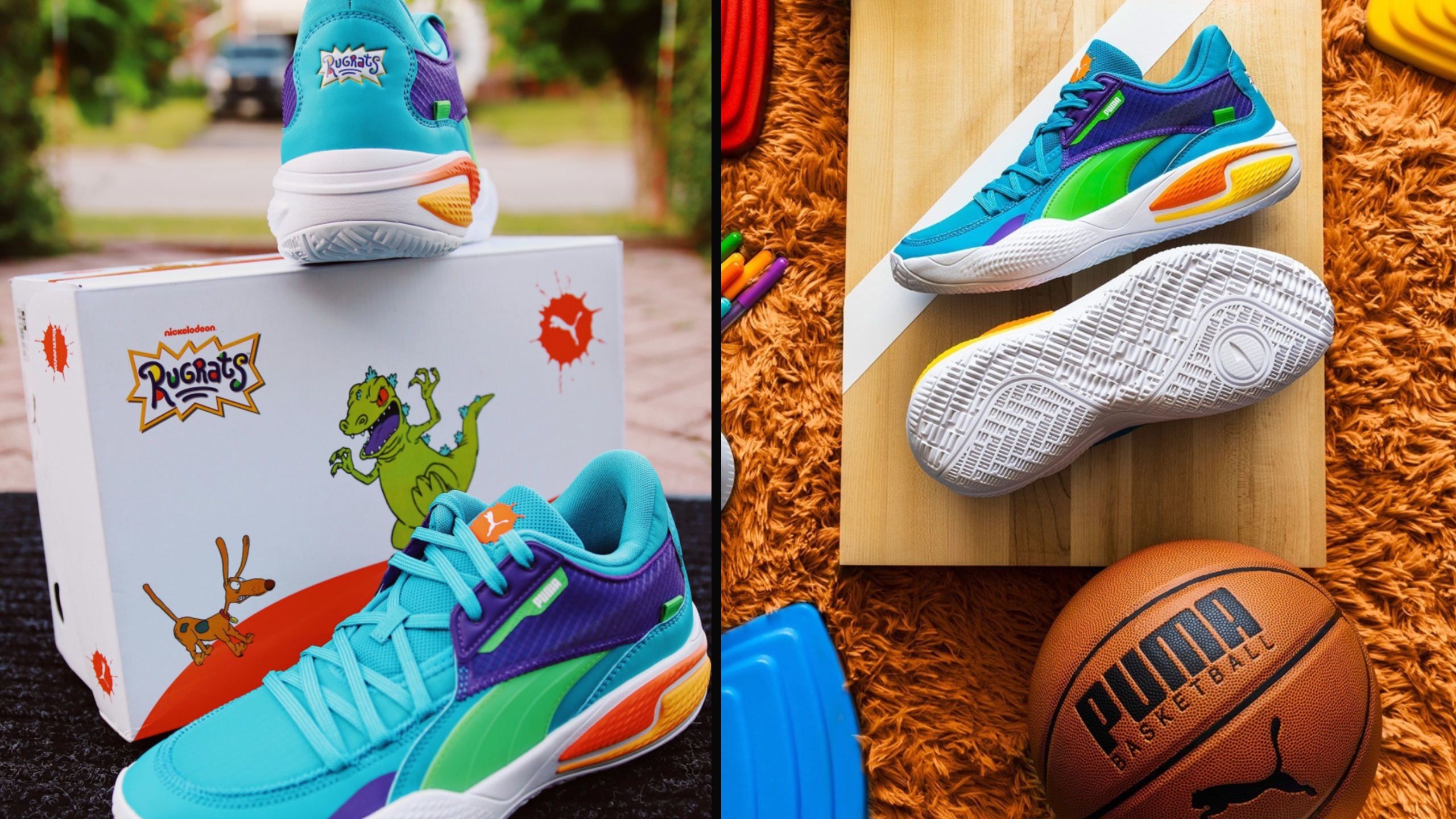 Credit: Puma X Rugrats
Shoe companies doing special collaborations with shows and movies aren't new. Few things, however, can move shoes as much as nostalgia. Which is why the Puma x Rugrats collection is such a home run for anyone who grew up in the 90s. It is a pure time machine to your days a Nickelodeon obsessed youth.
The collection dropped earlier this summer and from the shoe to the box to the apparel, it all looks awesome. There are three shoes and four apparel options so far, and the entire collection is a way to celebrate the show's history in its 30th anniversary.
View this post on Instagram
Tommy Pickles might as well be Tommy Buckets if you're rocking the Court Rider in your pickup game. From the website:
A 90s legend meets 90s-inspired drip. We've partnered with Nickelodeon to bring you the PUMA HOOPS x RUGRATS drop,complete with kicks that you'll love as much as the babies love Reptar. Play is on full display with the oh-so-nice style PUMA Hoops is known for and design cues from Rugrats that throw it all the way back. So, grab a bottle of milk, a Reptar Bar and a pair of your choice to rock however you want.
View this post on Instagram
Babies do love Reptar, so this checks out. The shoes rock the color scheme and logo while the apparel pays homage to the whole gang, from Tommy and Chuckie to Phil and Lil, Angela and Spike.
A new generation is getting their introduction to the iconic characters with a new Rugrats cartoon for Paramount+, but it supposedly doesn't hold up to the original (unfair comparison unless you literally bring it back to yourself at age 7 with a time machine).
Still, if you were a 90s kid, you can rock that part of your history whenever you're giving your New Balances the day off.