Ryan Reynolds Responds To Tweet, Donates Winter Gear To Kids in Northern Canada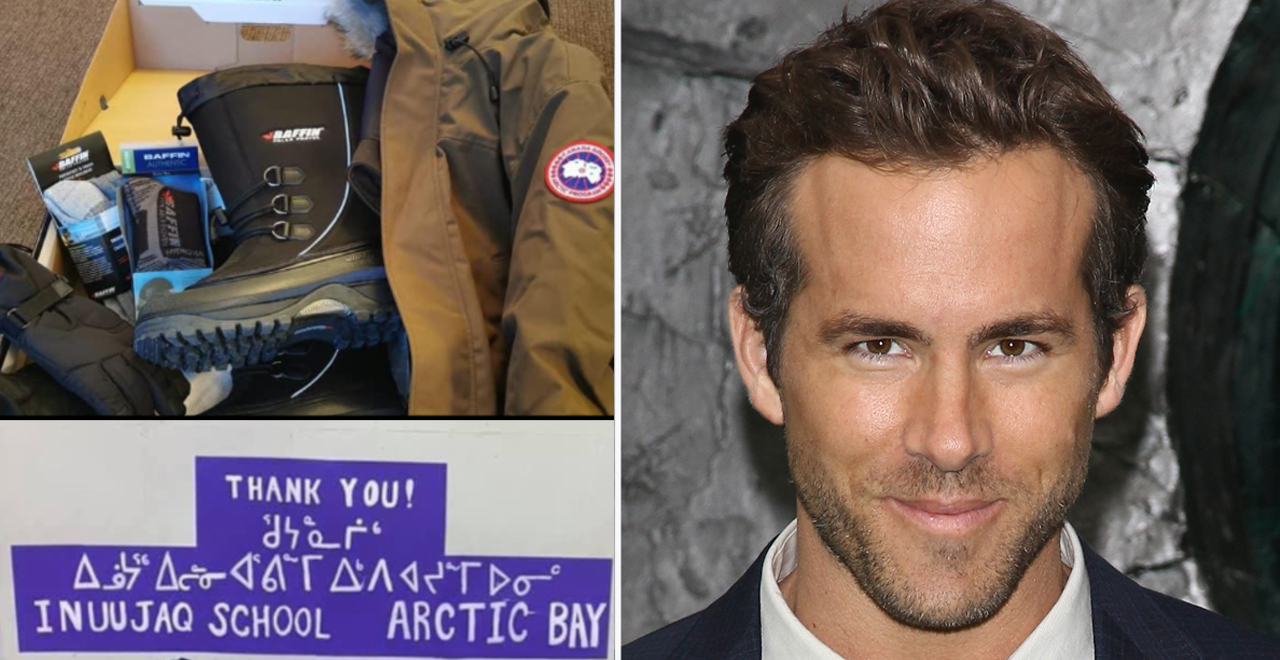 Winter is coming. For some of us that means adding a layer or two, or finally admitting that it's time to put away the sandals. But for kids in Nunavut, a territory of Northern Canada, winter means piling on every layer you own knowing you'll probably still be cold. Temperatures in this sparsely-populated territory average around -30°C or -22°F in the winter, making proper cold weather attire a must-have. Unfortunately, many kids are under-equipped for the extreme temperatures.
When a singer-songwriter named Becky Han who grew up in the Arctic Bay contacted a local school to see if they needed school supplies, the principal hoped to address a different necessity.
According to CBS, Principal Gregg Durrant explained, "It's pretty cold, and some kids don't have the proper gear. We have kids among us who really didn't have enough. Sometimes they would come in and we as staff would think, you know, that this kid really needs a new pair of boots or they need a proper parka."
Han posted a tweet on behalf of her hometown school, requesting donations.
My hometown's K-12 school is in need of snow pants for its students. If you would like to donate a pair or two, here is the mailing address:

Inuujaq School
P.O Box 90
Arctic Bay, Nunavut
X0A-0A0

Qujannamiik/thank you.#arcticbay #nunavut #canada #inuit

— Koonoo ❄️ (@KoonooHan) September 16, 2020
Though Han only expected a small response from her tweet, she soon got a message that she assumed was fake (because who wouldn't?). The message read, "I saw the tweets and how can I help?"
After going to the account's profile, she made a startling discovery. That was no fake profile – the simple message and offer of help came from Canadian-born sweetheart Ryan Reynolds.
"And I was just touched," Han said. "I was grateful that, you know, people are listening and he wanted to help out … and that he has concern over Inuit in Nunavut."
She gave Reynolds Principal Durrant's contact information to determine what supplies were most desperately needed.
"Oh, yes, that was quite interesting," Durrant recalled casually. "You know, I got an email saying, 'This is Ryan Reynolds and what your needs are in terms of winter gear.' And yeah, we started emailing back and forth and yeah, that was that."
Reynolds then contacted some friends at Canada Goose to get them on board. According to Gavin Thompson, the vice-president of corporate citizenship at Canada Goose, Reynolds has been a friend of the company for over 10 years. In under a week, a shipment of 300 brand new Canada Goose parkas, boots, gloves, socks, and hats was on its way to the
Inuujaq school in Arctic Bay.
When the shipment arrived, the students were over the moon. Durrant recalled, "When the students were leaving the gym because they put on their parkas trying to make sure that whatever gear they were getting were suitable for them in terms of size, they were like, 'Thank you, Gregg! Thank you, Gregg!' I'm like, 'Yes, it's thank you, Ryan! Thank you, Ryan!'"
Delightfully overwhelmed by all the loving posts of all the kids in their new @canadagoose snow suits.

Thank you, thank you, thank you!
Qujannamiik, qujannamiik, qujannamiik!

So, so many people to thank for making this happen. @VancityReynolds #inuujaqschool #nunavut #thanku pic.twitter.com/FfnWbzaJSM

— Koonoo ❄️ (@KoonooHan) November 2, 2020