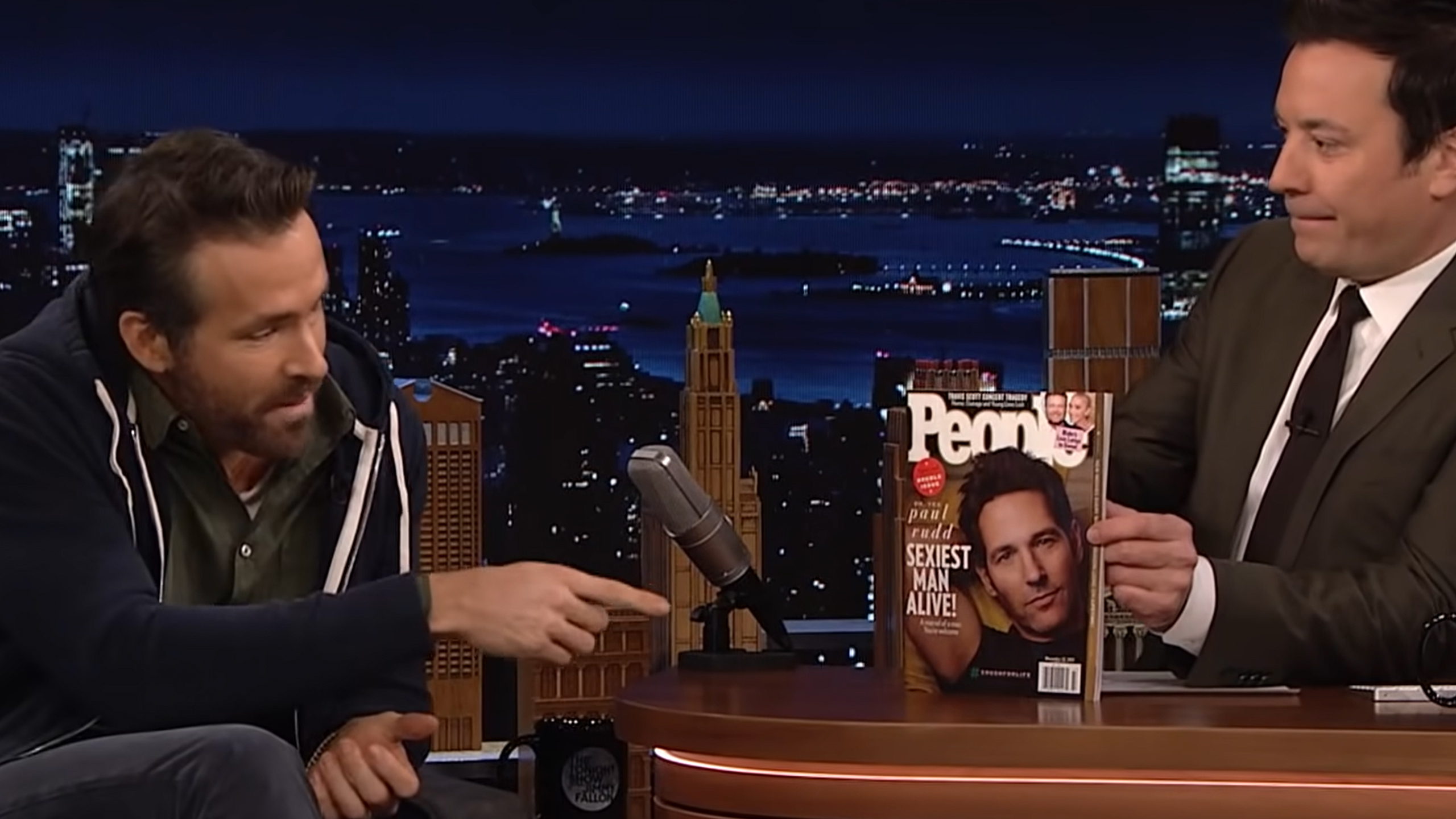 Credit: YouTube/The Tonight Show
I think the entire world wants to know Paul Rudd's secret to looking so young.  It's actually comical how young the 52-year-old actor looks, but everyone has kind of brushed it off.  It was almost like the thought of asking him how he continues to look so young could get you into trouble.  What was he trying to hide from the public eye?
Unfortunately for Rudd, the spotlight is even more on him now.  He has just claimed the greatest title of all, People's Sexiest Man Alive, and recent claims from the always reliable (and People's Sexiest Man Alive 2010) Ryan Reynolds seem to point at something far more sinister going on in regards to Rudd's devilishly good looks.
On the most recent episode of The Tonight Show Starring Jimmy Fallon, Reynolds showed up instead of Will Ferrell.  I guess when Ryan said he was taking a sabbatical from his own career, it meant that he would go out and promote other actors' movies for them?  Anyways, during the interview, Reynolds discussed Ferrell's upcoming film The Shrink Next Door, in which Ferrell stars alongside Paul Rudd.
Reynolds joked that "It's like some sort of Ant-Man sequel.  It's in the Ant-Man universe.  It's Ant-Man adjacent… He doesn't shrink his body per-se, but he's a psychiatrist, so he does like, psychiatrist things.  Paul is the psychiatrist.  He is the shrink in it, right?  He minimizes himself in relationships, which is kind of like Ant-Man right?"
Jimmy then pulled out the brand-new issue of People Magazine announcing Paul Rudd as their pick for 2021's Sexiest Man Alive.  While Reynold's had nothing but praise for the Ant-Man, he also claimed that Rudd was into some pretty wild stuff in order to retain his youth.
"I'm happy for Paul, because he's possibly the nicest human being in all of show business.  He's aging backward because of his contract with Satan. Or he only drinks breast milk from a blue whale or something.  I heard he does something weird, and I want in."
I was almost positive Rudd had his very own Fountain of Youth or he was a vampire, but having a contract with the Devil seems much more plausible.  Whatever the case may be, I'm with Reynolds on this one.  I want in too.