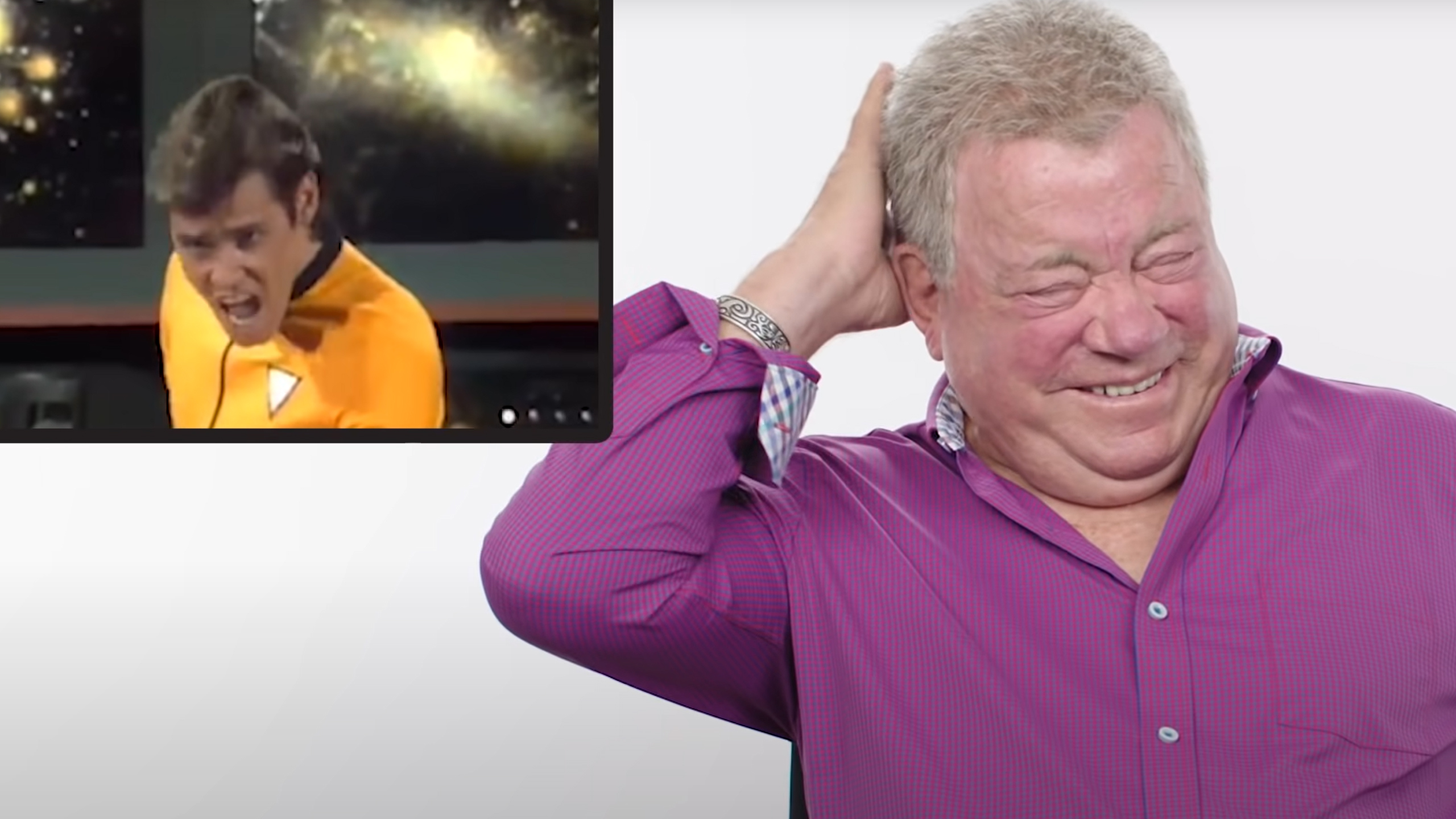 Credit: YouTube/Vanity Fair
It's always unsettling when your kid does their best impression of you, but it's significantly worse when you can't see the similarities at all. You can ask the rest of your family what specifically was "dead-on," but uh, they haven't stopped laughing yet. At least as parents, we only have to deal with this sort of humiliation in the comfort of our own homes. But for people as iconic as William Shatner, some good-humored mockery is part of the game.
In a video by Vanity Fair, William Shatner faces some of the many faces who've borrowed his unmistakable vocal inflections over the years. It's unclear why he agreed to something that sounds about as pleasant as one of those "showing up at school naked" nightmares, but he handled it like a champ. Mostly.
The whole ordeal went about as expected, with Shatner starting strong in full-on denial. "I don't know what they're doing, I don't talk like that," Shatner begins. The video cuts brilliantly to Jim Carrey, hamming up his take on Captain Kirk. Carrey's impressions are known for being over-the-top, but even so, the uncanny similarity is undeniable. "As you can tell, I don't talk like that," Shatner continues, talking exactly like that.
Throughout the video, we see the full scope of William Shatner impressions. There are those known for their ability to impersonate just about anyone, like Seth MacFarlane and John Belushi. And then, out of nowhere, boom. Bill Nye "The Science Guy."
In addition to denying their accuracy, Shatner seems to question every personal relationship he has with the actors who impersonated him. "I know Kevin," Shatner says, baffled by Kevin Pollak's impression. "Kevin is a friend of mine. I, I directed him in a half-hour comedy."
Following Jason Alexander's impression, Shatner goes so far as to explain why he did it, like a parent grasping at straws trying to understand why their kid acted out in school. Shatner's excuse? He stopped inviting Jason to Monday night football at his house, so that's probably why. Whatever helps you sleep at night, Shatner.
Bruce Campbell, Chris Pine, and John Belushi's impressions were surprisingly well-received, but Shatner clarified that he wasn't a fan of how Belushi looked in the Captain Kirk uniform. That's not even part of – you know what, never mind. The video as a whole is well worth a watch, with an unapologetic Shatner sharing everything he felt was relevant to his reviews.
Watch the full video below, and maybe take a minute to appreciate just how few people have seen your kid's impression of you.