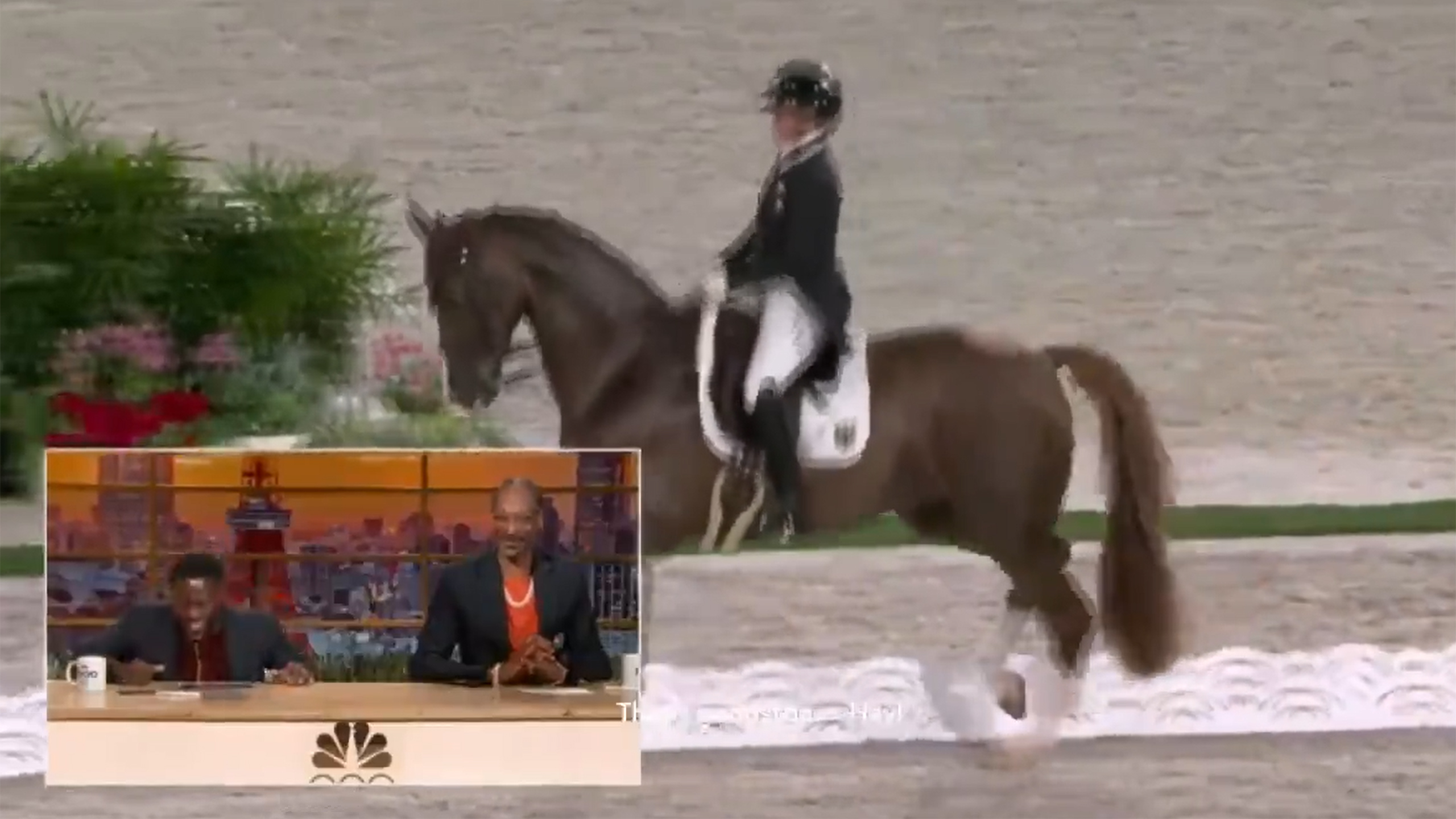 Credit: Twitter/cjzero
It's a little bit hard to believe for those of us who first knew him as a gangster rapper on the notorious Death Row label, but Calvin Broadus, aka Snoop Dogg, is one of America's most beloved celebrities. It seems the culture has finally caught up with the notorious pothead, as marijuana use has grown increasingly mainstream and increasingly legal. Now Snoop can befriend Martha Stewart, appear in national ad campaigns, call boxing matches, and even provide commentary during the Olympics.
Of course, he's still Snoop, so if you're gonna hire him to call some Olympic highlights, alongside comedian Kevin Hart, you'd better be prepared for some antics.
Over the weekend, Peacock put Hart and Snoop behind a desk and let them riff on some Olympic footage, and they did not disappoint. Snoop was on one, noting the similarities between the equestrian event and cripwalking, much to his co-host's delight.
Peacock has Snoop & Kevin Hart doing uncensored Olympic highlights and the equestrian bit "oh, the horse crip walking cuh… you see that?" 💀 pic.twitter.com/beCaJhAIpI

— CJ Fogler #BlackLivesMatter (@cjzero) July 31, 2021
Snoop also took advantage of the similarity of an Olympic event name to some urban dictionary slang that I would not suggest you explain to your children.
Snoop over on Peacock WIDE OPEN! 😂 pic.twitter.com/MvzZfl2HFz

— Roy Wood Jr- Ex Jedi (@roywoodjr) July 31, 2021
Even after referencing gangs and… bangs (sorry), Snoop emerged unscathed, with most taking delight in his commentary and appreciating the wildcard spirit he brought to the gig. Peacock took it all on stride:
You can't say Snoop's not having fun 😆

— Peacock (@peacockTV) July 31, 2021
And viewers loved it:
I love Snoop the man, the father, the commentator, way more than I ever loved young Snoop the rapper. I think he's gotten better with age.

— Taylor Bee (@TayMarketsStuff) July 31, 2021
Ain't gonna be a feather left on that Peacock by the time the Olympics is over. Damn, he funnier the Kevin Hart.

— Corvus Boozy (@AvocadoBlack2) July 31, 2021
No word yet on whether there was any backlash to Snoop's hosting, but something tells me he'll be just fine.