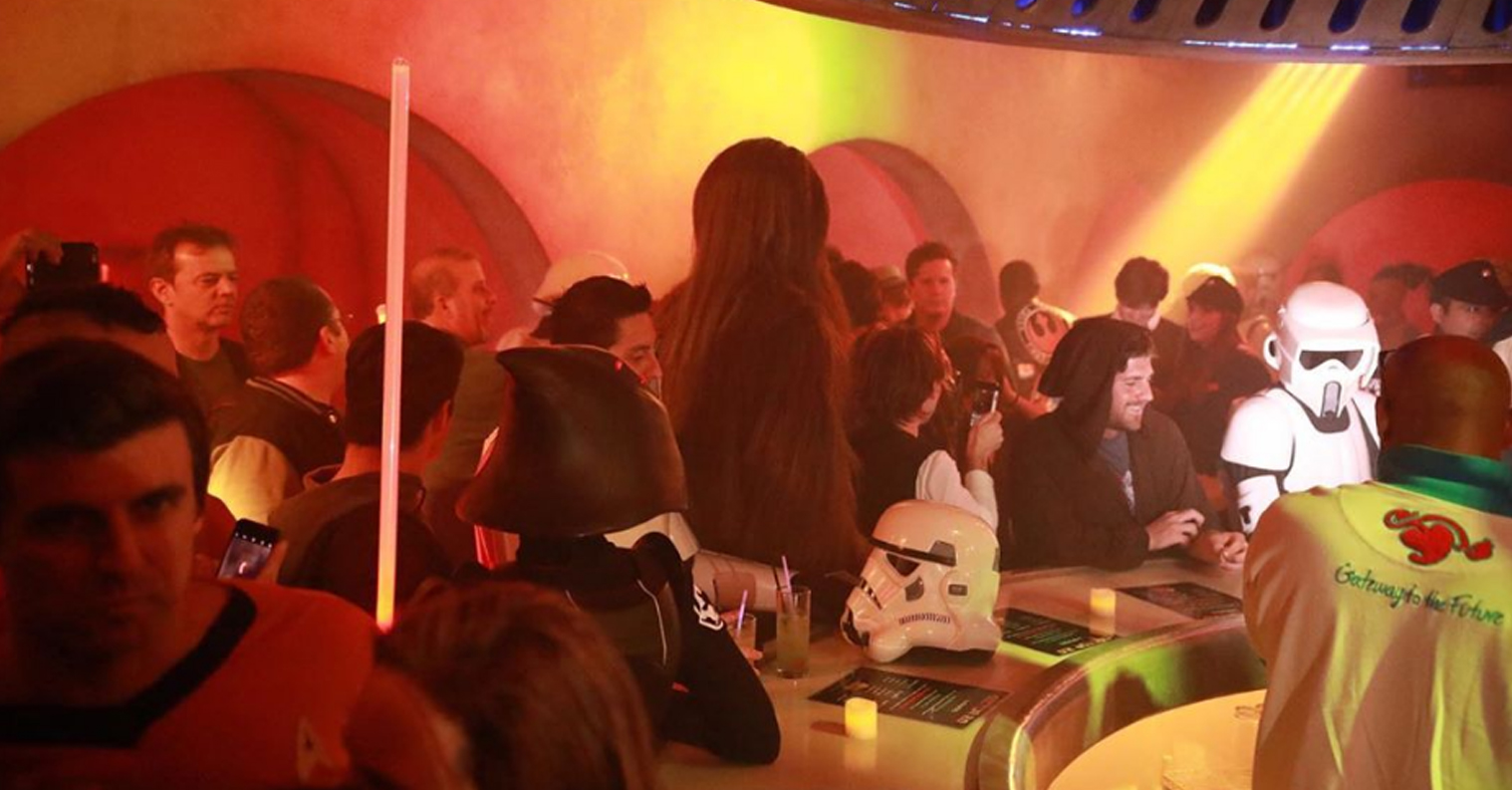 Credit: Instagram/scumandvillainycantina
We all need something to look forward to. Especially now. Even as some states start reopening at reduced capacity, there are plenty of cities that are still on total lockdown. And let me tell you, when your city is on total lockdown and you discover that there is a Star Wars Cantina-themed bar within walking distance of your home, time starts moving very, very slowly.
This LA establishment is called Scum and Villainy Cantina (of course) and it is a self-proclaimed "friendly neighborhood geek bar." Before you start having kittens because you clicked on the website and saw a guy gesturing at you to 'live long and prosper,' know that this bar caters to all geeks, not just the Star Wars variety. That's right, this is a place where Trekkies, Star Wars fans, Battlestar Galactica fans, and every fan of niche nerdom can come together and live (and drink) in harmony. Vulkans can rub shoulders with Jawas and Cylons can shoot pool with Dr. Who. You are encouraged to dress up and they even host geek-themed tournaments for a variety of properties:
Some of their cocktails include The Mind Trick, Gold Bourbonkini, The Starbuck, Witness Me, Furiosa, I Aim to Misbehave, and the Dumbledore Special. Wondering what blue milk tasks like? This place has got you covered—and they're even doing curbside pickup for those of us who can't wait until the quarantine is over:
Just listen to how they describe themselves on their website:
Scum and Villainy Cantina is an intergalactic bar nestled deep within the wretched hive of Hollywood, CA. Inspired by the best drinking establishments from your favorite sci-fi and fantasy movies, Scum and Villainy is the geek bar you've been looking for.

Costumed bartenders join in the debate while mixing cocktails from a themed menu. Our laid-back atmosphere and strict "no bullying" mission creates a #ScifiSafeHouse not just for casual and mega-fans alike, but for anyone looking for a change of pace from the typical bar scene. Flying solo? Searching for your tribe? We definitely serve your kind here!
I will wait for you Scum and Villainy Cantina. I will wait for you as long as it takes.