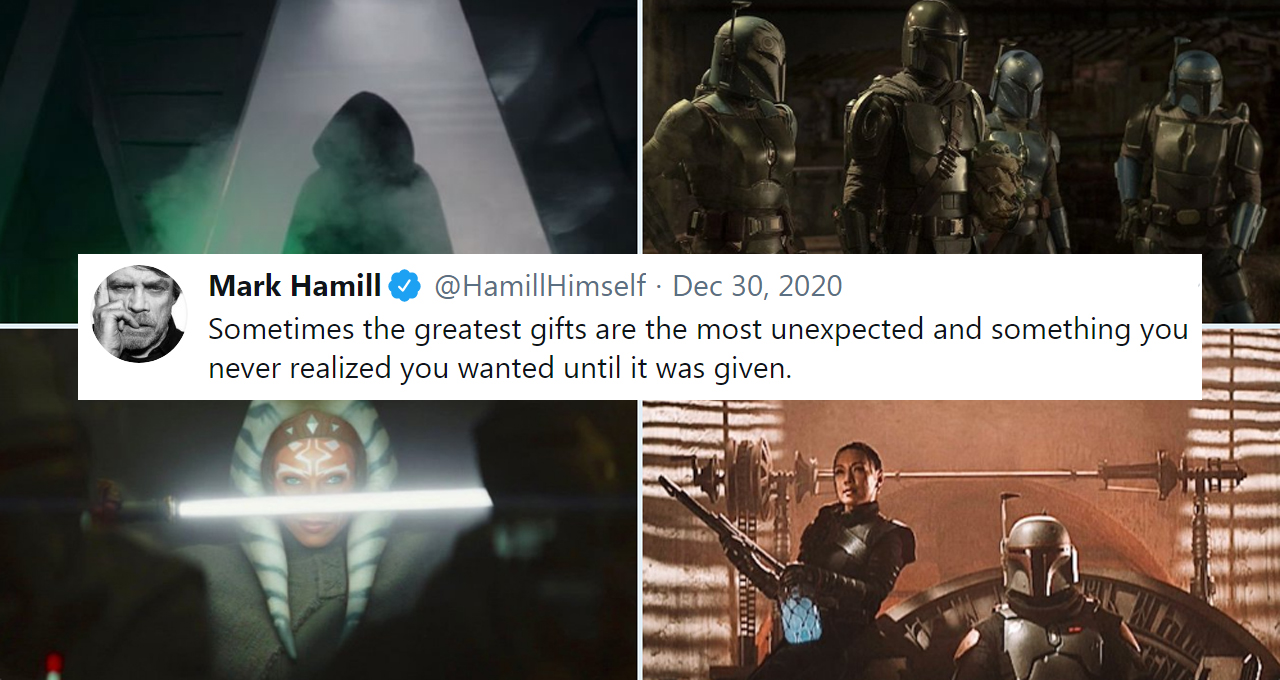 Credit: Disney+ Twitter/lorelaisrory
It's always fun to learn that a celebrity is a fan of something you also enjoy. Especially if they are actually a part of that thing.
Over the last 45 years, Mark Hamill has been an integral part of the Star Wars universe. Even when he wasn't an active participant – in the 90s and 2000s, when the prequels were being made and the star of the original trilogy was seemingly a bit out in the cold, Hamill was a large part of fan culture, either via his genial interaction within Star Wars fans online, secret roles, and off or via his voice-acting roles in various other popular universes.
Now that Hamill was brought back into the fold with the newer trilogy, and Disney+ has helped further awaken the original Star Wars fanbase with the phenomenal Mandalorian series, Hamill is once again front and center, the way
his Luke Skywalker was back in the 70s and 80s. But then it seemed like he might be gone forever when he wrote a touching farewell letter.
But with The Mandalorian's second season finale, the spotlight was all on Luke, and, like everyone else, he loved every minute of it.
The Mandalorian has brought almost nothing but praise from fans and critics, and Star Wars fans everywhere are thanking Jon Favreau and Dave Filoni for creating and elevating the series to be a worthy companion to the original trilogy.
Just before the new year, Hamill himself joined the chorus of praise, thanking the men behind Luke Skywalker's triumphant and unexpected return last month, adding the "#ThankYouJonandDave" hashtag to a tweet about his appearance:
Sometimes the greatest gifts are the most unexpected and something you never realized you wanted until it was given.#ThankYouJonAndDave 🙏 pic.twitter.com/4nNjSvbvIN

— Mark Hamill (@HamillHimself) December 30, 2020
Fans followed Hamill's lead, highlighting moments they loved, like Mando and Grogu's goodbye:
#ThankYouJonAndDave for the most touching moment I've seen on the screen since the ending of E.T. pic.twitter.com/WR5I35mJbs

— Jesse P. Pollack (@jpollackauthor) December 31, 2020
And the live-action appearances of favorite characters:
thank you for bringing these amazing characters to life!#ThankYouJonAndDave pic.twitter.com/dJqmkrVzjw

— Mel (@lorelaisrory) December 30, 2020
Can't wait to see what's coming next !#ThankYouJonAndDave pic.twitter.com/17y3QxlpWF

— Jordan (@VanthournoutJo1) December 30, 2020
And for simply resurrecting the thrills they felt when being introduced to Star Wars for the first time:
Thank you guys for giving me the thrills and feels that I had when I was a child watching Star Wars movies for the first time back in the '80s. #ThankYouJonAndDave pic.twitter.com/lRBCLTL5Tt

— Eshelle Butler (@eshelle4) December 30, 2020
Happy New Year! Like Mark Hamill and all the other fans out there, we can't wait to see what Star Wars has in store for us in 2021!