The Grillbot Wants to Terminate the Gunk on Your Grill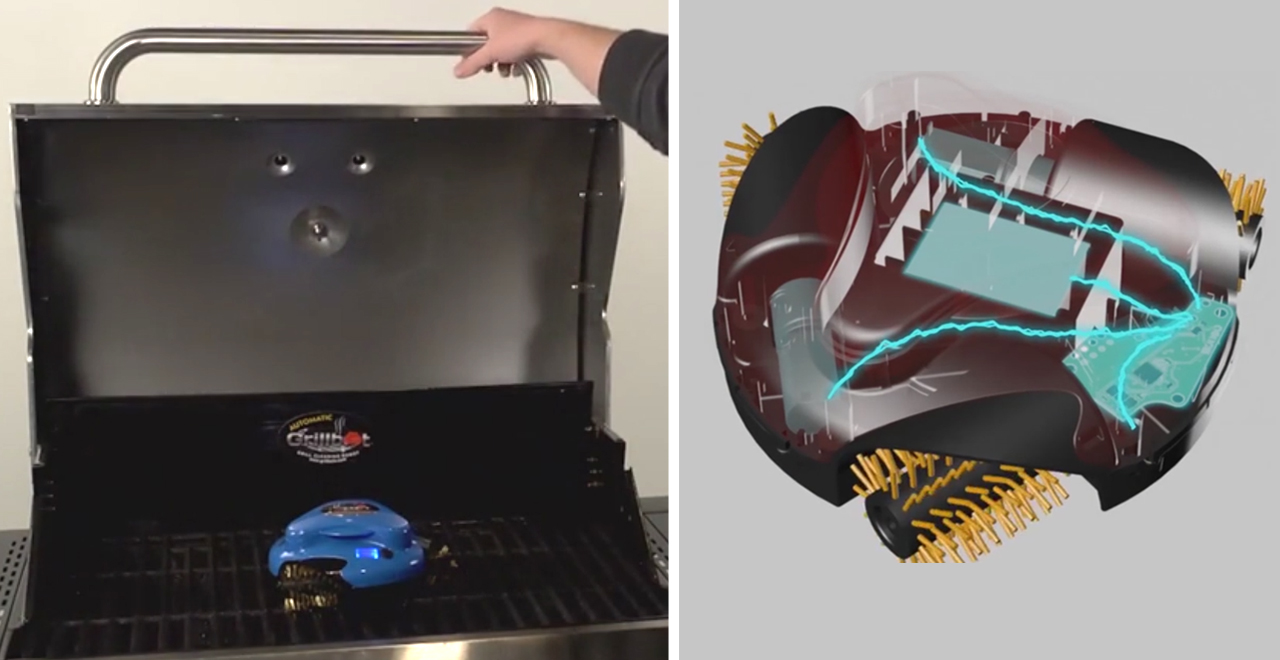 Innovations in technology have revolutionized almost every aspect of modern life. From how we communicate to how we shop, things look a lot different than they did even a decade ago.
But some things are just too manly to automate. Sure, there are automatic lawnmowers that will manicure your grass on-demand, but at what cost? At best, every dad on your street will disown you and worst case some punk kid steals the thing, leaving you both ashamed and broke.
Best to leave certain tasks as they are. I mean not EVERYTHING needs to be etched out… right?
Enter the Grillbot. Think of it as a Roomba for your grill, only instead of vacuuming up crumbs, this little son of a bitch (allegedly) grinds away grease and grime without the standard effort typically associated with this dirty chore.
But does it really work? More importantly, will it cost you your man card? Fear not, for we've investigated the reviews and weighed the pros and cons and can definitely give you an answer.
Let's start with the basics. According to several reviews, it does indeed clean your grill. At least as well as one would imagine any motorized wire brush would. From a "set it and forget it" standpoint, reviews say it delivers. Simply set the timer and close the lid. The three steel brushes go to work grinding away at years of cooked on crap you'd much rather not taste on your steak. That said, it's loud as hell. Again, about as loud as you'd expect a metal bristled robot to be when unleashed instead of a metal grill.
Several reviews noted that while it's a cool gadget the first time you use it, subsequent uses can be less than perfect. From dirty brushes to pieces of wire breaking off, it's definitely coolest when first out of the box. Business Insider's Tyler Lauletta reviewed the bot, saying "While it's a niche purchase, I am convinced that anyone who is willing to consider investing almost $100 in a device to clean their grill will not be disappointed with what they get out of it."
What about the hit to your masculinity? You always knew you'd eventually be replaced by a robot, you just didn't think they'd start at your grill. When it comes down to it though, cleaning is cleaning. If you can save a few minutes after grilling, that's a win. But there's something to be said for the pride of ownership and maintaining your own tools. You'll still likely need to manually brush at least a little, so let's say this one's a wash.
Ok, so should you buy it? For yourself? Nah. As a gift for the over-the-top drillmaster in your life? Sure, why not. It's likely to be less offensive than buying them the wrong dry rub. So if you're a cooking connoisseur, or don't have a teenager to pawn this task off on yet, check out the GrillBot on Amazon.
Just a heads up, if you buy stuff using the provided links, The Dad may collect a small commission.