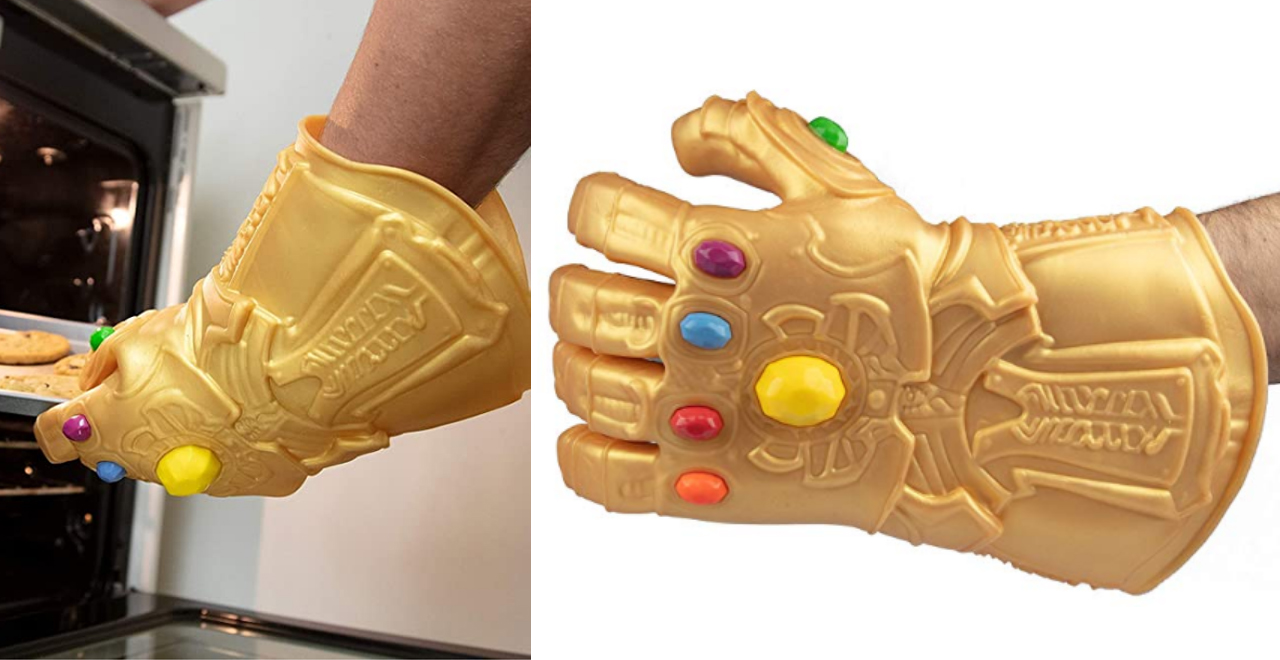 Credit: Amazon
There are few things sexier than a man who knows his way around the kitchen. Do you use the proper cutting technique with that chef's knife? Oh my. Understand the difference between a saucepan and a saute pan? Impressive! You just cleaned and deboned a bunch of fish for an entire dinner party? Mamma mia!
So, in order to combat all the sexy chef vibes you're putting out, why not add a little nerd culture to your kitchen? As it turns out, there's a remarkable amount of awesome Marvel cookware and utensils that will be sure to kill the mood right away – unless, of course, you're serving a bunch of fellow nerds. No promises, then.
Here are some of our favorites:
Infinity Gauntlet Silicone Oven Glove
A powerful accessory that makes handling hot pots and pans a "snap," this Infinity Gauntlet oven mitt is made from food-grade, flexible, heat resistant silicone that can withstand temperatures up to 445 degrees F.
Slip this bad boy on and you'll be ready to reign over the entire universe with an iron fist… or at the very least, hold hot stuff. Grab yours today from Amazon for $19.99.
Thor Mjolnir Meat Tenderizer
Before slapping that steak on the grill, maybe consider attacking with the power of Thor. Truly a magical marriage of cooking and comics, this Mjolnir Mallet is perfect for tenderizing pieces of meat with its silicone grip handle and double-sided stainless steel metal head.
Beef, chicken, poultry, or pork – nothing stands a chance when you're tenderizing like a god! Summon yours today from Amazon for $24.99.
Marvel Avengers Captain America Shield Cutting Board
Need a cutting board that will withstand anything you throw at it (or cut on it)? One made of vibranium would probably do the trick.
This patriotic cutting board is odor and stain-resistant, heat resistant up to 350 degrees F, and features non-slip feet, so it's not going anywhere unless you heroically throw it yourself. Pick one up for yourself on Amazon for $22.99.
Marvel Eat the Universe Cookbook
Some tasty diddy's include:
Deadpool's Chimichangitas
Storm's Tournedos
Dazzler's Glittering Pizza Bagels
Hulk's Paillard Arrabiata with Purple Smashed Potatoes
Runaways Okonomiyaki
Green Goblin Pumpkin Bombs
According to Insight Editions, all 60 dishes will "prepare [you] to eat like a Marvel Super Hero," which would imply that Green Goblin enjoys a nice Pumpkin Bomb every now and then. We can absolutely get behind this.
You can pre-order now and expect the book to ship out around July 28th for a cool $26.99.
X-Men Wolverine 'Corn on the Claws' Cob Holders
While grilling out is clearly all about the meat (as it should be), it's polite to at least offer your guests a vegetable of some kind. So, what better way to spice up those boring old cobs of corn than with some adamantium claws?
The "Corn on the Claws" X-Men Wolverine cob holders⁠—a Think Geek / Gamestop exclusive⁠—come in a set of four pairs and definitely aren't toy, despite their kickass appearance. They're on sale right here for only $14.99.
Just a heads up, if you buy stuff using the provided links, The Dad may collect a small commission.