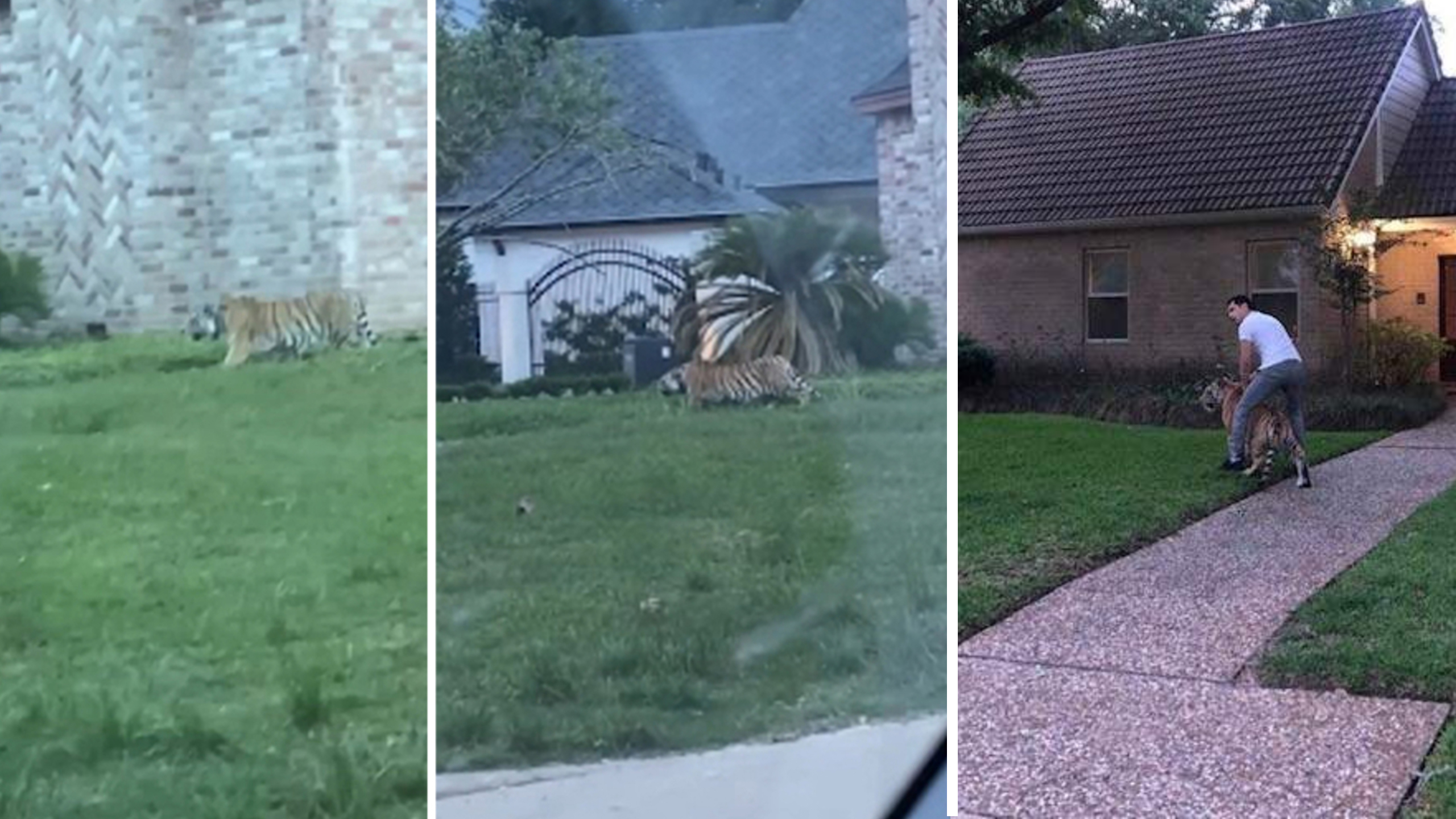 Credit: Twitter/michaelschwab13
There are some steadfast rules to neighborhood life. You wave to every car even though you can barely remember a single neighbor's name. You don't leave your trash cans out too long, and you have a day or two, either way, to cut your grass after your neighbors do. And you don't let your tiger roam free.
OK, well, the tiger part only applies if you live in Texas. One Houston street got the shock of a lifetime earlier this week when a Bengal Tiger was spotted walking around. Someone pulled his car over to yell at the owner to get him to get his tiger back inside. The entire episode blew up on social media, and why wouldn't it when you have a jungle predator strolling around. This feels like some ill-conceived jungle book parody, but nope, just some dude's tiger is on the loose.
A driver (apparently an off-duty cop) pulled over (lord knows why) to bark at the guy. It was around 8 p.m. when the big cat was spotted, calls were placed to police, etc., etc. But the man pulled over to yell at the owner, sensibly, I guess, to get his animal back inside.
Why you would get out of your car when the aforementioned tiger was on the loose is equally deranged, in my humble opinion, but it led to a standoff that captivated the entire internet.
Apparently there's a tiger loose on my parents' West Houston street? pic.twitter.com/TgdIiPSPKx

— robwormald (@robwormald) May 10, 2021
"Ge the f— back inside, f— you and your f—-ing tiger," the man said. He later told reporters the man said "Ok, ok" and kissed the tiger, and pulled him back inside. Police came to the neighborhood to investigate the incident. Apparently, the man put a tiger into an SUV and drove away. The cops apprehended the man BUT THE TIGER IS STILL ON THE LOOSE. VERY CHILL AND COOL.
Tiger found roaming Houston neighborhood https://t.co/3r5mKozFji pic.twitter.com/8S6b0F9xGu

— Eyewitness News (@ABC7NY) May 10, 2021
Maybe let the tiger-charmer out of jail until this thing is corralled. Either way, if you see a Bengal tiger wandering around your neighborhood in Houston, just ignore it, because all the best jokes have been done on Twitter.
The CEO of the Humane Society told reporters it is incredibly inhumane to have tigers in your house, you know, just in case you were on the fence (the one the tiger jumped) about whether or not you should have one as a pet.
"People have died from this," she said.
At the same time, there is no place for this in suburb life. Having a tiger on the loose is a very 2020 thing, and frankly, we have all moved on to a better place.